Bid & Ask: The Deals of the Week
Noteworthy expenditures of the week
by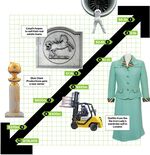 1. Japan Airlines has orders for all the stock it plans to sell in its $8.5 billion IPO this month, the largest since Facebook's, say two people familiar with the offering. JAL is going public after filing for bankruptcy in 2010.
2. ING Group raised about $3 billion with the sale of 54 million Capital One Financial shares received when the Dutch lender sold its U.S. online bank in February.
3. Aiming to become a leader in dermatology, Canada's Valeant Pharmaceuticals International will buy Arizona-based Medicis Pharmaceutical in a transaction valued at about $2.6 billion.
4. Lloyds Banking Group plans to sell as much as $2.5 billion of mainly Irish real estate loans, says a person with knowledge of the transaction.
5. With car sales surging, GM Financial, which provides auto financing, is marketing $1.1 billion of bonds backed by vehicle debt.
6. In the biggest Chinese investment in a German company to date, heavy-duty-engine maker Weichai Power will pay $925 million for a stake in forklift manufacturer KION Group.
7. No. 1 iron ore producer Vale will sell 10 vessels for $600 million and lease them back from South Korea's Polaris Shipping, as it seeks to raise cash amid declining commodity prices.
8. Hartford Financial Services Group is selling its retirement plans business to Massachusetts Mutual Life Insurance for $400 million, after billionaire John Paulson pressured the insurer to focus on property-casualty coverage.
9. Guggenheim Partners and two other companies will pay a reported $370 million for Dick Clark Productions, producer of the Golden Globe Awards.
10. Seven outfits belonging to former British Prime Minister Margaret Thatcher fetched nearly $116,000 at a Christie's auction in London.
Before it's here, it's on the Bloomberg Terminal.
LEARN MORE