UCLA Anderson MBA Self-Sufficiency Plan Stalled
Louis Lavelle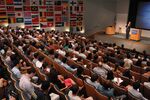 After two years of debate, an effort by the UCLA Anderson School of Management to forgo state funding for its full-time MBA program and become financially self-supporting has hit a huge roadblock.
On Aug. 31, the Coordinating Committee on Graduate Affairs of the University of California Academic Senate voted 10-0 with one abstention to suspend its review of the proposal, according to a memo to UCLA Anderson Dean Judy Olian, who championed the self-sufficiency move as a way to deal with declining state support.
The committee said it voted to halt its review because the MBA program does not meet any of the four criteria required for a program to become self-supporting at UC. It said it would lift its suspension only when a new system-wide policy is adopted. Any such policy would have to protect access and affordability for California residents. One possibility: requiring a portion of program revenue to be used for financial aid, with a portion of all financial aid earmarked specifically for California residents.
The committee also raised the issue of maintaining educational quality without state aid.
"Based on the information provided, CCGA sees no evidence that the proposed conversion will improve the quality of education for any students, and sees the potential for it to reduce the quality of education for students in various programs," the memo states. "The Anderson School must make a concrete commitment to maintaining educational quality across all programs and develop a strategy for doing so."
UCLA proposed self-sufficiency for its full-time MBA program in 2010, citing increasingly unpredictable state subsidies, which now make up about $5.6 million, or roughly 6 percent, of the school's operating budget. The proposal has the support of more than 70 percent of the Anderson faculty, but some worried that the school would not be able to raise the necessary funds to replace the state subsidy, and others had philosophical objections to the creation of a private entity inside a public institution.
The plan would have made the MBA program fully reliant on tuition revenue and donations. Alumni have already pledged $19 million in gifts to the school on the condition that the program become self-sufficient.
The proposal passed the UCLA Legislative Assembly in June. It needed the approval of the Academic Senate as well as UC President Mark Yudof before being implemented at UCLA. Olian was in Asia and could not be reached for comment. Had it passed, the proposal would have made Anderson one of a handful of public business schools in North America that have opted to forgo government funding, including the University of Virginia's Darden School of Business.
Join the discussion on the Bloomberg Businessweek Business School Forum, visit us on Facebook, and follow @BWbschools on Twitter.
Before it's here, it's on the Bloomberg Terminal.
LEARN MORE