Exclusive: How Karl Rove's Super PAC Plays the Senate
By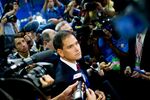 On Thursday, Aug. 30, the final day of the Republican National Convention, Karl Rove gave a breakfast briefing to a group of about 70 of the Republican Party's most influential donors. As Bloomberg Businessweek reported, Rove described how the super PAC he co-founded, American Crossroads, would help Republicans win back the White House. Rove and his associates then solicited further donations from an audience filled with hedge fund managers and financiers to fuel their electoral efforts.
I had been invited to attend as the guest of a significant Republican donor who knew that I was a journalist. At no point was I presented with, nor did I agree to, restrictions regarding the information I heard. Upon my arrival at the breakfast, I was not asked if I was a journalist. I gave my name, identified the person who had invited me, received a wristband, and was ushered into the dining room. American Crossroads disputes this version of events but declined to comment further.
If the briefing on the presidential campaign was the main event, Rove's evaluation of 15 Senate races was a close second. American Crossroads has become crucial to Republican hopes of taking back the Senate, and, to illustrate the point, the presentation began with a talk by Florida Senator Marco Rubio, the rising GOP star who would introduce Mitt Romney at the convention later that night. "I really want to start by thanking you for what you're doing, just for even creating this organization," Rubio began, addressing Rove and American Crossroads Chief Executive Officer Steven Law. "It really has made a difference."
"I remember early on, Karl Rove sent me a check—it was big news, the fact that someone of his stature would actually take a bet on someone who was such a long shot," Rubio said of his 2009 Senate campaign. "But he did that, and many of you in this room were helpful to us as well." While it's important for a candidate to have enthusiasm around him, Rubio said, resources are crucial to get a message across.
"That's where Crossroads GPS was helpful," he continued, referring to American Crossroads's sister 501(c)(4) nonprofit "social welfare" organization, which may receive unlimited personal and corporate contributions from anonymous donors. "Obviously, for legal reasons, we never knew they were doing this, but you would turn on the TV and there were ads that created a clear distinction, and did so in ways that were meaningful." Rubio added: "What I've been pleasantly blown away by is this organization's ability to both pick the right message and pick the right place to deliver that message."
"The by-product effect to all of this is very real," Rubio continued. "The press will try to shame you. You read all these articles—it makes it sound as if this is some sort of, you know, dirty endeavor, or wrongful thing to do. This is a patriotic endeavor."
Rubio closed with a joke: "Did I break any laws, in that speech?" he asked, to applause.
CEO Law offered words of praise for Rove and fellow Crossroads adviser Haley Barbour—"who really are doing this out of the goodness of their hearts—they don't get paid anything"—before turning the presentation over to his political experts.
Barbour offered a brief assessment of the Republican National Convention. "While I would love for [Chris] Christie to put a hot poker to Obama's butt," said Barbour of the RNC keynote speaker, "I thought he did what he was supposed to do."
Rove handled the Senate math. Republicans need four seats to gain a majority, and Rove said he's hopeful the party can pick up three from Nebraska, North Dakota, Wisconsin, and Virginia. Between New Mexico, Hawaii, and Connecticut, he added, "we've got a shot to take at least one."
Rove listed five people interested in taking embattled Missouri Senate candidate Todd Akin's place should Akin leave the race: Missouri congressional candidate Ann Wagner; state auditor Thomas Schweich; Jo Ann Emerson, representative from Missouri's 8th district; and two candidates who competed with Akin in the Republican primary. Then he added a surprising sixth name. "The rumor is that Jack Danforth is interested, which would be astonishing," Rove said of the former Missouri senator who turns 76 on Sept. 5. "And interestingly enough, the reason they've gotten interested in it is Romney's pick of Paul Ryan. He said, 'Romney's serious about entitlement reform, and I'd like to be there for that battle.'"
If Missouri doesn't work out, Rove identified Montana, where Republican Representative Denny Rehberg is attempting to unseat Senator Jon Tester, as "our best other shot," and Florida, where Representative Connie Mack is trying to push out longtime Democratic incumbent Bill Nelson, as "a good shot."
As for the closely watched race in Ohio, one of the states that has generated the most political spending by outside groups like American Crossroads, Rove said that he'd had a call from an unnamed out-of-state donor who told him, "I really like Josh Mandel," referring to the Ohio treasurer attempting to unseat Democrat Sherrod Brown. The donor, Rove said, had asked him what his budget was in the state; Rove told him $6 million. "'I'll give ya $3 million, matching challenge,'" Rove said the donor told him. "Bob Castellini, owner of the Cincinnati Reds, is helping raise the other $3 million for that one."
An exception to Rove's Senate optimism is Maine. Retiring Republican Senator Olympia Snowe is "still sitting on $3 million in hard money," Rove said. "She's going to use the money, her husband told me, for charitable and philanthropic efforts." He looked around the room. "So if any of you gave her money, I would call and ask for your money back. If you do, give it to Charlie Summers, our Republican candidate."
Summers, Rove continued, is a "remarkable" human being. He was elected to a traditionally Democratic seat in the state Senate from Portland—"Portland, Maine, is sort of like Portland, Oregon, only they're somewhat nicer and don't smoke as much dope"—while on active duty in Iraq in Gulf War I, and is now Maine's secretary of state. "This is a guy who loves to campaign," Rove said.
"But we're gonna lose, either [Summers] or Scott Brown—we can't afford to lose both," Rove said ominously. "If we win both, we're in great shape. If we lose one, it starts to get a little bit edgy. If we lose two, we're in real difficulty."
Barbour took the microphone to discuss the importance of voter turnout efforts. "Democrats have an interesting turnout program, they call it 'Knock and Drag,'" Barbour said. "You go to certain neighborhoods, you knock on the door, and you drag every adult there out, put 'em on a bus, and take 'em to vote." Because of the prevalence of early voting in many states, this was easier than ever, Barbour said. "If this is going to be a really, really close election, we're gonna have to perform nationwide like we did in Wisconsin," he said, referring to the recall election for Governor Scott Walker.
"Carl Forti is putting together a mail and phone program that really is very front-loaded in a lot of states," interjected Law, referring to American Crossroads's political director, "because we've got to start getting messages and driving them to final decisions at a point well before Election Day, which is only the final day of the sale."
The group then screened 14 television advertisements, ranging from anti-Obama ads to spots targeting Democratic Senate candidates in Virginia, Ohio, Montana, Florida, Massachusetts, and Nevada. Some were produced by American Crossroads, others by Crossroads GPS.
The last ad was a 60-second spot that imagined the prospect of a second Obama term. Over spooky music a voice asks: "Obama has already signaled higher taxes for you and your family. … What about threats from Russia and Iran? … If Obama's second term simply matches his first, nearly 750,000 more Americans will be out of a job … And America's debt will explode to $20 trillion—an 88 percent increase under Obama. … You already know the present, this is the Obama future."
Before it's here, it's on the Bloomberg Terminal.
LEARN MORE