business
Search Funds: An MBA Shortcut to the C-Suite
Alison Damast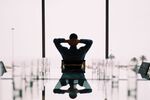 Chris Lueck had entrepreneurial ambitions coming into business school, but like many MBA students, he ended up interning at an investment bank after his first year at the University of Southern California's Marshall School of Business. Lueck quickly changed course in his second year when his classmate Tom Tzakis suggested the two start a search fund, an alternative investment vehicle that would allow them to raise capital from investors to buy, run, and grow a privately held company.
By the time they graduated in May 2011 the two had set up their own investment firm, Pylon Capital, and by December had raised $525,000 in first-round funding from 20 investors, many of whom specialize in investing in search funds. "I liked that we'd be in charge of what we are doing as well as eventually finding a company we would be running," says Lueck, who with Tzakis has been conducting a nationwide search to purchase a company with revenue of $5 million to $20 million a year. "Being able to do that pretty close to graduating from business school was very exciting to me," he says.
Lueck and his partner are part of a small but growing number of MBA students looking to the search fund model as a shortcut to the corner office. There have been 150 first-time search funds formed since 1983, and as of December 2011, 26 funds are either looking for a company to buy or raising funds for an acquisition, according to a 2011 study of search funds out of the Stanford Graduate School of Business. About 12 funds a year have been started since 2007, and in recent years, more have had luck finding acquisitions. In 2010, 10 search funds purchased companies, the highest annual total since the study began tracking the funds in 1996, and 10 others made acquisitions in 2011, says H. Irving Grousbeck, director of Stanford's Center for Entrepreneurial Studies, which released the report this summer.
"The buyers that are still around have found sellers who have wanted to sell but didn't think they could," Grousbeck says.
Of course, not every search fund has landed a company to purchase. While there are many success stories, plenty of searchers have had to give up their search after a grueling two years or more. About 21 percent of search funds end up closing without an acquisition, and in 2011, three search funds closed up shop, the study found.
But for many MBA students today, the risk is worth it. For years, MBA students who started search funds typically came from schools such as Stanford and Harvard Business School, but in the last few years, search funds have emerged from such schools as Carnegie Mellon University's Tepper School of Business, the University of Virginia's Darden School of Business, and the Marshall School, to name a few. MBA students outside the U.S. are getting in on the act, too, says Grousbeck, who's noticed more funds emerging in Latin America, Western Europe, and India in recent years.
"It is one direct route to ownership and CEO-ship, if you will, of one's own company," Grousbeck says.
Increasingly, the vast majority of people who undertake this type of venture are teams of two MBA students, usually one with a background in finance and the other in operations. The team approach helps keep up morale during what can often be a long and trying search process, says Samuel Wales, a corporate advisory partner at McDermott Will & Emery, a law firm that helps many recent MBA graduates create and manage search funds.
"It is incredibly difficult to go out to so many potential targets and have that often lead to nothing," Wales says. "It is really helpful to have a partner to help keep spirits up."
One success story is Andy Schoonover, 33, a 2006 Stanford MBA graduate who is now the CEO of VRI, a private company in Franklin, Ohio, that specializes in remote patient monitoring systems. He and an MBA classmate, Chris Hendriksen, founded the search fund Blue Canyon Capital after graduation, raising $500,000 from investors. They cold-called 50 companies a week and talked to 1,000 companies before they managed to find VRI, which they bought in October of 2007 with the help of a second investment round. Since they took over, the company has grown from 40 employees to 250, and the business has seen its revenue increase 30 percent a year on average, Schoonover says.
"I don't know where else you can find this type of opportunity except through a search fund vehicle," Schoonover said. " It allows you to step into a company that already has a proven track record."
One of VRI's investors is Kenton Weaver, CEO of Progressive Home Care, a Northern California health-care company that he acquired when he himself ran a search fund back in 2005. In the past four or five years, he has invested in 30 search funds, about 60 percent of which have made acquisitions. Despite the high failure rate, the investment is still worth it to him because the funds that succeed have such an attractive rate of return. According to the Stanford study, in 2011 search funds have an average annualized rate of return of 34.4 percent, and so far, Weaver's investments are on a similar trajectory.
"It is a relatively safe investment relative to venture capital," Weaver says. "If you do your homework, bet on the right searcher, and build a good portfolio, the risk can be managed."
Join the discussion on the Bloomberg Businessweek Business School Forum, visit us on Facebook, and follow @BWbschools on Twitter.
(
Corrects frequency with which Blue Canyon Capital cold-called companies during the search that resulted in its acquisition of VRI.
)
Before it's here, it's on the Bloomberg Terminal.
LEARN MORE