Businesses Wait on BP Fines to Repair the Gulf Coast
By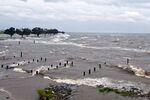 Jim Marino was preparing to replenish the sand on a shriveling dune in Destin, Fla., when Hurricane Isaac churned up the Gulf Coast this week and washed it away. "All of the dune we were just going to restore is pretty much gone," along with the beach in front of it, says Marino, president of Taylor Engineering, a 60-employee firm that does coastal restoration for counties and cities.
Headquartered in Jacksonville, on Florida's Atlantic coast, Taylor is expanding with a new office in Destin, a small Panhandle city wedged between the Gulf of Mexico and the Choctawhatchee Bay. Marino hopes to hire a dozen or more engineers and scientists in the years ahead to help repair the battered Gulf shoreline. Even before Isaac, there was plenty of restoration needed.
Like businesses across the Gulf, Taylor is counting on money from BP to help pay for it. The oil giant faces fines of $5 billion to $20 billion under the decades-old Clean Water Act for the oil spill that slicked the Gulf two years ago. In late June, Congress passed the Restore Act, which committed the bulk of the fines to heal a coastline that was deteriorating for decades even before the tar balls began washing up.
Now businesses are playing a waiting game. The amount of money coming to the Gulf, and detailed plans for how and when it will be spent, are still uncertain. "My fear is the longer you let money lay around, it has a way of disappearing from its intended purpose," says Marino, who reduced his staff from a peak of 88 three years ago as public budgets dried up. He hopes to get contracts to build artificial reefs, protect shorelines with mangroves and grasses, widen beaches, and restore dunes.
BP has already paid close to $9 billion in claims related to the spill. The company, which has set aside $3.5 billion for the Clean Water Act penalty, said in its most recent annual report that "it is not possible to measure the obligation reliably." The final amount will depend on a court's determination of the volume of oil spilled and BP's degree of negligence. The trial is scheduled for Jan. 14, though BP may settle before then.
The Restore Act divides BP's penalties among the five Gulf states and creates a new council of federal and state officials that will approve projects. (Without the new law, BP's payment would go to the federal government with no requirement to pay for environmental projects.) While much of the money is supposed to be spent directly on repairing the coast, states have some flexibility to use funds to help industries that suffered during the spill, such as tourism or seafood.
States are in different stages of planning for the money. In late August, Mississippi's governor created eight committees to deliver a plan by January for how to spend the money. In Louisiana, lawmakers have agreed to direct the Restore Act funds to the state's existing master plan for coastal restoration, which outlines $50 billion in spending over the next half century. "It would be great to make an investment in an economic development project," says Garret Graves, the chair of the state's Coastal Protection and Restoration Authority. "But if that project is going to be under water in six months, that can't be your top priority."
The oil spill penalties will provide a needed "down payment on a much larger investment that the U.S. and the world needs to make on rebuilding the coastline," says Jackie Prince Roberts, director of sustainable technologies for the Environmental Defense Fund. In a series of studies with Duke University, the EDF has highlighted economic benefits of such a commitment: direct work for companies that manufacture and operate dredging equipment, for example, and those that build artificial reefs and other barriers.
Hesco Bastion Environmental put down 20 miles of Concertainer barriers—essentially giant sandbags—during the BP spill. The company, which has 40 employees at its Hammond (La.) plant that manufactures Concertainers, will benefit from the Restore Act, senior technical representative Dennis Barkmeyer says, as will "all your marine contractors, your engineering firms, your state scientists and third-party scientists" involved in protecting the coast.
A native of New Orleans, Barkmeyer grew up fishing and hunting in the marshes of southern Louisiana. Hesco barriers have been used there to anchor wetlands from storm surges and everyday erosion. Hesco has figured out how to create new habitats for oysters by lining the barriers with a layer of recycled oyster shells. "We're creating a living reef," he says. The Restore Act could mean building miles of such barriers around the Louisiana coast.
Michael Hecht, president of the economic development group Greater New Orleans Inc., says "it's going to be critical that these oil spill penalties funds are used to help stabilize and restore the coast." Like Marino, though, he's wary that the money may end up paying for projects unrelated to mending the shoreline. "If the funds are diverted for other, even worthy, causes, there's going to be some serious questions," he says.
Before it's here, it's on the Bloomberg Terminal.
LEARN MORE