ESPN: Everywhere Sports Profit Network
How did the Bristol-based sports channel become the world's most powerful media brand? It never forgot the fans
Karl Taro Greenfeld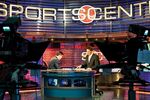 ESPN's global headquarters span 18 buildings and 123 acres in Bristol, Conn. The campus occupies a fenced-in hillside, though deer frequently end up trapped inside the fence, and appears to be in a state of constant flux. The newest and largest building, a 193,000-square-foot digital broadcasting center, intended to supplement the 90,000-sq.-ft. digital broadcasting center that was built in 2004, is located not far from the football field—yes, there is a football field—and is two years from completion. ESPN, a unit of Walt Disney, has thrived on transformation, from its inauspicious start in a couple of trailers on this very location to its relentless embrace of new media, which has helped make it among the most profitable television networks in American history.
The company's revenues are growing at 9 percent a year, with a projected $8.2 billion in revenue in 2012, according to research firm SNL Kagan. Head count has doubled in the last seven years to 7,000 employees worldwide. ESPN earns one out of every four dollars earned by cable stations in America. According to SNL Kagan, ESPN charges its cable affiliates an average $5.13 per month for each of its 100 million subscribers (the industry average is about 20¢ per subscriber) while also taking in $2 billion a year in advertising revenue. Its projected 2013 revenue of close to $9 billion dwarfs cable players like Liberty Media and Tribune and puts it on par with traditional broadcast networks like CBS. The company's president, John Skipper, attributes ESPN's dominance to geography, a high tolerance for risk, and a culture of "build, build, build. There comes a time when a lot of businesses become calcified, but we never stop building."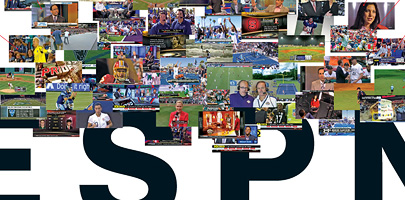 Founded in 1979, ESPN did well through the '80s and '90s as the U.S.'s primary media source exclusively devoted to covering and broadcasting the games people play. But ESPN is now bigger than "The Total Sports Network." It's more than an entertainment empire. The decentralization of media and the disruptive influence of technology—ubiquitous screens, plentiful bandwidth, and generous digital storage making it possible to watch anything, anywhere, anytime—have made big-ticket sports the only events that still regularly attract a mass global audience. No outlet owns the rights to more of those properties—including the National Football League, Major League Baseball, the National Basketball Association, major-conference college football, all four Grand Slam tennis championships, Major League Soccer, Nascar, and golf's U.S. Open, British Open, and the Masters—than ESPN. The company broadcasts more than half of all the live sports seen in the U.S. Through dozens of ESPN-branded TV, Web, and mobile platforms, it also shapes the ways in which leagues, teams, and athletes are packaged, promoted, marketed, and consumed by the public. In a real sense, ESPN no longer covers sports. It controls sports.
There's a great deal of risk in spending billions on products that may not turn out to be profitable; NBC breathed a sigh of relief that its huge, $1.28 billion investment in the 2012 London Olympics seems likely to eke out a profit, validating NBC's much-maligned decision to show the games' marquee events on tape delay. ESPN, however, possesses a huge advantage over its rivals: It has more ways to sell to fans whatever it buys from the leagues. The company has moved aggressively into new media and platforms, without regard for how they may negatively impact the old. This strategy allows ESPN to squeeze more revenue out of any event it carries by selling that same contest in multiple formats, instead of merely broadcasting it on television.
ESPN's $5.6 billion deal with Major League Baseball, announced on Aug. 28, is typical of the kinds of multiplatform rights packages the company now seeks to acquire. Not only will ESPN continue to televise regular-season and playoff games through 2021, it also gets radio rights, international rights, unlimited highlights and, most important, the right to stream all that content through its mobile applications.
"Right now," says Norby Williamson, a vice president for production, "what you can pay for a property is based on what you can bring to a property, how you can surround a property." ESPN's continued success is predicated on its being willing to pay more for those properties than anyone else. It comes down to a race between ESPN's ability to develop and succeed in new platforms—and sell ads and subscriptions against them—and the ever-escalating costs of televising live sports.
When Bill Rasmussen, with an investment from Getty Oil, launched ESPN, it was built around a few studio shows and an awful lot of Australian Rules Football. It was the emergence of SportsCenter as a pop-cultural force in the early '90s (it launched the careers of TV personalities like Craig Kilborn and Keith Olbermann and was the inspiration for Aaron Sorkin's ABC series Sports Night) that put ESPN on the map. Although live sporting events garner ESPN's largest audiences, the culture of ESPN is still best embodied in its SportsCenter franchise.
In early August, I drove two and a half hours from New York City to ESPN's campus in Bristol, where I joined the team that produces the nightly 11 p.m. broadcast. Each SportsCenter is put together by a production pod, basically a cluster of desks where the producers and anchors sit and write the show. There are now 18 different SportsCenters a day, aired on ESPN, ESPN2, ESPNews, and ESPN3. The show is so central to the company's identity that every few years, the 50 senior executives in Bristol spend a day working on a SportsCenter episode, doing the grunt work of taking a day's worth of sports and boiling it down to 60 minutes of highlights. John Buccigross, one of the current 11 p.m. anchors, describes his role and that of his co-anchor, Steve Levy, as "men in makeup talking about sports."
That day, in the 4 p.m. planning meeting, the big stories are the Seattle Seahawks naming a new starting quarterback, the New York Jets fighting on the practice field—"might give us a chance to show some Tebow," joked Steve Levy—and the 21st birthday of L.A. Angels rookie sensation Mike Trout. Over in London, the Olympics are in full swing, a source of steady tension for producers Tom DeCorte, Rob Guijarro, and Timothy McHugh. NBC blocked rivals from showing any video highlights until 2 a.m. the next day, causing ESPN to either downplay the Olympics or resort to such stop-gap measures as showing still photographs when reporting on Usain Bolt's gold-medal-winning sprints. "That doesn't look good in a race that takes less than 10 seconds anyway," says McHugh. Another producer observes that at 11 p.m., anyone who cares about the Olympics will be watching NBC, so why should ESPN spend much time covering the Olympics?
Throughout the early evening, the producers and anchors seated around the pod monitor a dozen baseball games. They're on the phone constantly with the highlight department. "A great Little League play in Pennsylvania," says DeCorte after hanging up the phone. "Maybe a Top Ten play!" At one end of the pod sits Shawn Bradley, a "tease-bump" guy who writes the witty, topical zingers that introduce the show. His script is visible on every monitor. Levy asks about a line of Bradley's mentioning "the scarlet-letter Saints," an allusion to the penalties levied by the NFL against the New Orleans Saints for placing bounties on opposing players. "Scarlet-letter?" Levy asks.
"Because of the scandal," Bradley explains.
"I'm just not sure our viewers will get a Scarlet Letter reference," Levy says.
A few minutes later, Bradley asks, "Do you like 'bounty-tainted Saints?'"
Levy nods. "I don't have a problem with it."
The show is divided into blocks, with the block before the first commercial break, between 10 and 15 minutes into the show, called the A Block, and so on. Tonight's A Block is still up in the air because Milwaukee Brewers pitcher Mike Fiers has taken a perfect game into the seventh inning against the Cincinnati Reds. "Make sure we have the Milwaukee feed," DeCorte says. There is quiet intensity around the pod as the producers and anchors turn their attention to the rookie pitcher. Following the unwritten dugout rule, no one utters the words "no-hitter" or "perfect game."
"Longest prior start?" Levy asks.
Someone responds that Fiers once lasted seven innings in the minor leagues.
"How do you pronounce that? Fires? Fears?" Levy wonders out loud.
Just then, the no-hitter is broken up.
Someone from another pod applauds.
DeCorte jumps up. "Who's clapping? You never root against a story."
John Skipper wouldn't dispute that SportsCenter remains the beating heart of ESPN. Before becoming president, Skipper was the executive vice president in charge of content—including SportsCenter—and has retained that role in addition to his new functions. Still, he's quick to assert "there is nothing more important than our portfolio of rights agreements. Because those things are exclusive: They can't be knocked off."
Skipper is a very tall man, and he tends to move around in his chair and push himself up by the arms so that even when he is seated, he is imposing. He grew up in Lexington, Ky., attended the University of North Carolina and then Columbia University, where he earned a master's in English literature. His first job was at Rolling Stone, and he joined ESPN to launch their eponymous magazine in 1998. He oversaw the success of ESPN.com, making it the leading sports brand on the Web before becoming the network's head of content in 2005.
Less than 24 hours into that job, he was on a plane to Zurich to snatch the 2010 World Cup from the grasp of NBC, which had been told by FIFA they had secured the rights. "Where did ESPN come from?" a shocked NBC executive asked, according to These Guys Have All the Fun, James Andrew Miller's and Tom Shales's oral history of ESPN. That was the first of several dozen rights deals Skipper would deliver, leading to partnerships with the NFL (through 2021), MLB (2021), the NBA (2016), Nascar (2013), and Wimbledon (2023), as well as deals with all major college football conferences.
Looking back, it seems obvious that live sports would be crucial to ESPN's growth, but back in 2005, as the prices for live events were skyrocketing, there were plenty of dissenters, even within ESPN. In the pre-Skipper era, ESPN attempted to replicate the success of SportsCenter with homegrown shows. Some of them, such as Pardon the Interruption and Around the Horn, became franchises, and others—does anyone remember Beg, Borrow & Deal or Quite Frankly?—failed to gain traction. Skipper never wavered in his belief that "live drives the business."
At any given moment, Skipper is engaged in negotiations with one or more leagues, conferences, or governing bodies to secure, extend, or renew broadcast partnerships. When I met Skipper, his most pressing priorities were extending ESPN's deal with Major League Baseball, which he got done on Aug. 28, and crafting a bid for the newly created college football playoffs. Skipper says both are "really, really important … but nothing is a must-have. You can't think anything is a must-have, or you're dead in negotiations."
He still speaks with a strong Southern accent, with broad O's and honked I's, that can be disarming. NBA Commissioner David Stern says, "That aw shucks Southern thing he does doesn't fool me for a minute. Beneath that cultivated drawl is a very smart and knowledgeable programming executive with an eye for the bottom line."
Larry Scott, commissioner of the Pac-12 conference, cites a $3 billion, 12-year deal he negotiated with Skipper to show Pac-12 games on both ESPN and Fox. "The old ESPN would have said, 'We gotta have it all, or we're not doing business with you.' John understood there was a way to get this done that would benefit all of us."
Skipper's advantage over his potential competitors—NBC Sports Network, Fox Sports, TNT—is ESPN's ability to monetize live sports across multiple platforms. ESPN isn't just buying the rights to televise a game on TV, it's buying the rights to build hours of TV content around the game and to stream the action digitally and over its WatchESPN mobile application. Each live sporting event also generates advertising revenue on ESPN Radio, highlights for the ESPN networks' various studio shows and websites, plus fantasy league updates, streaming sports news content, and beyond. That diversity of delivery vehicles gives ESPN more flexibility in terms of pricing. "There is value on each platform," says Stern, "and the more platforms you have, the more value you can place against a rights acquisition."
Says Skipper: "I am in very few negotiations where I pound the table and say this is what we're going to pay. … It's much more important to negotiate what we're going to get for the money."
ESPN has been unique among traditional media businesses in that it has flourished on the Web and in the mobile space, where the number of users per minute, which is ESPN's internal metric, reached 102,000 in June, an increase of 48 percent so far this year. Mobile is now ESPN's fastest-growing platform. Skipper attributes this growth to a culture that shares the rewards of success equally. "We have one revenue group, we have one ad sales group, so you don't have factions fighting against this new digital group. … We don't have a lot of infighting," says Skipper. "We have everybody incentivized so that it's about the total amount of business we do."
ESPN.com sports columnist Bill Simmons, who Skipper hired in 2001, says it's Skipper's background that made him a bolder thinker. "Skipper came from Rolling Stone. Rolling Stone really f‍-‍-‍-‍ed up. They could have bought MTV, and they didn't. Sports Illustrated could have bought ESPN, and they didn't. He was there during that era and saw that to maintain what you have, you have to grow, to take chances."
Today, 70 percent of sports content consumed on mobile devices comes from one of ESPN's mobile apps. The latest, WatchESPN, allows you to watch whatever is on ESPN anytime, anywhere, provided you are a cable subscriber. It's been downloaded more than 10 million times. Many games broadcast on it aren't yet carrying advertising, showing instead a 30-second ESPN logo during breaks in the action, since advertisers weren't offered those rights when they bought time on the network a few months ago. In other words, ESPN has invested in creating content for a platform before business exists to support it. John Kosner, executive vice president for digital and print media, says, "We weren't afraid of cannibalizing our [television] business if the fan liked it … even though the ad-serving technology just isn't ready yet. We're not afraid to be ahead of the market. You win by delivering what fans want, and then that becomes a fantastic advertising proposition and a great business."
ESPN's resources have in turn made it a magnet for many of the biggest names in sports journalism, including former Washington Post columnist Michael Wilbon and Rick Reilly, a longtime Sports Illustrated writer. ESPN also has its share of homegrown stars—reporters, anchors, announcers, and analysts who are instantly recognizable to viewers because of their ubiquity. The company puts its best talent to work everywhere, at virtually all hours of the day. "Anytime someone starts doing well at ESPN, they look at him, and they go, 'Can he do TV? Can he do radio? The Web? What else can he do?'" says Bill Simmons. There's no greater beneficiary of that approach than Simmons himself.
On any given day, you can read Bill Simmons's column, download his podcast, listen to him on the radio, watch him host Pardon the Interruption, or even hear him doing the color commentary for an NBA game. Behind the scenes, he manages 16 full-time staffers and dozens of freelancers and produces documentaries by directors ranging from Barry Levinson to Ice Cube. And yet the security guard at the building that houses ESPN's Los Angeles offices has no idea who Bill Simmons is. He claims there's no Simmons listed in the ESPN directory; if I can't provide him with a phone number, there's no one he can call to find out if such a person exists. So I'm stuck downstairs until a few ESPN employees with cameras and sound equipment wander by. The security guard asks them if a Bill Simmons works here.
One of them says, "Yeah, try dot-com."
Another laughs and says, "Ask for the franchise."
Simmons is indeed located on the dot-com side of the org chart, but his involvement now stretches throughout the company. He is arguably the most popular sports columnist in America—his Sports Guy column attracts more than 750,000 unique visitors a month, and his B.S. Report podcast averages 600,000 downloads—and the most successful at translating a typical fan's obsessiveness into entertaining copy on the Web and in best-selling books (published by ESPN). He's the founder and editor-in-chief of Grantland, a Web-based magazine devoted to long-form journalism, and executive producer of ESPN's 30 for 30 documentary series, which won a Peabody Award and returns this fall for another season. When President Obama sat for an interview with ESPN in the White House earlier this year, he gave it to Simmons.
On a recent Friday afternoon, of 100,000 visitors to ESPN.com, 60,000 were reading a new Simmons column. So when Simmons came to Skipper last year with a new idea for a website dedicated to sports and pop culture to be staffed by young writers Simmons had found, Skipper actually didn't have much choice. "I was going to do it whether I was at ESPN or not," Simmons says. He told Skipper, "I want to do this with you guys. If you guys don't want to do this, I'm not going to be upset, but I'm going to do it somewhere."
Grantland.com launched last year as a venue for an eclectic array of stories, ranging from detailed breakdowns of the American League East to a thorough—and entertaining—appraisal of Eddie Murphy's career. (There have also been four print editions, called Grantland Quarterly, published by McSweeney's.) While the site's writers and editorial advisers include Malcolm Gladwell and Dave Eggers, it's the quirky labors of obvious fan passion—such as a discussion of Oasis's post-(What's the Story) Morning Glory? flameout or an oral history of the making of White Men Can't Jump—that set it apart, drawing to ESPN perhaps the only sports fan demographic it wasn't yet reaching: the ones who don't really like sports.
"We want to surprise our fans. If you're a fan of smart, long-form journalism, surprise: We're going to do it better than anyone else," Skipper says. "In the case of Grantland—I have to be careful because I want to keep my pal Bill Simmons happy—it's going to be a niche business … but it's a niche business that does a lot of good things for us. It introduces us to a world of talent that we use in other platforms."
Once I finally manage to locate Simmons, he meets me in his office overlooking downtown L.A. and the distant Santa Monica Mountains. There's a Simmons 42 Celtics jersey, a photo of the Red Sox celebrating their 1975 Game 6 World Series win signed by Carlton Fisk, a few boxes of Grantland bound volumes, a brown sofa, and a carpet with white, gray, and red dots. Simmons, a loyal Boston sports fan, is thinner than he appears in photos. His relationship with ESPN has had its rocky patches. He's personally confronted one of the common criticisms hurled at ESPN—the conflict of interest inherent in being a business partner of the very same sports leagues the company's reporters are covering. "For the first seven or eight years, there was a lot of tension," Simmons says. "I was worried about finding the right balance of what I could say or not say." He gives as an example a 2001 column that made fun of former Baltimore Ravens coach Brian Billick. "They mutilated it. I was so disappointed. They were like, 'That's somebody we might try to hire someday.'"
The issue of journalistic independence remains a prickly one at ESPN. "We are certainly aware of those business relationships [with the leagues]," says Vince Doria, ESPN's director of news. "We can't get away with a sense that we're being unfair to people we are in business with."
Skipper adamantly defends ESPN's journalism. "The programming guys who manage those relationships have no say in news and information. Those lines do not cross. There is only one person who has a foot in each camp, and that's me. … No story has ever been compromised by having a business interest."
Yet ESPN has been widely criticized by media watchdogs for coming late to two major stories that tarnished the images of the network's business partners: the child sex-abuse scandal at Penn State and the rash of concussion-related brain injuries among former NFL players. Skipper insists ESPN didn't compromise on either story. "We covered Penn State just as aggressively as any news organization. People criticized us for not having a truck there, but that doesn't mean we weren't covering it." In 2004, ESPN canceled Playmakers, a popular show about professional football players that infuriated then-Commissioner Paul Tagliabue, prompting him to call former Disney CEO Michael Eisner to complain that the show was portraying the NFL negatively. "At the end of the day, I made a decision not to continue to produce something that was upsetting to one of our major partners. It wasn't good business," former ESPN president George Bodenheimer said in These Guys Have All the Fun.
ESPN's current business partners say they recognize the strict division between the news-gathering operation and the production and broadcasting of games. NBA Commissioner Stern, who has been criticized heavily by various ESPN pundits, says, "We recognize the separation. Some of the most critical coverage we get is from ESPN, on air, digitally, on ESPN.com. … Even when Bill Simmons is 100 percent wrong-headed, we let it go."
For his part, Simmons says a combination of his own maturity and the fact that the company's decision-makers became younger and hipper has made him feel like he's part of the team. "I'm one of the influencers, I'm competitive, I want us to win. … I guess for the first few years, it was my column and me, and now I definitely feel like I'm part of the company, and not in a bad way. I want us to do good work. I even try to push them. Maybe I've sent one too many memos." For Simmons, ESPN offers more opportunities and is willing to embrace more risk than any other media business. "It's like, we have more money. We have a lot of good people. … ESPN, if you're a smart sports fan, that's where you want to end up."
Bristol, Conn., is the greatest concentration of "smart sports fans"—or to put it less charitably, sports nerds—the world has ever seen. Prospective interns and production assistants are asked questions like, "Break down the National League Central bullpens," or, "Who were the second- and third-youngest batting champs in American League history?" To sit in on SportsCenter's production and highlight meetings is to gain a glimpse into a level of sports fandom that puts the more casual fan—and I worked at Sports Illustrated for four years—to shame.
After the 4 p.m. planning meeting ends, I head down to the highlight room to join the production assistants working on that night's edition of SportsCenter. They've assigned me a task: logging highlights from the game between the Minnesota Twins and the Cleveland Indians, a battle of also-rans that may not produce any highlight worthy of showing on SportsCenter. The highlight center is a vast, mission-control-like room where, instead of the lunar surface, the hundreds of screens are tuned to sporting events going on around the globe. Logging highlights involves sitting in front of a terminal running proprietary software and another terminal showing an HD feed of a baseball game. We are noting potential highlight-worthy plays and incidents. Each entry that's typed in is automatically time-stamped to the video feed so it can immediately be called up during editing.
Certain games, like those involving division leaders, good pitching matchups, or the New York Yankees, are almost guaranteed a coveted highlight spot, while others will only merit a box score. It's up to the production assistants, usually in their first jobs out of college, to try to get the games they're logging onto SportsCenter. One PA, Timothy Parker, who has been monitoring Tampa Bay third baseman Evan Longoria's Twitter feed, says Longoria tweeted that he was "aglow" about returning from a hamstring injury. Parker suggests the show do something with that: How about giving Longoria a glow that brightens or dims depending on his performance that night?
My game presented few potential story lines. I planned to note the obvious: home runs, runs scored, spectacular fielding plays, bean balls, managers kicking dirt on umpires' feet, players getting ejected. But immediately, I notice the 24-year-old next to me, Wesley Allen, who's logging the very highlight-worthy game between the Yankees and Detroit Tigers. He's noting balls, strikes, and even types of pitches. He points out you never know which pitch will be the start of a string of, say, 24 straight balls, which would make a terrific highlight. The only way you might know which pitch started the sequence would be if you logged every pitch. I also realize my unfamiliarity with the players is a serious handicap, as I have to search online to find the batters' names and type them in, and by then I've usually missed one or two pitches. I also miss walks, base hits, and at one point, I realize I have indicated that the Cleveland Indians pitcher, Corey Kluber, has just drawn a walk, which is impossible since pitchers don't bat in the American League.
When I ask the highlight manager, Tom McCarter, whether this work could be offshored to, say, India, he smiles and says, "you can never overlook the human factor. We're looking for stories. You can't train that." It's also an in-house farm system. Thousands of applicants a year are considered for a few dozen PA jobs, and more than half of them will be asked to leave within three years. The rest will work their way up the ladder until they are themselves working on a SportsCenter production pod. "It's a great way to evaluate talent," says Coordinating Producer Timothy McHugh. Plus, as CFO Christine Driessen points out, "We pay them very little."
This obsessive fandom, these thousands of sports nerds secreted away in a production gulag in Bristol, is also the emotional center of a multibillion-dollar business. It preserves a certain naive love of the games. Spend too much time in a locker room interviewing athletes, and even the most passionate fan can become jaded about big-time sports. ESPN has plenty of reporters who spend plenty of time on the road, interviewing players and breaking news, but it is the crew in Bristol who drive the fan culture of ESPN. "If you're spending time with athletes, the hero worship subsides," says Vince Doria. "Some of them are a‍-‍-‍holes. So having people who have not spent time in locker rooms is an advantage." A hallmark of coverage on all ESPN platforms is that the network's voices almost never come off as jaded or cynical about sports.
ESPN remains, says James Andrew Miller, co-author of These Guys Have All the Fun, "unbelievably aggressive. I have friends who work at Google, and they are beating their chests. ESPN, they never feel like they are at the mountaintop. They're always thinking they can do something bigger. They're absolutely focused. It has to do with living in Bristol. You don't date ESPN. If you're working there, you marry it."
While the culture of the company should ward off complacency, the primacy of live rights might allow a competitor to emerge. Could, say, NBC Sports Network or Fox buy the rights to enough high-profile sports to become a viable alternative to ESPN? NBC Sports Network is currently charging 31¢ a subscriber, compared with ESPN's $5.13. But suppose it lands the NBA and college football playoffs. Wouldn't cable subscribers start clamoring for the NBC Sports Network, which might lead cable operators to negotiate lower rates with ESPN? It's possible, but still remote. "Somebody is going to have to gather a bunch of franchise properties to make that happen," says Chris Bevilacqua, a sports media consultant and adviser to several ESPN partners.
The other risk is that ESPN will overextend itself, paying too much for live sports that fail to generate new revenue. Skipper discounts that possibility, too: "I disagree that we are one rights decision away from creating our own competitor." He stresses ESPN's multiplatform advantage: "print, radio, broadcast television, cable television, Internet, mobile applications. To date there are no competitors who have assets in all those media."
It's conceivable, maybe likely, that ESPN will make a strong push to become the first cable network to carry the biggest sporting event of all, the Super Bowl, after the NFL's current deal with CBS, NBC, and Fox expires in the next decade. How much might ESPN pay for the ultimate prize?
Skipper sits back and shakes his head. "I have a very simple rule of how you establish value. It's whatever anyone will pay for it. You can spend a lot of time looking at metrics and ratings points—it's helpful and interesting—but I find it amusing. Because I know people go into these meetings with boards and charts and ratings points, but none of that matters. It's like buying a house, if you want to buy a house, it's worth whatever it's worth."
He adds: "I don't think you'll find a lot of hubris here. Or complacency. I don't think there's any sense of trying to protect what we've got. We're going to try new things."
At 11 p.m., Steve Levy and John Buccigross are indeed men in makeup talking about sports, in a silent, nearly empty soundstage a few buildings away from the production pod. My highlights don't make the show. At one point, during a Tampa Bay Rays highlight, a glow-stick appears, and Longoria's tweet is read out by Levy. When Longoria doubles, the glow-stick brightens. Down in the highlight center, Timothy Parker, who came up with the bit, is also aglow. It's a small idea, forgotten by most viewers within seconds, but ESPN's success is based on its sports-crazed employees having thousands of them every day.