Apple Gets $1 Billion From Samsung—Nothing Changes
By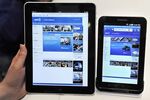 It ain't over yet, not by a long shot.
Apple got the best of Samsung in the first of their many patent trials to go to a U.S. jury. A nine-person panel came back to the federal courtroom in San Jose, Calif., Friday afternoon, after only three days of deliberation, and announced that the Korean electronics giant had infringed six of the seven patents for Apple mobile devices that were at issue in the trial. The verdict came with a $1.05 billion price tag, less than half of what Apple was looking for, but not too shabby, all the same.
While there are plenty of reasons for Apple's legal team to celebrate, keep in mind that this is just one round in a bout being fought fiercely on four continents. The battle likely will continue for some time, maybe years. Samsung (005930:KS) will appeal the San Jose verdict, and it will not pull out its check book any time soon.
The smartest way to view this big Apple victory in the smartphone wars is that the Cupertino (Calif.)-based innovation machine now has an upper hand in a global negotiation being conducted via litigation. That's right: a negotiation. Apple and Samsung are using the courts to help them set prices for a series of cross-licensing agreements covering each other's intellectual property. In fact, it's broader and more complicated than that. Apple is engaging in this multi-dimensional negotiation-by-lawsuit with a range of device-making rivals that, like Samsung, use the Android operating system given away by Google. The San Jose case and dozens of others around the world are part of a struggle between Apple and Google over whose operating system will dominate a market for mobile phones and tablet computers worth hundreds of billions of dollars a year.
It is not a struggle, however, in which any one company is going to get destroyed or put out of business in court. Competitors are using the courts to figure out the terms of cooperation—whose intellectual property is worth what. Eventually they will get back to ordinary competition in the marketplace. Indeed, Samsung is one of Apple's main component suppliers for mobile devices; these  companies are quietly collaborating, even as their lawyers bash one another's brains out.
In the end, the duel between Apple's closed-garden operating system and Google's open system—and the brutal competition between the iPhone and its many Samsung, Motorola, and HTC (2498:TT) imitators will be determined where it ought to be—at retail sales counters. Consumers are the ultimate jurors in the court of capitalism.
Before it's here, it's on the Bloomberg Terminal.
LEARN MORE