The Greatest Company T-Shirt Ever
A stylish vintage tee that's also a testament to the long-lost glory days of Wall Street
David Wescott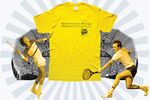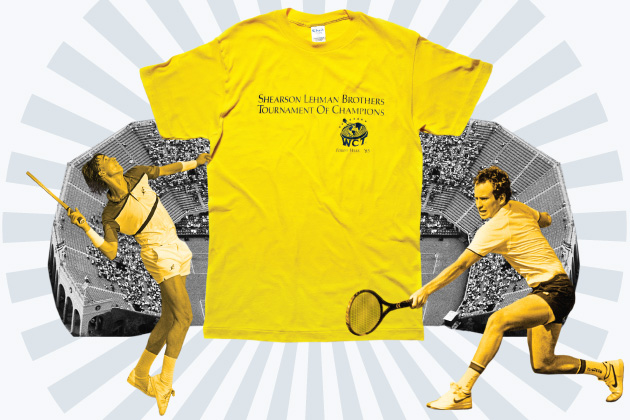 Life was good for the traders and bankers who worked for newly merged Shearson Lehman Brothers Holdings in 1985, a year after the brokerage Shearson/American Express bought the Wall Street firm Lehman Brothers Kuhn Loeb for $360 million. The Dow was in the third year of an unprecedented rally that would carry it above 2500. That same year, the company celebrated a massive relocation to Manhattan's World Financial Center, assuming a quarter of the space in a tower described then as "a building for the 21st century." With business booming, Shearson Lehman began hosting extravagant corporate events, and none more over-the-top than the Tournament of Champions in Forest Hills, Queens, at the former home of the U.S. Open.
"CEO Peter Cohen was a tennis fan, and many department heads were petitioning him to sponsor the tournament," says Peter DaPuzzo, who worked at Lehman Brothers for 32 years. "Clients were invited from around the country—most importantly from investment banking." The venue, as described in the New York Times, had a "clubhouse gleaming in a fresh coat of paint, flags flying over the refurbished stadium and masses of blooming spring flowers." More than 100 players competed on six courts for a $635,000 purse. In the final, Ivan Lendl defeated John McEnroe in straight sets, 6-3, 6-3, before a crowd of more than 12,000, many of whom walked off with an official T-shirt that's become a precious find for a culture obsessed with retro chic. The number printed remains unknown, and they've disappeared on EBay for costs upwards of $60.
"It's a true vintage shirt because it's older than 1992," says Reed Hushka of shirtmaker Sleevecandy, because that was when "T-shirt makers switched from 50-50 cotton-polyester blend to 100 percent cotton; 50-50 tees are stretchier, and many find them to be more comfortable."
A tasteful canary yellow, the shirt features a wavy serif font and a subtle, offset logo (a far cry from this year's garish "Emirates Airline U.S. Open Series" logo, with multiple fonts and a flaming tennis ball). It can be worn earnestly—by, say, a tennis fan, or a finance worker—or with multiple layers of irony by Occupy Wall Street protesters who rail against overleveraged banks—like the now defunct Lehman Brothers—as well as elitist sports. Says Hushka, "It's a true gem."
Before it's here, it's on the Bloomberg Terminal.
LEARN MORE