Ray Daniels's Beer Prescription
A former PR rep leaves Big Pharma to oversee the high art of brewing
Ben Paynter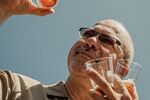 As a product manager at Abbott Laboratories, a developer of drugs and medical devices, Ray Daniels translated lab-speak into sales pitches aimed at blood banks and hospitals. Then, in 1990, he launched his own Chicago-based public-relations firm for health-care companies, a move that freed him up for something he was infinitely more passionate about: home brewing. After winning a series of prestigious competitions with his concoctions, he quit the fallback gig to start a brewery. "It's a little too simple to say I like beer," says Daniels, who studied biochemistry before earning a Harvard MBA. "I always viewed business as a creative outlet. I chucked everything to work on something I love." The brewery never took off, but it wasn't time wasted. Daniels spent more than a decade perfecting his craft, publishing books on brewing, and developing his own methods for testing the quality of beer—the basis for his Cicerone Certification Program for beer sommeliers.
Launched in 2008, it's become the gold standard for brewers, servers, and distributors seeking knowledge, respect, and better pay in the $8.7 billion craft industry. ("Cicerone" is an 18th centuryterm for guide.) More than 15,000 people have passed Daniels's tests, which cover subjects such as pouring, tasting, pairing, and the properties of yeast. The number of students in his program tripled last year and is up 60 percent more in 2012, drawing brewing diehards from both indie juggernauts like Stone Brewing and MillerCoors's craft and import division, Tenth & Blake.
"Some days, it's work," Daniels says. "Most days, it's still absolute pleasure."
 
DANIELS'S BEST ADVICE
 
1. Maturity Matters. If I had tried to start this business 10 years earlier, I would not have had the credibility to carry it off. It needs to be the right time, and you need to be the right person.
 
2. Be Smart and Humble. I admonish the cicerones to be guides, not gods. This is about making sure the people responsible for beer know the complicated details so it can be a simple experience for the customers.
Before it's here, it's on the Bloomberg Terminal.
LEARN MORE