For MBA Startups, High Potential, Mixed Results
by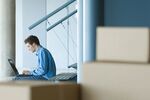 In a difficult economy, everyone wants an edge—no one more so than aspiring MBAs. But in an increasingly tough job market, what is the most valuable skill an MBA can have? For many, it's a knack for entrepreneurship. B-schools around the country certainly seem to think so: Four of the five top full-time MBA programs cite entrepreneurship as a leading area of study, and more schools are developing programs every day. But with entrepreneurial programs more popular than ever, a lot of MBAs are wondering: How hard is it to actually succeed as an entrepreneur?
To find out, Bloomberg Businessweek attempted to track down the 2007 winners of the Rice Business Plan Competition (RBPC), the world's richest and largest graduate-level competition, to find out what's happened in the last five years and where their companies are now. Five years was enough time for the ideas that won over the judges to succeed or fail on their merits, and by focusing on the winners we hoped to discover how the ideas with the best chance of success fared in the real world. As it turns out, they fared more or less as well as most new businesses do: Of the seven competition winners, three are still in business and in some cases have started generating revenue. David Lucchino, whose team from MIT's Sloan School of Management won second place in 2007, puts it bluntly: "If you want to be an entrepreneur, be careful what you wish for—it's a great and rewarding experience, but you are going to fail more than you succeed, and that's O.K."
Lucchino's Cambridge (Mass.) biomedical company, Semprus Biosciences (formerly SteriCoat), creates easy-to-use medical devices. Starting with two people in 2007 and $1 million from family and friends, Semprus has since raised $30 million in VC financing and gained 30 employees in the process. "The idea was to get folks with deep pockets to stick with this firm for the next couple of years," says Lucchino, who sold Semprus to Teleflex, a Limerick (Pa.) medical products company, for $80 million in June. With FDA approval still pending, Semprus Biosciences has not been able to market its products.
Feed Resource Recovery, which won sixth place at Rice, is a Boston company that provides grocery stores and restaurants with cost-effective methods for waste disposal. The founder, Babson MBA Shane Eten, declined to comment on the state of his company, but the Rice Business Plan Competition confirmed that it is still in business.
ImagineOptix, which won fourth place in 2007, expects to be profitable in a year. Based in Raleigh, N.C., the company licenses and develops video projection devices that can be embedded in phones and other devices. Erin Clark, the chief executive and president, says he owes much of his success to the company's "somewhat recession-proof" business model. "We develop our core technology, sign partners we license it to, and they develop the products. Royalties are the end-result for us," says Clark. "That's why we might still be around vs. other startups of the same vintage; [the business model] allows us to be lean and capital-efficient."
A key partner for the company was Clark's MBA alma mater, the University of North Carolina, which along with $3.9 million from angel investors helped with the bulk of the development work.
But not everyone was so lucky. ResuRX Pharmaceuticals, which won a team from Johns Hopkins the grand prize in 2007, never got off the ground. The company, which designed technology to evaluate existing drugs that could be repurposed for alternative treatments, decided that its technology was still "nascent and needed additional research," says Brad Burke, director of the business plan competition. Eyelight, which took fifth place, was unable to secure adequate funding. Michael Berlin, an ophthalmologist and clinical professor at UCLA who was part of a team that included students from the Anderson School of Management, says the company, which developed a treatment for open-angle glaucoma, hopes that might change. "We are becoming more interesting to investors than we were [in 2007]," he says.
Whether for financial or personal reasons, startups often have to be placed on hold. Luz Cristal Glangchai, whose company NANOTaxi won seventh place at Rice for a team from the University of Texas, Austin, knows this better than anyone. While completing her PhD in biomedical engineering at UT, Glangchai came up with the idea for NANOTaxi, a drug delivery system using nanoparticles to treat lung cancer and other diseases. Financed in part through the PhD program, NANOTaxi accumulated $50,000 in startup capital, enough to tide the company over for three years. But in 2010, Glangchai put NANOTaxi on hold. "As a single mom trying to support two children," she says, "it was hard to continue pursuing NANOTaxi without a steady income."
But despite how well entrepreneurial students might be trained, some things lie beyond their control. Adam Robertson can attest to this better than most. His company, Precision Surveying Solutions, won third place in 2007 for a team from Brigham Young University but fell victim to the bursting of the housing bubble. The company sells data collection tools to land surveyors, and when the housing market was booming, so was the company, with revenue hitting $40,000 a month in 2007. As the housing bubble deflated, revenue fell to $3,000 a month before trickling off completely. By 2011, the company was out of business. "We would have stood a chance if not for the housing crash," Robertson says. "It was really the nail in the coffin."
The experience of the 2007 winners is roughly in line with other winners of the Rice Business Plan Competition. Since its inception in 2001, 354 teams have competed in the competition. Of those teams, 199 have gone into business and 128 are still in business or exited successfully. The survival rate for the 2007 Rice winners also mirrors that of new businesses as a whole, whether started by new graduates or serial entrepreneurs. The Small Business Administration says that about half of all new businesses survive for at least five years.
The numbers underscore a basic fact of the entrepreneurial life: It's exceedingly risky, even for the best of the best.
Join the discussion on the Bloomberg Businessweek Business School Forum, visit us on Facebook, and follow @BWbschools on Twitter.
Before it's here, it's on the Bloomberg Terminal.
LEARN MORE