Favorite Professors: Georgetown's Lynn Doran
by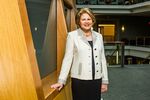 Lynn Doran
McDonough School of Business, Georgetown University
Undergrad Courses Taught: Business Financial Management; Advanced Financial Management; Corporate Governance and Valuation
Since joining the McDonough School of Business in 1998, finance professor Lynn Doran has held an active role on campus, getting to know her students in and out of the classroom. After requesting e-mails and pictures from her undergrads before the start of each semester, Doran tries to learn their names by the time they enter her classroom. She serves as the faculty adviser for several student groups, including the Undergrad Financial Management Association, and works to arrange events and speakers for them.
Doran holds an undergraduate degree from Duquesne University, where she also received her MBA. She holds a Ph.D. in finance from the University of Pittsburgh, as well. "I've always liked teaching," says Doran, whose teaching expertise ranges from high school biology to advanced financial management. "I don't do anything quirky. I think that's why the students like me—they know what to expect."
Students Say:
• "A highly organized, structured class. No laptops. Instead she personally copies and hands out PowerPoint slide note pages. She has very high expectations, but she's always available to help. She really pushes students to do their very best."
• "Professor Doran's classes gave me an exceptional foundation in finance, and she really works hard to bring companies to campus to connect her students with job opportunities."
She Says: "I think I have the ability to take a complicated topic and explain it in a way that students understand, and I think that's what students really appreciate."
Editor's Note: This profile is part of Bloomberg Businessweek's series on favorite undergraduate business professors. Subjects were chosen based on feedback collected in Bloomberg Businessweek's annual survey of senior business students. The featured professors were the ones most often mentioned by students as being their favorite. Student quotes come directly from the student survey.
Before it's here, it's on the Bloomberg Terminal.
LEARN MORE