New Windows Tablets: The Good, the Not-So-Bad, and the Ugly
Kevin C. Tofel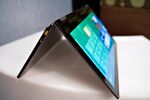 In a few short months, consumers will have a new choice added to the tablets that run Apple's iOS and Google Android: Microsoft Windows slates will arrive in time for the holiday season. These devices will markedly differ from prior attempts at Windows tablets, with a more touch-friendly interface and the use of smartphone chips to power the devices. As we have known since April, a special version of Windows 8 called Windows RT will power these slates, and Microsoft has now officially picked which companies will provide the hardware.
Asus (2357:TT), Samsung (005930:KS), Lenovo (992:HK), and Dell are the first four companies that will build and sell Windows RT tablets, although others are sure to follow in 2013. The first two choices make perfect sense, No. 3 less so (but is still understandable), and the Dell news doesn't inspire me. Of the four partners, Dell has arguably experienced the least success is trying to crack the consumer market. Yes, we're talking about Windows PCs with Windows 8, but in my mind the Windows RT tablets are more consumer electronics devices than traditional computers.
Dell had a good run with its Axim line of personal digital assistants starting back in 2002, but it eventually left that market in 2007 and made no headway with its few smartphone efforts, such as the Dell Streak, Venue and Aero. The Dell DJ digital audio player came out around the same time as the Axim, but the iPod swallowed up market share and competing products faded away. Maybe Dell will prove me wrong with some unique aspect or fresh design, but even one of the most expensive tablet PCs from the company prompted terrible reviews and cries for a recall.
Maybe Dell can change my mind, even if history has shown little-to-no hope for later this year. But this uncertainty and a lack of consumer focus will be the biggest challenge to Dell. Microsoft has to know this, leading me to think that Dell pushed hard to be chosen as one of the first four Windows RT partners. I'd say Dell has the longest odds of being successful in the Windows RT market.
Lenovo hasn't had much more success, but what it has had are some entries into the Android tablet market that provided it with some useful experience. And as far back as 2010 when smartbooks were still a possibility—a category I suggested Apple's iPad quickly killed off—Lenovo had some impressive designs that were precursors to the Windows RT tablets arriving soon.
Back in late 2009 I saw some of those first designs: Lenovo teamed with Qualcomm to show off its smartbook device, but it never came to market. A few months later Apple announced the iPad, and it was back to the drawing board for Lenovo. The company dropped a custom Linux build for the next iteration, called the U1 Hybrid, and went with Android instead. The laptop-like device had a removable display that became an Android tablet, but it was a Windows 7 notebook when docked.
Again, even though this device never went on sale, the point is that Lenovo has created interesting designs it can learn from when building its Windows RT products. You can see that in the Lenovo IdeaPad Yoga, likely to be the company's debut product when Windows 8 launches in late October. That laptop has a patented hinge to allow the device to stand up and be used as a convertible tablet.
Why would I suggest Asus and Samsung have a shot to lead the Windows RT market? First, there's relatively little competition. Second, both have proved they can design, build, and sell consumer slates. We know that neither is competing well with Apple's iPad, but of the tablets that are worth a look, they're all built by Asus and Samsung.
I give Asus the slight edge here though. While Samsung has focused on various-sized slates for different markets, Asus has kept its product line a little more manageable with 7-inch and 10-inch slates. It was also chosen to build the Nexus 7 tablet for Google.
A standard size allowed for what I think is the most innovative product feature in this market: a dock that doubles as both a keyboard and a second battery. I'm talking about the Asus Transformer that I reviewed earlier this year; the form factor and features were excellent. And Asus is wisely reusing the concept for Windows RT with its Tablet 600.
Samsung could take a similar approach with a keyboard dock, or it might simply focus on the slate device itself. Regardless, the company knows how to make a good tablet, plus it has a rich history of making Windows notebooks as well. The first Samsung iteration for Windows RT should be serviceable, but I still think Asus will be seen as the bigger innovator.
The other new factor is that Microsoft is competing against its own licensees with the Surface. My first impressions are fairly positive here: Microsoft has designed a compelling choice for this market, and the product has some of the sexiness equated with the iPad. The cover with integrated keyboard in particular looks not only useful but also to be an extension of the Surface tablet itself.
Although Microsoft's Zune player fizzled, the Surface looks to sizzle. And outside the Zune debacle, Microsoft does have some consumer-electronics wins, most noticeably with one of the best-selling game consoles of all time: the Xbox 360. Perhaps Microsoft will be the biggest surprise here and end up leading the pack when it comes to the Windows RT market.
Also from GigaOM:
Mobile Second-Quarter 2012: Analysis and Outlook (subscription required)
KiOR to Start Up Next-Gen Biofuel Plant Next Month
Vodio Brings Its Personalized Web Video App to IPhone
Verizon Rates All Its Mobile Apps for Age-Appropriate Content
Before it's here, it's on the Bloomberg Terminal.
LEARN MORE