business
Wal-Mart Moves Into China's Hot E-Commerce Sector
Online payment services have made digital shopping popular
By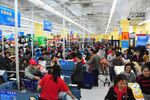 China's retailers, already struggling because of an economic slowdown, got another jolt of bad news on Tuesday. Wal-Mart Stores announced it had finally received Chinese government approval for a proposal to buy a majority stake in Yihaodian, a Shanghai company that is a leader in the country's booming online retail industry. Wal-Mart first submitted the deal to the government in December and has been waiting for the Ministry of Commerce to give it the O.K. ever since.
The deal suddenly puts Wal-Mart at the center of one of China's fastest-growing sectors. China's economy is slowing because of fallout from the European debt crisis, but that's not deterring Chinese consumers from making more purchases via the Internet. According to the official Xinhua news agency, 210 million Chinese are shopping online. The value of online shopping transactions in China jumped 51.6 percent year on year, to 268.4 billion yuan, in the second quarter of 2012, Xinhua reported, citing iResearch, a market research firm with offices in China and Silicon Valley.
It wasn't that long ago that China was a laggard in e-commerce. Few Chinese consumers had credit cards. Delivery companies couldn't provide reliable service. In 2008, e-commerce amounted to only 2 percent of total retail sales in China, according to Shanghai's RedTech Advisors.
But the growth of PayPal-like payment services such as Alibaba Group's AliPay has made e-commerce easier. And with companies improving the speed of package deliveries, Chinese e-commerce is gaining ground. This year, online's share of total sales will be between 6 percent and 7 percent, says Michael Clendenin, RedTech's managing director. That puts China at the same level as the U.S. "It will more than likely surpass the U.S. in the next two years," he adds.
With many retailers having slashed their delivery charges, there's little reason for Chinese consumers to go to old-fashioned stores, he says. "In China, you go to these crowded malls, the service is not good, it's stressful even for the most enthusiastic shopper," he says. "Why would you go out and fight the masses when you could sit at home, put your feet back, and buy things? It's a much more pleasant experience."
The fight for customers is heating up. In trading on Wednesday, the Hong Kong-listed shares of China's second-largest electronics retailer, Gome Electrical Appliance, fell as much as 11.1 percent after Liu Qiangdong, chairman of rival online retailer 360Buy Jingdong Mall, declared a "three-year price war" on his microblog. Liu said 360Buy would tolerate low prices even if they resulted in "zero margins." 
That prompted a response on Tuesday from Gome, which promised on its microblog that its prices would be 5 percent lower than 360Buy's. "Enough of this nonsense," Gome said.
Before it's here, it's on the Bloomberg Terminal.
LEARN MORE