Japan's Insider-Trading Carousel
Regulators talk tough, but penalties are light compared to the U.S.
By and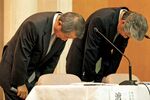 Financial scandals in Japan have a rinse-and-repeat quality. Investigators raid companies. Disgraced executives bow apologetically before the cam-eras and head off into early retirement. Then the cycle starts anew. The latest crackdown on insider trading has led to the departure of the chief executive of Nomura Holdings, the country's biggest brokerage, along with one of his top lieutenants. An ongoing probe has also unearthed evidence of leaks at two other securities firms. "Japan has been letting the animals run wild for two or three years now," says Takao Saga, a finance professor at Tokyo's Waseda University.