The Payoff From Winning an Olympic Medal
Governments are eager to reward their Olympic champions
By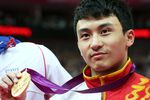 When Kellogg stamped Gabby Douglas's hard-to-forget smile on a box of corn flakes, the company kicked off a string of endorsement deals that will likely make her millions. But even without sponsors, the 16-year-old gymnast will leave London with $50,000, which is what  pair of gold medals is worth in her home country.
Mostly made of silver with at least six grams of gold, a gold medal from the 2012 London Olympics is worth about $700. Taking the hard work, dedication, and sheer talent of its athletes into account, the U.S. has upped its assessment, at least with regard to what it will pay. Relatively modest compared with most of the world's incentives, America pays $25,000 to gold winners, $15,000 to those who earn silver, and $10,000 for bronze.
Singapore, the world leader in Olympic payouts, gives far more, promising its champions a whopping $800,000. Kazakhstan is also a leader in the pecking order of cash prizes. Olga Rypakova, who won the women's triple jump for Kazakhstan, will see $250,000 for her gold. Italy is nearly as generous, giving gold winners up to $182,000.
Awarded at a national level, these bonuses pale in comparison to the prizes local governments are giving. In addition to the $135,000 Russia promises its gold winners, media reports say the regional government of Chelyabinsk Oblast is offering $1,000,000. In China, rewards do not stop at cash. Local governments give everything from apartments to luxury cars—and in the case of 2008 weight-lifting champion Chen Xiexia, houses for her and for her parents.
Xiexia, who according to media reports won a national award of over $55,000, received double that from Guangdong Province, in addition to an Audi Q7. For the 51 gold medals China took home in 2008, it's estimated that the country paid roughly $55,000 apiece, although the Chinese Olympic Committee has denied this number. The last bonuses China announced go back to 2004, when the country paid roughly $30,000, $18,800 and $12,500 for gold, silver, and bronze, respectively. China has not announced its award program for 2012, but Chinese-language Sports Weekly says athletes will probably receive about $51,000.
This year's host country is a bit less generous. Great Britain is awarding no prize money to its medalists, but it will put their faces on Royal Mail stamps. Royalties from postage stamps can reach into the five figures, but unfortunately for tennis star Andy Murray or cyclist Chris Hoy, no Bentleys lie in store for Her Majesty's best.
The United Kingdom is the only major medal-winner that does not offer cash incentives. The French pay gold medalists $65,000, while South Africa just announced a prize of nearly $55,000. Mexico pays $37,000 for a gold medal—almost twice what Canada offers, which at $20,000 is among the lowest of international payouts.
Before it's here, it's on the Bloomberg Terminal.
LEARN MORE