German Economic Weakness May Help the ECB
by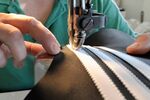 Germany has had a triple dose of bad economic news in the last two days. Industrial production tumbled 0.9 percent in June from May, slightly more than expected. Factory orders dropped 1.7 percent in June from a month earlier, twice as much as the consensus forecast. And June exports fell 1.5 percent in May, more than the expected 1.3 percent.
"It's obvious the exports are being affected by the problems of Europe, especially on the periphery," says Gilles Moec, co-head of European economic research at Deutsche Bank. Germany derives 50 percent of its gross domestic product from exports: The euro area is Germany's biggest export market. "It's another signal that no one is immune," says Moec.
It's scary to see Europe's biggest economy start to slow down, since no other economy in the region can pick up the slack. Moec points out, though, that Germany's public finances are in good order and it won't have to go through the painful exercise of budget-slashing to make it through a downturn.
Moec's more intriguing point is that Germany's difficulties may make it easier for the European Central Bank to act boldly. If Germany had continued its strong pace of growth from the last two years, it would be running the risk of overheating. That would require a hawkish response from the ECB, to the detriment of Greece, Spain, Italy, Ireland, and Portugal, which need loose monetary policy to get back on their feet. With Germany's economy slowing some, the ECB is freer to pursue its all-out rescue plan for the euro zone, a plan that probably involves aggressive purchases of sovereign bonds.
Before it's here, it's on the Bloomberg Terminal.
LEARN MORE