Did Another British Bank Behave Badly?
by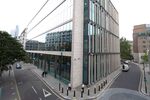 I was raised in Miami, a place with a proud tradition of money laundering. Three decades ago, when the city was awash in cocaine riches, it was not uncommon to see people walk into banks with Samsonites full of $50 and $20 bills. All-cash, zero-haggle bids on luxury cars, condos, and thoroughbreds were the rage. Today, retired dopers will regale you with tales of the overnight counting operations of unscrupulous banks, as can this column from Bloomberg View's Jonathan Weil, a fellow South Florida native.
As audacious and outsized as it may have seemed at the time, Miami's funny money has nothing on the industrial scale of money laundering that has allegedly gone on at Standard Chartered (STAN:LN), the London-based bank that dominates Asia, Africa, and the Middle East. On Aug. 6, New York's Department of Financial Services said that Standard Chartered had violated U.S. economic sanctions by collecting hundreds of millions of dollars in fees for handling $250 billion in transactions for Iranian institutions. As a result, the bank's U.S. unit—which totes up $41 billion of the company's overall $624 billion in assets—may be suspended from doing business in the Empire State. The NYDFS's order warning (PDF) pulls few punches:
"In its evident zeal to make hundreds of millions of dollars at almost any cost, Standard Chartered Bank undertook a course of conduct that included: falsifying business records; offering false instruments for filing; failing to maintain accurate books and records of all transactions effected and all actions taken on behalf of SCB; obstructing governmental administration; failing to report misconduct to the Department in a timely manner; evading Federal sanctions; and numerous other violations of law that, as with the above, have an impact upon the safety and soundness of SCB's New York branch and the Department's confidence in SCB's character, credibility and fitness as a financial institution licensed to conduct business under the laws of this State. … In short, SCB operated as a rogue institution."
It was evidently little consolation to investors that Standard Chartered sprawls across more than 70 countries. Lose your New York operating license and you jeopardize the key ability to process dollar payments for companies that have operations in New York and abroad. Shares of Standard Chartered fell more than 16 percent in London trading, posting their biggest decline in almost a quarter-century.
Standard Chartered responded in a statement that 99.9 percent of its transactions with Iran complied with U.S. Treasury regulations and that the total value of non-compliant transactions was around $14 million. The bank said it "strongly rejects the position and portrayal of facts" made by the New York regulator. Standard Chartered "had previously reported that it is conducting a review of its historical compliance and is discussing that review with U.S. enforcement agencies," the bank said in the statement, referring not just to the NYDFS, but also to the U.S. Justice Department, U.S. Treasury Department, Federal Reserve Bank of New York, and New York District Attorney. "We remain in close contact with both federal and state authorities on this matter," says John Sullivan, a Treasury spokesman.
Bloomberg News's Gavin Finch and Greg Farrell reported that the regulatory costs of this scandal are already being projected at around $5.5 billion. They cite estimates by Cormach Leech, an analyst at Liberum Capital in London, who posited in a research report on Tuesday that Standard Chartered may be fined $1.5 billion by U.S. regulators, lose $1 billion of revenue from its Iranian operation, and drop a further $3 billion in market value if the episode winds up felling the careers of senior managers. "It's unclear whether senior management will resign for the alleged shortcomings given that they have been in their current roles for much of the relevant period, raising the risk of kitchen-sinking on arrival of new management," he wrote.
According to the New York regulatory order, when the head of the bank's U.S. unit in 2006 warned headquarters in London that the dealings could cause "catastrophic reputational damage," he received a reply referring to U.S. employees with an obscenity. "You f—— Americans. Who are you to tell us, the rest of the world, that we're not going to deal with Iranians?" a bank superior allegedly responded, according to an interview quoted in the agency's order.
Regulators are now examining the history of Standard Chartered's wire transfers involving Iranian banks. Standard Chartered, which traces its roots back to an 1853 royal charter issued by Queen Victoria, opened its Iran office in 1993. By 2003, it was saying: "Cross-border trade flows with markets like Turkey, Afghanistan, Iraq and Iran appear to be growing and offer potential to us." From 2001 to 2007, according to the order, the bank's New York branch executed 60,000 wire transfers involving $250 billion. Standard Chartered ceased looking for new business in Iran in May 2007; it quit the nation outright five years later.
Representatives of the bank were ordered by the NYDFS to appear before the agency on Aug. 15 "to demonstrate why SCB's license to operate in the state of New York should not be revoked."
Just last week, Peter Sands, Standard Chartered's chief executive officer, praised his bank's culture in comments to analysts. "We build businesses that deliver a wider social and economic benefit," he remarked on Aug. 1. "As a source of competitive advantage, as the ultimate protection against risk, our culture and values are our first and last line of defense."
This is apparently the summer of BBBB: British banks behaving badly.
Before it's here, it's on the Bloomberg Terminal.
LEARN MORE