Amazon Exec Defrauded by Fake Tom Petty Booking Agent
by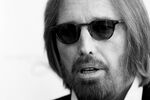 It's one thing when the wedding singer doesn't show up. It's another thing altogether when the wedding singer is Tom Petty, and he didn't even know about the gig. Brian Valentine, senior vice president for Amazon.com's e-commerce platform, mistakenly believed he booked Tom Petty and the Heartbreakers for his Seattle wedding. In reality, he'd wired a $165,000 deposit to alleged Las Vegas fraudster Chad Christopher Lund, who was posing as a booking agent, according to the FBI.
Federal agents found Lund in southern Illinois and arrested him on Aug. 2. He remains detained there and is pending transfer by U.S. Marshal to the Western District of Washington, according to Emily Langlie, a spokeswoman for the district's U.S. Attorney's Office. No attorney is listed yet for Lund. The maximum penalty for wire fraud is up to 20 years in prison and a $250,000 fine.
Valentine, who proposed to Amazon employee Gianna Puerini at a Petty concert in Seattle in 2010, last year tried to book the band through the LundLive Booking Agency. The agency claimed on its website that it has experience procuring and providing such live music acts as Xzibit, Run-DMC, Kansas, and Ludacris, according to the complaint.
In October 2011, Lund claimed he had negotiated with Tom Petty and the Heartbreakers to perform at Valentine's wedding for $330,000 and required a 50 percent deposit (Valentine's 2011 compensation at Amazon was $163,564, and he holds more than $7 million in company stock, according to data compiled by Bloomberg). Lund then sent Valentine a contract containing the forged signature of band manager Tony Dimitriades.
In April, a few months before the wedding, Valentine contacted Dimitriades to discuss the event and learned that Petty's people had never heard of Chris Lund or his agency. "It looks like you've been defrauded," the manager wrote to Valentine in an e-mail. Dimitriades was not available for an interview.
After hiring a private investigator, Valentine received an e-mail from Lund offering to refund his deposit "out of my own personal funds." But Lund also asked for some time, "as that is a lot of money for me." Investigator Hal de Becker discovered a few days later that Lund had vacated his Las Vegas residence. It took a couple of months to locate him in Illinois.
Despite the scam, Valentine was able to book Petty for his wedding in Seattle on Jul. 21, reported the New York Daily News.
Before it's here, it's on the Bloomberg Terminal.
LEARN MORE