Believe It or Not: Apple Chip Guru Decamps for AMD
By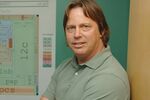 It seems like an odd choice to leave the world's most successful technology company for one that appears lost in the woods. But that is exactly what Jim Keller has done. The chip design guru has left Apple for Advanced Micro Devices.
At Apple, Keller served as a director in the platform architecture group with a focus on mobile products. When translated, this means Keller led much of the work around Apple's custom chips that go into iPhones, iPads, and iPods. The most famous of these chips are the A4 and A5, which have added zip to Apple's products while keeping power consumption pretty low. At AMD, Keller will become chief architect of the company's chip designs. In this role, Keller will work on products that range from the data center to the PC to the mobile world.
AMD has been in the midst of an executive mass exodus ever since its former chief executive, Dirk Meyer, was fired last year. AMD has given up major ground to Intel in the data center and has no answer for smartphones. So it has been left playing second fiddle to Intel in the desktop and laptop markets and doing battle with Nvidia around graphics chips.
If there's hope for AMD, it will come through Keller, who has something of a magic touch. Many years ago he worked at Digital Equipment and contributed to some screaming-fast server chips. He's also done a previous stint at AMD, revamping its main product lines, and he has worked at a couple of startups that were sold for big bucks. Apple acquired his last startup, P.A. Semi, and then put those folks in charge of the A4 and A5 projects.
AMD declined to make Keller available for an interview, so we're left wondering what on earth he's thinking. He's 53, and because of the lead times in the chipmaking industry, it'll be at least four years before any major design changes appear in AMD products.
The rest of the main P.A. Semi gang has moved on as well. Amarjit Gil, a P.A. Semi co-founder, is the CEO of a startup called Maginatics. Dan Dobberpuhl, the former CEO, is retired and playing with his grandkids. Wayne Meretsky, one of the lead engineers, has decamped to New Zealand, according to his LinkedIn profile, to work at a robotics firm. And Leo Joseph, the chief operating officer, is a movie producer.
Apple can obviously afford to hire the best engineers in the world, but it will be tough to replace Keller. The A4 and A5 chips were designed well enough for Apple to use lower-cost, older manufacturing technology and still wring more out of the engines than rivals were getting from their more expensive chips. The A4 and A5 are also some of the keys to the battery life of Apple's products. Keller was known for being particularly skilled at tuning the chips to use as little juice as possible.
Before it's here, it's on the Bloomberg Terminal.
LEARN MORE