pursuits
Whatever Happened to Jordache?
The eccentric Israeli family that launched a denim craze now owns hotels and airlines. They probably make your jeans, too
By and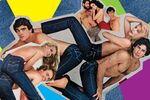 This past November, Steve Nakash, 34, headed down from New York to Miami in his family's Gulfstream IV to take a look at the Versace mansion. Despite being the site of Gianni Versace's 1997 murder by serial killer Andrew Cunanan and a baroque monument to bad taste, the Versace mansion has maintained some value. It features frescoed ceilings and a 54-foot-long pool lined with 24-karat gold. It's also next to a hotel the Nakashes own, the Victor.
Traveling with family and friends, Nakash wore a white waffle-knit shirt, black loafers, and a pair of Levi's. He made the jeans, and not in a Brooklyn, artisanal I-made-it-myself way. The Nakash family, headed by Steve's father, Joe, runs Jordache Enterprises, a billion-dollar empire built on those tight jeans from the 1980s. Though the fad is over, the fortune has rolled on. A Jordache factory now sews jeans for Levi's.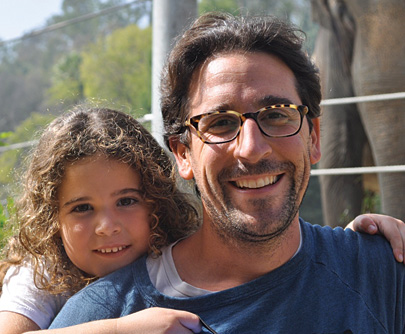 Steve Nakash bantered with the other passengers as they munched on bagels and lox. Up front was Vincenzo Grasso, an Italian businessman hoping to get his high-end window treatments into the Nakashes' South Beach hotels. In the back, Orthodox singer Yaakov Shwekey regaled the cabin with one of his Hebrew hits. Shwekey is pals with Steve's cousin, Shaul, 36, who was in the cockpit, taking a turn at the controls.
The passenger manifest is no stranger than Jordache Enterprises, which is the very model of corporate diversity. It includes commercial real estate, hotels and resorts, nightclubs, food manufacturing, renewable energy, an airline, and, of course, the fashion business that started it all. In Miami alone the Nakashes own three hotels on Ocean Drive: the Breakwater, the Edison, and the Victor. "They are a business conglomerate; it runs the gamut," says Jeffrey Davis, managing director at Jones Lang LaSalle Hotels, who worked with the Nakashes on the Edison hotel deal. "And they are smart investors. You don't assemble a conglomerate like they have without being smart."
In December, a few weeks after the flight to Miami, a Nakash-owned entity bought the $25 million mortgage on the Versace mansion from a German bank. Just before Christmas, they moved to foreclose on the property. Its owner, telecom tycoon Peter Loftin, had converted the mansion into a boutique hotel but failed to make mortgage payments, the Nakashes say. Perhaps anticipating the move, Loftin sued the Nakashes and the German bank, WestLB, alleging a conspiracy whereby WestLB, wanting to offload the mortgage for an "egregious" profit, pushed Loftin into default with "fabricated" loan documents. As is often the case with the Nakashes, things got complicated.
 
 
The Versace mansion is exactly the kind of deal the Nakashes specialize in, spinning unusual circumstances to their advantage. Joe Nakash, 69, never went to high school, much less college. He worked as a delivery boy to support his family in Israel before coming to the U.S. in 1962. Arriving in New York, he found work as a stock boy in a store on Delancey Street in Manhattan's then-shabby Lower East Side, making $40 a week. Nakash was a retail natural and was soon managing the store. "I learned from everyone," he says, in a voice that doesn't travel far but commands attention, particularly from the obsequious staff at South Beach's luxurious Setai resort, where Nakash frequently dines and where he owns nine apartments. He sports the tan of a local—he lives on Fisher Island, an enclave off the coast of Miami—and wears flip-flops, khakis, and a white polo shirt that matches his slicked-back hair.
In 1968, Joe and his two younger brothers, Ralph and Avi, pooled $20,000 and created a partnership to sell jeans out of a Brooklyn storefront. They split the shares equally, even though Joe fronted most of the seed money. "I was going to have 60 percent, but my mother hit me on the head and said I should be ashamed," says Nakash. "She said all the shares should be equal, so there would be no jealousy."
The brothers bought what had been an appliance store on Broadway and Gates Avenue, in Brooklyn's Bushwick neighborhood. Lacking the money for a new sign, they kept the old name, V.I.M., and started selling irregular jeans at cut-rate prices. "We were Gap before the Gap existed!" Joe crows. (Jordache sold the V.I.M. stores in the 1980s; they still dot New York City, selling jeans and sneakers.) Before long, denim manufacturers started visiting the store to see what styles were in demand.
In the summer of 1977, a blackout led to looting, and the Nakash store was burned to the ground. The Nakashes took their $78,000 insurance settlement and moved into manufacturing. Ralph handled the designs, Joe did the marketing, and Avi oversaw distribution. It was the time of Studio 54 and Saturday Night Fever, and designer jeans were hot, selling under labels such as Calvin Klein, Gloria Vanderbilt, Chic, Sasson, and Sergio Valente. The brothers concocted the Jordache brand, an acronym of their names: "Jo" from Joe, "R" from Ralph, "D" from Ralph's first son, David, "A" from Avi, and the "-che" a play on "Na-KASH."
It took one ad for Jordache to join the industry. Banned by all three major television networks at first, the 1979 30-second spot featured a topless model on horseback clad only in Jordache and accompanied by the jingle "You've got the look I want to know better." Jordache took off, moving into high-end department stores and inspiring a Saturday Night Live sendup, called "Jewess Jeans." The jeans sold for about $26 a pair, expensive at the time.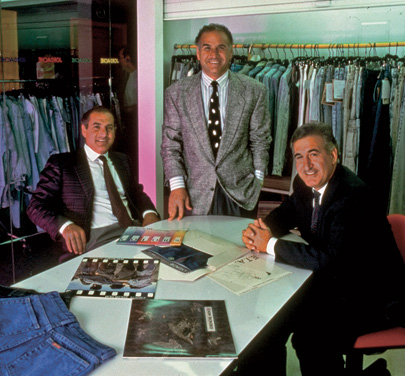 In 1984, the Nakashes paid $5 million for a 51 percent stake in jeans maker Guess, a deal that soon went sour amid claims by Guess founders, the Marciano brothers, that the Nakashes sought their stake just to steal their ideas. After an epic battle—it gave rise to the book Skin Tight by Christopher Byron—a California superior court jury found in 1989 that the Nakashes had fraudulently lured the Marcianos into the deal. A 1990 trial to determine damages was halted by an undisclosed settlement. The company was returned to the Marcianos. Joe Nakash declines to comment on the case. The Marcianos, through Guess spokeswoman Jenia Molnar, decline to comment, too.
While the denim dynasties were suing each other, demand for skintight jeans cooled. In 1995, with sales in the $100 million range, Ralph Nakash shifted the business to Wal-Mart, a merchant not known for fashion. John Lupo, who headed Wal-Mart's apparel business at the time, says the retailer was eager to carry "recognizable, quality" jeans at an affordable price. "Anything over $20 was death," he recalls. Brands such as Levi's ignored the discounter, not wanting to sully their name.
Jordache President Liz Berlinger, who is still with the company, thought selling through Wal-Mart was a mistake. "It was really a departure from what we were doing," she says. Federated Department Stores, then the parent of the Macy's chain, dropped Jordache after the Bentonville deal to avoid being associated with a brand that was going downmarket.
But, says Lupo, Ralph Nakash "understood how much business was being done under $20, and he wanted to be part of it." In Jordache's first year on Wal-Mart's shelves, sales through the chain hit $100 million. Within a decade Wal-Mart made up more than 30 percent of Jordache's apparel business. Jordache Enterprises also moved into private-label manufacturing, building factories around the world to make jeans and clothing for other brands such as Tommy Hilfiger, the Gap, American Eagle, and Abercrombie & Fitch.
Around that time, flush with profits from selling jeans at Wal-Mart, the Nakashes looked beyond apparel. Real estate came first—initially just storefronts and apartment buildings in and around Brooklyn, then landmarks around the country. In addition to the hotels, they own the art deco Fred F. French building on Fifth Avenue, the Otis Building in Chicago, and in Jaffa, Israel, an old Ottoman-era prison that became a police station. (The latter will soon be a 125-room boutique hotel under the Nakashes' Orchid brand.) Their latest deal is a plot on the so-called Third Street Promenade in Santa Monica, Calif., where the Nakashes will have Apple as a tenant.
The Nakashes like to buy properties in trouble, and they don't dawdle. "If they find something they like, they move quickly on it," says Davis of Jones Lang LaSalle. In the case of the Victor in South Beach, Jonathan Bennett, director of Jordache real estate arm Nakash Holdings, learned early last year that the Victor's owners were having trouble with the mortgage and pored over documents to find the Dutch bank that held the loan. He peppered the bank with calls week after week, and finally the bank replied, saying he had but two days to draw up a term sheet and two weeks to close the deal. They bought the property and brought in boutique hotel operator Thompson Hotels to manage it. "We got a great deal," Bennett said last November as Shaul Nakash gave his Gulfstream buddies a tour of the Victor's penthouse, which goes for $4,000 a night.
Such opportunism informs many of the Nakash deals. Ten years ago, Avi Nakash paid about $10 million at auction for a controlling interest in Arkia Israel Airlines after its previous owners were forced to sell their shares after buying part of El Al, the country's biggest carrier. At the time, Arkia was a money-losing niche player, flying 70-passenger turbo prop planes around Israel and handling chartered leisure flights to Europe. Avi cut costs and began regular flights to Paris, Berlin, and Madrid. "Two years later, it was profitable," nephew Steve says.
When oil prices spiked in 2006, Arkia won travelers by keeping prices low. That same year, Arkia pre-ordered two Boeing Dreamliners with an option for two more. The $366 million deal will eventually allow the airline to handle more profitable long-haul business routes to New York, Los Angeles, Hong Kong, and Shanghai. "Clearly their aspirations are to compete with El Al and the international carriers," says Alan Bender, a professor of airline economics at Embry-Riddle Aeronautical University. "It won't be easy, but the traditional airlines are cutting back so much in quality of service that the old brand names don't mean what they used to."
 
 
No business is too small or too weird for the Nakashes. They own skyscrapers, and a one-story storefront housing a coin-op laundromat in Irvington, N.J. About 25 years ago they bought a tomato processing plant in Tel Aviv out of bankruptcy. The business now sells paste to H.J. Heinz. They also market olive oil in Israel and the U.S. under the Halutza brand and sell power to Israeli utilities generated from solar panels atop their hotels and resorts.
As Jordache expanded, the family grew as well and now includes 15 cousins in the second generation. Jordache Enterprises has two separate boards—one comprising six Nakashes and an outside board with 10 nonfamily members. Each male member of the second generation has a nominal responsibility—Steve handles licensing, for instance, while David, the oldest cousin (and the "D" in Jordache), runs production. The Nakash women have no formal responsibilities. There is no org chart: Employees "are often confused about where one Nakash ends and the other begins," says Steve.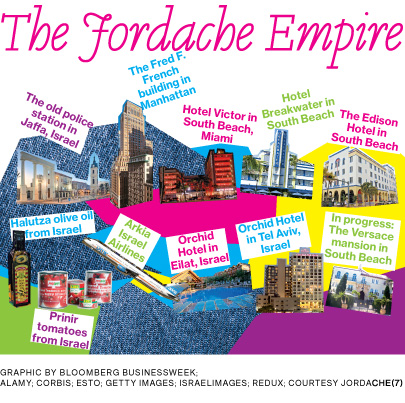 Often, decisions are made by whoever argues the longest and loudest at Friday night Shabbat dinners. But Joe maintains veto power over any deal. "Joe listens to everyone and wants to hear what they have to say," says Bennett, who's known the family for more than 20 years. "But he calls the shots. He still signs off on every major agreement we do." Adds Steve: "Joe is the patriarch. It's not expressed but implied."
"I am taking more time to myself, but I don't think I could ever retire," says Joe. "I need to give the sons direction."
Steve also has mixed feelings about his father stepping back. "It's good to make decisions, but sometimes I want my dad around to feel out people and situations," he says, sitting in an office in New York surrounded by symbols of Jordache's empire—a model Dreamliner airplane, photos of olive orchards. "When he walks into a room, he knows his agenda. He can look at a deal and say, 'This is how much you're going to lose,' down to the penny."
Jordache jeans are still for sale at Wal-Mart; the latest campaign launched last year features 30 Rock actress Katrina Bowden. "Everyone knows what Jordache was. Not everyone knows what it is today," Steve says. "It's a challenge for me to convey what Jordache means. It's a personal struggle. It's got to stay safe, stay relevant. We want Jordache to be for everybody. I don't think it should be sexy anymore."
Steve is considering putting the Jordache brand on a glitzy South Beach hotel, maybe even one in the Versace mansion. As for the suit, the Nakashes' Miami-based attorney, Ronald Rosengarten, says: "We will continue to pursue this case aggressively and believe we should prevail in the foreclosure of the property." Loftin's lawyer, Aaron Weiss of Carlton Fields in Miami, did not respond to requests for comment. The case is set to go to trial in March. Loftin, meanwhile, has put the mansion on the market for $125 million.
Bennett, the Nakashes' real estate specialist, scoffs at Loftin's $125 million asking price—"It's hard to believe that's a real number"—and says there are only two ways the foreclosure litigation plays out. "Either we get the deed because it's cut and dry that [Loftin] is in default or we get paid back," he says. "It's that simple."
Predicting the Nakashes' next move is not so simple. "I don't know where we go from here," Steve says. "We are just starting to get good at it."
Before it's here, it's on the Bloomberg Terminal.
LEARN MORE