Virgin America: All Aboard the Party Plane
To win over frequent fliers, Virgin America turns to high design, a nightclub feel, and preflight yoga
Ben Paynter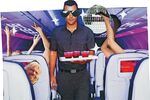 On Aug. 8, Virgin America will turn the tarmac into another kind of runway when flight attendants show off their new "utility chic" uniforms, striding the aisles in either a leather jacket, striped-sleeve sweater, and woven pants for him, or a trench coat, pencil skirt, and silk scarf for her. All of it was created with retailer Banana Republic to help bolster Virgin's image as a leader in high-altitude couture. "The idea is to have very functional, very accessible luxury for the masses," says Jesse McMillin, Virgin's in-house design director. "It's pushing the boundaries of what any other airline would do."


McMillin hopes to hearken back to the golden age of flying while injecting modern style and sensibility into an industry that, in aesthetic terms at least, has been on an endless layover since the early '90s. New uniforms are just one of McMillin's playful "winks"—his term for distinctive personal touches—that could confer just enough glamour on Virgin to bring a profitable lift to the struggling airline, which next month celebrates the fifth anniversary of its first flight.
A former semi-pro skateboarder, McMillin is well suited to channel Richard Branson's branding id. He's helped rethink nearly every aspect of the Virgin air travel experience since joining the company in 2008, adding panache to the check-in counter, gate, and cabin. The idea is to encourage business passengers searching for the cheapest, fastest, and most painless way from point A to point B to slow down and actually enjoy the trip. Folks might even be inclined to pay a tad more for it all. At least that's the hope.
Banking on style and design to make a difference to business travelers and the bottom line isn't just a big bet for the small company—it's a market imperative. Virgin has only 52 aircraft making 150 flights daily to mostly coastal cities. Many carriers have 10 or 20 times that number, meaning better departure and itinerary options, as well as more pricing flexibility. "This is the only game we can play because we don't have those other things," says President and Chief Executive Officer David Cush about the company's limited schedule and lack of super-low prices. "We are focused on customers who want a more comfortable way to spend their precious time."
In April 2011 Virgin unveiled its handsome, energy-efficient hub, part of a $383 million renovation at San Francisco International Airport's Terminal 2. At check-in, it trades zigzag ropes and podium-height counters for an expansive, airy lobby with red carpet and low, sleek white counters topped with fresh flowers to mimic a boutique hotel. Past security, the terminal is a hipster oasis: Slow-food restaurants, shops, and work areas are accented by long conference tables and luxe, egg-shaped chairs by designer Fritz Hansen. Passengers enjoy wine, cheese, and chocolate at the Napa Farms Market and Tyler Florence rotisserie. And yes, there's a yoga studio.
The aircraft itself buzzes like a nightclub. The cabin is lit purple, soft electronica crackles, and passengers can order craft beer from seat-back touchscreens. In early 2006, Virgin bought a fleet of Airbus A320s and commissioned some swank aftermarket features such as internal LED lighting that dims and brightens during long flights to simulate time changes and blue-tinted windows to block out harsh glare. Virgin is hoping to attract a demographic that is "datable and promotable," Dimitrios Papadogonas, the company's director of marketing, told employees at a recent in-house brand refreshment meeting. "[They are] someone you really want to hang out with on Saturday night, not go to bowling league on a Tuesday."
The biggest constraint in any aeronautical project is what industry experts call "financial drag." Design elements that add pounds wind up costing millions in fuel when factored over an entire fleet for years of travel. To counter it, Ken Bieler, Virgin's director of engineering, used several tricks, such as replacing traditional class partitions with lightweight, transparent magenta panels that offer plane-wide views of the white leather recliners in first class, and removing the carpet dividers on the black carpeting to give the faux club a roomier feel. "I've got Aston Martin taste with a Ford budget, so I've got to figure out ways to leverage that," Bieler says.
Another way to improve the flight without weighing it down is to upgrade accessories and services. When McMillin first arrived at the company, Virgin America still used plastic dishes. After splurging (in terms of ounces) on converting to ceramic dishes and real silverware, he turned to the cups. He used the expiration of Virgin's plastic cup contract as an opportunity to redesign the thing, creating a "gemstone" shape. The bottom of each cup now reads: "Was it as refreshing for you as it was for me?" Virgin also supplies gratis headphones in silver, blue, and gray. And McMillin has customized tickets to look more like futuristic VIP passes, baggage tags to look like bracelets, and emergency seat-back cards to resemble comic strips.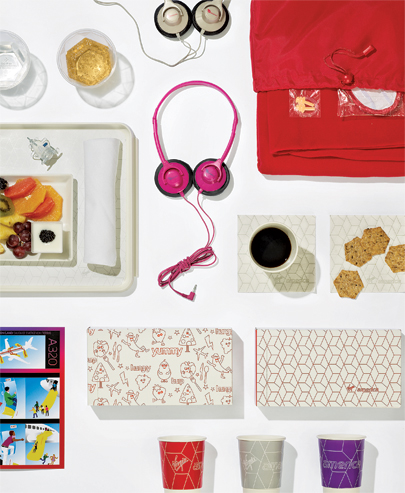 Offering craft beers and snazzy outfits still might not be enough to overcome Virgin America's biggest problem: It's an airline. The cost of fuel has more than doubled since Virgin was founded in 2004, and the company has not had a profitable year in the five years since planes officially took off. In 2011 it made 11 percent more per seat flown a mile, an industry benchmark, but suffered an operating loss of $27 million. That's a 2.6 percent loss at a time when other major carriers are averaging an operational profit of around 5 percent annually. "Obviously they are targeting customers who might be willing to pay a little bit more for the experience," says Seth Kaplan, a managing partner at the trade publication Airline Weekly. "People might like it, but they are not paying enough more for it. That's why [Virgin is] losing money." Plus, it's questionable whether a lounge-like vibe is really what the regular business traveler is after. As @snooki tweeted: "I officially love virgin america airlines! They're fricken playin usher while I check in lolol! Wheww party plane."
It's also possible Virgin will soon be losing its biggest point of differentiation—the Big Uglies aren't going to be all that ugly for much longer. Domestically, JetBlue has earned loyalty for its own discount-chic aesthetic and upgraded terminal at JFK. And then there's the Dreamliner, a megaplane that's won numerous design awards. Its maker, Boeing, is adapting the Dreamliner's design touches to smaller planes, allowing Virgin rivals to buy in on things like shifting mood lighting and a slate of new refinements, including overhead bins that pivot away and allow passengers to stand up without risking a concussion. "From a design standpoint, these have become got-to-have features," says Ken Dowd, vice president of design firm Teague, which consulted on the look.
Still, there's hope for Virgin: Last year the airline expanded its fleet capacity 29 percent, while the rest of the industry stayed flat. It filled 82 percent of its seats per flight, level with the industry average. McMillin says first class is booked consistently enough that the company is considering expanding it.
Virgin expects to show its first annual profit this year and hold a public offering within the next two years. Yet Richard Aboulafia, vice president at the aerospace analysis firm Teal Group, remains skeptical of Virgin's design-first, profit-later strategy. "How about not losing money, and we'll negotiate the rest later?" he asks. "Virgin has built a nice brand; we just don't know if it's big enough to survive yet."