business
Private Equity Bets Billions on Foreclosures
Investors buy foreclosed homes. Managing them is the tricky part
By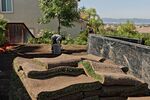 Carrington Capital Management paid $207,000 in May for a house at 36644 Ponderosa Court in Murrieta, Calif. Built in 2005, the four-bedroom home originally sold for $420,500 with 100 percent financing. The owner borrowed $100,000 more in 2007, increasing total debt on the property to $520,000, before losing the home to a bank in August 2011. The house looked almost new as workers replaced the kitchen stove and laid fresh sod on the front lawn during a July 23 visit. "When you think of foreclosed property, this isn't the first thing that comes to mind," says Carrington Vice President Rick Sharga. "I'm betting renters will be lining up when we put this on the market."
Private equity firms including Colony Capital, Blackstone Group, KKR, and Och-Ziff Capital Management Group are rushing to make similar bets. They plan to spend at least $7.2 billion to snatch up undervalued single-family homes and then rent them out. The aim is to capitalize on U.S. home prices that are 34 percent below their 2006 peak, as well as on a broader shift toward renting. At 65 percent in the first quarter, U.S. homeownership is at its lowest level since 1997. Scott Simon, head of mortgage bonds at Pimco, says about 6 million borrowers will lose their homes in the next five years, creating demand for as many as 4 million new rental homes. "Our view is there's tons to buy and tons to buy attractively," says Justin Chang, acting president of Colony Capital's American Homes unit.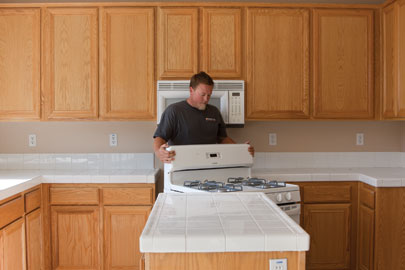 Colony has bought 1,100 homes in Arizona, California, Nevada, and Texas, with plans to acquire $1.5 billion in property by next April. Colony was among the winners of the largest bulk sale thus far: a $330 million portfolio of 2,500 foreclosed properties auctioned off by Fannie Mae, the government-controlled mortgage company that owned 114,000 foreclosed properties as of March 31, according to people with knowledge of the deal who asked not to be identified because they signed confidentiality agreements.
Blackstone, the biggest buyer of U.S. commercial real estate since prices bottomed, has "bought over 2,000 homes at this point," Jonathan Gray, senior managing director for real estate, said at a July 18 conference, adding that the company "probably spent over $300 million doing this."
Foreclosed homes present different challenges from typical private equity investments, including managing hundreds of properties scattered across different states. "Once you own the homes, it's fixing them up, leasing them up, and managing them on a go-forward basis which is challenging," says Colony's Chang, who adds that Colony has hired 125 people to buy and maintain properties.
Some investors doubt bulk buying will work. "While a lot of people are talking about it, very few have actually built significant portfolios, and even fewer, if any, have achieved significant economies of scale," says Stephen Coyle, chief investment officer of Cohen & Steers Global Realty Partners. "The people who have made the most money at it so far are guys who have, like, 20 houses or so."
Carrington announced in January that it had raised $450 million from Oaktree Capital Group, enough to buy more than 4,000 rental homes. So far it has acquired fewer than 300, Sharga says. "We're not going to sacrifice performance for scale," he says. "Some of the other companies are in such a hurry to put their investors' money to work that they'll pay a lot more than we will."
Carrington's model is to charge monthly rents of about 1 percent of the acquisition cost, or about $2,000 for a house that it buys for $200,000. The expectation is that the home's value will increase at least 7 percent within five years, varying with different markets. It plans to sell its homes in five to seven years. Other investors, including Blackstone and Colony, have said they would consider converting their holdings into real estate investment trusts as a way of recovering their investments.
In late July, Sharga visited a three-bedroom home in Corona, Calif., that had been repossessed by Bank of America and had been listed as "a diamond in the rough." He found a dead lawn, no kitchen appliances, and a rear balcony with rotten planks. On one side of the house, three large dogs howled and barked at passersby from behind a chain-link fence. The yard on the other side featured three rusting cars on blocks. "This is why we say no more often than we say yes," says Sharga. "Can you imagine buying these in bulk?"
— With assistance by Hui-yong Yu, and David M Levitt
Before it's here, it's on the Bloomberg Terminal.
LEARN MORE