Chasing Facebook's Next Billion Users
Under pressure from investors, Zuckerberg needs continued momentum from his growth team
By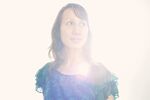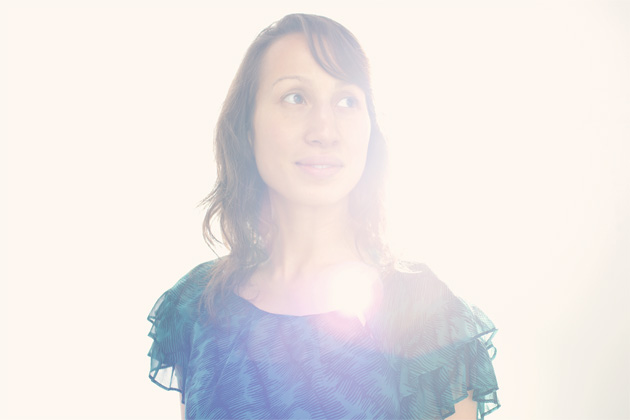 Later this year, Facebook will hit the 1 billion user mark. To casual observers, the spread of Mark Zuckerberg's social network site across continents appears effortless. Yet for the past five years, the company has relied on a dedicated team charged with bringing new members into Facebook and getting them hooked. A kind of special-ops unit with influence over nearly every area of Facebook's business, this growth squad has swelled to 150 people, from a founding group of five.
Core to this group is product manager Naomi Gleit, the second-longest-tenured Facebook employee. (Zuckerberg is first.) Gleit describes her team's mission as making "Facebook available to everyone in the world." Nearly half of the Internet's worldwide 2 billion-plus population visits Facebook at least once a month. That's a powerful draw for advertisers and makes life very difficult for social media up-and-comers (looking at you, Google+ and Twitter) that aspire to unseat the company as the world's largest online network.
Keeping global expansion in the fast lane has taken on more urgency, given recent signs Facebook's growth rates may be slowing down—and a big earnings disappointment on July 25 from Zynga, its largest game developer. The company's U.S. users declined 1.1 percent over a six-month period ended in July, according to a research note published by CapStone Investments analyst Rory Maher on July 17. Since Facebook's botched initial public offering in May, its shares have fallen more than 22 percent, to about $29 per share. (Facebook declined to comment on the CapStone research.)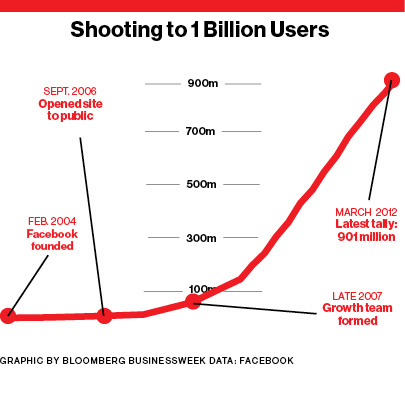 Gleit joined Facebook in early 2005, when the site had just over 1 million users and fewer than 30 employees. She had become obsessed with the social network as an undergraduate at Stanford, writing a senior thesis about how Facebook beat out a rival website called Club Nexus on campus. After getting turned down for a position as assistant to then-President Sean Parker, she eventually landed a job on the marketing team. "She wanted to work at Facebook more than anything," says Matt Cohler, an early executive at the company who hired Gleit and is now a general partner at the venture capital firm Benchmark Capital.
Gleit helped lead early efforts to expand Facebook's reach beyond Ivy League schools to other colleges, followed by high schools, businesses, and, in 2006, to basically every living organism on the planet. "My job has been, over the years, to remove barriers that are preventing people from joining Facebook," says Gleit, who turned 29 in July.
The growth team was formed in late 2007, when Zuckerberg decided expansion was so important that it warranted a unit with its own resources. The site was approaching 100 million members, but its growth rate had cooled. Led by former AOL executive Chamath Palihapitiya, the original team included Microsoft engineering alum James Wang; Javier Olivan, who had founded a small social network in Spain; marketing whiz Alex Schultz; and Blake Ross, a programmer who had helped create the Firefox Web browser. To lead product management for the group, Zuckerberg tapped Gleit. "She is someone that the engineers both tremendously respected and also feared," says Palihapitiya, who left Facebook last year. "We used to call her 'the Mom.'"
The group was challenged by Zuckerberg to multiply the site's user base. To accomplish this, the growth team struck a deal with Google to let the search engine show Facebook profiles in its results. They also launched a feature called "People You May Know," which helped new users build their social network by showing them cousins, former classmates, and others they may have connections to on the site. Gleit and Olivan led a companywide push to create a translation tool that let users in Spain, France, and Germany navigate the site in their native languages. Within two years of its creation, the team had expanded Facebook's roster of users sevenfold, to 360 million.
When Palihapitiya left, he handed leadership of the growth team to Olivan, who sits in Building 17 of Facebook's new Menlo Park campus, across a walkway from the office occupied by Zuckerberg and COO Sheryl Sandberg. In an open workspace on the second floor, international flags line the rows of desks and computer dashboards display a running tally of monthly active users. "That's the first thing we look at every morning," Olivan says of the monitors. Recently, his team was renamed GEM—an acronym for growth, engagement, and mobile. Facebook's new priority is keeping existing members active and logging in from mobile devices.
Gleit, who now runs her own team of product managers within GEM, says a key to building more active members is spotting what she calls "magic moments." That's when a new user moves from thinking, "'What the hell is this Facebook thing all about' to 'Aha! I understand, this is cool,'" says Gleit. Facebook tries to get users to experience this moment as early as possible by helping them find friends effortlessly. Gleit helped develop functions like the contact importer, which suggests friends based on names in a user's e-mail address book. Often, her job entails wrangling with other teams at Facebook to highlight features on the site that improve engagement. She describes her role as growth "evangelist."
Facebook's biggest opportunity to add new members is in emerging markets, where the social network isn't always widely used. "The next billions of people, we believe, are going to come through mobile," Olivan says. Gleit traveled to Israel in 2011 to help put together the buyout of Snaptu, which designs software that helps mobile-phone users access Facebook.
"There are still a lot of barriers in international markets, whether that be governmental barriers like in China, and occasionally Vietnam, or competitive barriers like VKontakte in Russia," she says, referring to the Eastern European social network that far eclipses Facebook, with more than 100 million users in that country.
As with many good ideas in Silicon Valley, Facebook's concept of dedicating an entire business unit to growth has been replicated by other tech startups. Question-and-answer site Quora, online storage company Dropbox, and Twitter now have their own growth teams. The proof of concept will be the billion-member-mark celebrations sure to take place later this year at Facebook's headquarters. Gleit's more interested in looking ahead. After all, "1 billion is one-seventh of the world's population," she says.