The Race for Rangoon
After decades as an international pariah, Myanmar is suddenly open for business. Whether you think it's ready depends on your appetite for chaos
By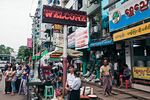 On a sultry afternoon in May, Richard Friedman sits in the back of a 1990s Buick with faulty air conditioning, mired in traffic in downtown Yangon (formerly Rangoon). The rainy season in Myanmar—also known as Burma—has just begun, and the sky is a leaden gray; the temperature is pushing 95F. Friedman, one of the highest-profile American investors to be lured by the siren call of this newly opened Southeast Asian country, peers out at a sweep of colonial-era buildings, many of them derelict. We drive past the old British Customs House and the former Pegu Club, where Rudyard Kipling spent his only night in Burma, in 1889, while traveling from Calcutta to San Francisco. The stories he heard there inspired his poem "Mandalay."
A short, vigorous 72-year-old who coached the Harvard ski team after graduating from Dartmouth in the early 1960s, Friedman made his name turning neglected but historic properties into top-flight hotels. In 2005 he redeveloped San Francisco's 1907 Williams Building into a $180 million mixed-used project that includes the St. Regis Hotel, condominiums, and the Museum of the African Diaspora. Two years later he transformed the 19th century Charles Street Jail on Boston's Beacon Hill into the four-star Liberty Hotel. Friedman is the president and chief operating officer of Carpenter & Co., a Cambridge (Mass.)-based real estate development and management company. He's also a major Democratic fundraiser. During the 1990s, the Clintons used his beachfront home on Martha's Vineyard as their summer White House half a dozen times.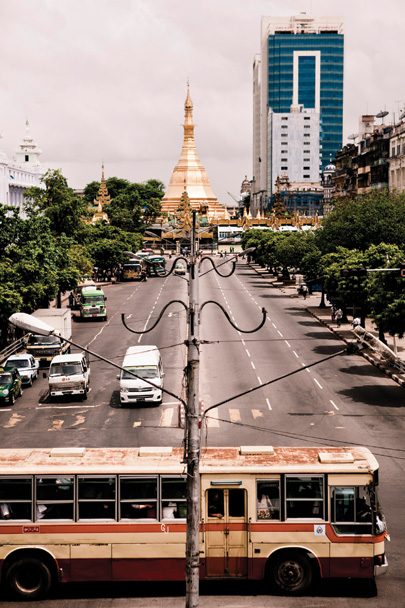 Friedman began taking notice of Myanmar's business potential last year amid the flurry of good news coming out of the country. In late 2010, Myanmar's ruling junta, known since 1997 as the State Peace and Development Council, released the opposition leader and Nobel Peace Prize winner Aung San Suu Kyi from house arrest; today she is a member of Myanmar's Parliament. Democratic reforms have begun transforming the country, and most sanctions, including those imposed by the U.S. in the late '90s, have been suspended since U.S. Secretary of State Hillary Clinton's December 2011 visit. Extrapolating from government data, Thailand receives 18 million tourists a year, while Myanmar,stung by travel-agency boycotts and its lack of infrastructure, gets barely 300,000, according to the Myanmar Ministry of Hotels and Tourism.
Earlier in May, and days after President Barack Obama announced that he was suspending U.S. sanctions on Myanmar, Friedman asked Senator John Kerry (D-Mass.) for help procuring last-minute visas. The former presidential candidate is a frequent guest at Henrietta's Table, the restaurant in Friedman's Charles Hotel on Harvard Square. "Kerry said he couldn't do it—there wasn't enough time," recounts Friedman's friend and traveling partner, Patrick Lyons. Instead the two turned to Burmese friends of another acquaintance, the Dalai Lama, who secured them visas on the spot.
Now, after a tour of Inle Lake in Shan State, an obligatory stop on Myanmar's tourist trail, Lyons and Friedman's adventure is concluding with a trip to check out potential hotel sites. Their driver pulls up to the curb across the street from a vast complex surrounded by coils of barbed wire. It's the former Office of the Secretariat, the abandoned government headquarters constructed by Burma's British rulers in 1882. The elegant red-brick facade, Venetian domes, ornate turrets, and secluded inner courtyards harken to the grandeur of the British Empire during the Victorian era. But peeling plaster and broken and boarded-up windows testify to decades of neglect. Squatters are washing clothes in crumbling annexes scattered over the weed-choked grounds.
Friedman, wearing jeans, New Balance sneakers, and a white-and-blue striped shirt, scrutinizes the building and turns to Lyons. His excitement is palpable. "This is a gigantic complex, man," Friedman says. "It's a 500-room hotel." He does a hasty calculation of renovation costs: "$350,000 to $400,000 a room, maybe more," and then goes on to say it would be "a $350 million to $400 million project in the U.S., but probably less in Myanmar." Says Friedman: "This is pretty cool. It would be quite an undertaking."
Friedman isn't the first international businessman to dream of Myanmar's possibilities. Resource-rich and bordered by India, Bangladesh, China, and Thailand, the nation of 62 million is itself an untapped resource. In the 1980s and early 1990s, when the country was called Burma, multinational companies such as Pepsi-Cola, British-American Tobacco, Apple, and Levi Strauss had manufacturing operations here, in spite of the junta's nationalization of many industries in the name of the "Burmese Way of Socialism." Then, starting with a bloody crackdown on pro-democracy activism in 1988, the annulment of democratic elections two years later, and the imprisonment of Aung San Suu Kyi, the country slid into isolation.
In 1997 the Clinton administration, declaring that the "government of Burma has committed large-scale repression of the democratic opposition," banned Americans from investing in the country. As the regime jailed thousands of dissidents and continued shooting down protesters in the streets, the Bush administration took further punitive measures in 2007 and 2008. Sanctions barred Burmese exports to the U.S., froze all assets of top junta officials and their cronies in the U.S., and prohibited Burmese from carrying out international transactions using U.S. dollars.
In July 2008, Bush signed the Block Burmese JADE (Junta's Anti-Democratic Efforts) Act, freezing more assets and blocking the importation of jadeite and rubies from Myanmar. Other developed countries imposed less-comprehensive sanctions, but the threat of consumer boycotts and shareholder pressure from human rights groups have discouraged all but a handful of foreign companies, including Total, the French oil giant, from doing business in Myanmar. (Thanks to loopholes in the sanctions laws, American oil company Chevron partnered with Total S.A. in the Yadana natural gas pipeline from Myanmar to Thailand.) Myanmar is one of the last places in Asia where Western brands and franchises are virtually nonexistent. There's no McDonald's, no KFC.

The atmosphere began to change in late 2010, with the freeing of Aung San Suu Kyi following an election carefully stage-managed by the junta. Last year the country's new president, Thein Sein, instituted sweeping reforms, freeing political prisoners, relaxing censorship laws, and canceling an unpopular dam project financed by China, the country's biggest foreign investor. (China has invested heavily in extractive industries such as mining and timber, but most of the cash has benefited only a few generals and their business cronies.) Perhaps prematurely, some have compared Thein Sein to Mikhail Gorbachev and F.W. de Klerk.
When Clinton visited at the end of last year, she became the first U.S. Secretary of State to set foot in the country since John Foster Dulles in 1955. After meeting with Thein Sein and Aung San Suu Kyi, she urged Americans to visit the country and invest. Clinton's visit removed the reputational risk, says a Western diplomat in Yangon, speaking not for attribution because the political situation in Myanmar remains sensitive. On April 23 the European Union suspended all sanctions against Myanmar except an arms embargo, and on May 18 the Obama administration lifted most sanctions as well. (The U.S. prohibition against the importation of jadeite and rubies, which are often extracted with forced labor and have benefited a handful of top government officials and cronies, remains in place and is unlikely to be removed for many years, says the diplomat in Yangon.)
If nothing else, Yangon today is proof that money abhors a vacuum. Luxury hotels are packed with business delegations from Europe, the U.S., Australia, Japan, and Korea. Expatriate watering holes buzz with talk of partnerships, market share, and the kyat-to-dollar exchange rate. In April, General Electric announced plans to open an office in Myanmar as soon as the U.S. government finalizes the suspension of sanctions—which could happen as early as July. In May, Ogilvy & Mather, a division of WPP, acquired a stake in Yangon-based Today Advertising, becoming the first Western ad agency to set up shop there in two decades: Mad Men meets Myanmar.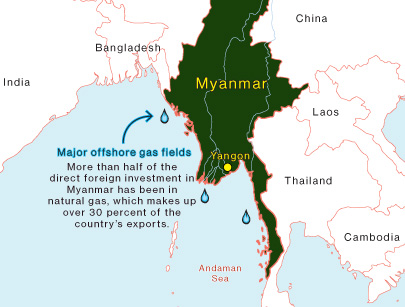 Executives from Mitsubishi, Myer (MYR:AU) (Australia's largest department store chain), Saab Automobile, Pepsi, and other multinational companies have visited in recent months, meeting with top government officials and market-research analysts. European cell phone operators ranging from Norway's Telenor Group (TEL:NO) to Irish-owned Digicel are networking quietly, anticipating the breakup of the telecommunications monopoly now held by the government-owned Myanmar Posts and Telecommunications (MPT). Venture-capital firms such as Leopard Capital in Hong Kong and Dragon Capital in Ho Chi Minh City, Vietnam, are creating funds with sizable stakes in Myanmar. The managers of the new Indochina Opportunity Fund, a joint venture between Dragon and Frontier Investment & Development Partners, envisions that $50 million of the fund's $350 million will be invested in Myanmar businesses.
Investing in Myanmar is not for the squeamish. Electricity is sporadic, roads are crumbling, and the country's cell phone penetration rate—1 million units for 60 million people—is the world's second-lowest, after North Korea. Only two state-owned banks handle international lines of credit; the rest have no links to regional banks and conduct business with ledger books and bundles of cash piled on the floor. Only one establishment in the country, the Strand Yangon hotel, directly accepts credit cards.
Everybody who's thinking of investing in Myanmar wants to know the same things, says the Western diplomat. What's corruption like? What about the ports, roads, phones, and banks? He urges them to try the Internet at their hotels. Does your rental phone work well? The primitive infrastructure has spawned a running joke: The definition of a Myanmar expert, longtime expatriates say, is a guy who knows his BlackBerry won't work when he gets off the plane.
Backwardness is only part of the problem. In the past if the ruling junta deemed an enterprise to be destabilizing, they simply seized it. Christian Oram, a British expatriate who launched an entertainment company in the late 1990s, later formed a partnership with military intelligence officers. In 2004 the junta seized his company without compensation. "They just grabbed it and jailed the Burmese partners," he says.
During a May visit to Thailand—her first trip abroad in 24 years—Aung San Suu Kyi urged investors to be aware of the potential dangers of rushing into Myanmar. As guest of honor at a meeting sponsored by the World Economic Forum in Bangkok, she cautioned the corporate executives present to avoid "reckless optimism." "Even the best investment laws would be of no use whatsoever if there are no courts that are clean enough and independent enough to administer those laws justly," she said. "This is our problem: So far we have not been aware of any reforms on the judicial front."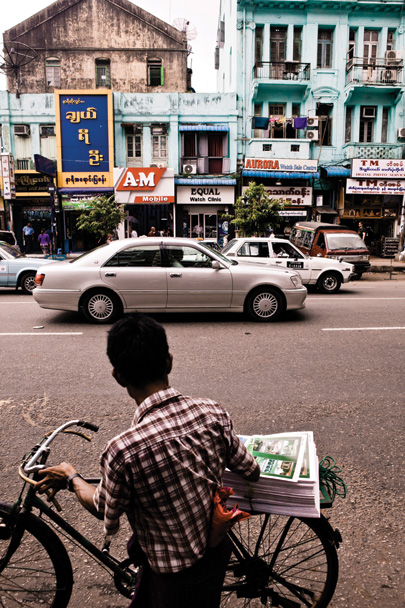 Aung San Suu Kyi sounded a second note of caution accepting her Nobel Peace Prize in June, 21 years after winning it. Too much free-market capitalism too soon could cause chaos. "Burma has been a command economy for far too long. … Now that we are opening up, we want to make sure that we are opening in the right way." Aung San Suu Kyi's comments upset Myanmar officials and drew a skeptical response from Joseph Stiglitz, a professor of economics at Columbia University who is helping the government pro bono to further its political and economic reforms. "She had an incoherent view," he says, citing the apparent contradiction between her calls for creating jobs through foreign investment with her stern admonitions about the absence of rule of law in Myanmar. After meeting with Thein Sein and his top aides, Stiglitz came away convinced of their determination to democratize, remove barriers to foreign investment, and encourage responsible foreign companies that will "safeguard the environment and treat workers well." The building of institutions is a slow process, he says, "but if you ask the question 'Is this a reasonable risk?' then the answer is yes."
One important step was the April abandonment of the official government exchange rate, which benefited a handful of insiders who could buy U.S. dollars with kyat at a rate much lower than that of the black market, resulting in an artificial price system that discouraged investment. The government decided to unify and float its kyat exchange rates, which should reduce corruption, build investor confidence, and improve economic performance.
Other economists don't paint as rosy a picture. Sean Turnell, an economics professor and Myanmar specialist at Macquarie University in Sydney, has been struck by the lack of capacity in Myanmar's government. "They have very few people who can grapple with building the institutions they need—a system of sound property rights, a system to channel funds to productive enterprises. The foundational stuff is missing." A thicket of banking regulations makes it illegal for farmers to obtain loans and requires enterprises to put up collateral worth more than the loan itself. "It's a hangover from the old [socialist] ideology and from the militarized economy," says Turnell. An import-and export-licensing system entrenches and enriches government cronies, who might fight fiercely against reforming the system. "You couldn't get a better vehicle for corruption," he says. Myanmar's economic policymakers are overburdened and sometimes out of their depth. Despite all these obstacles, Turnell says he's "guardedly optimistic" about the country's ability to create a sound business environment. "I would tell Western companies to go in," he says, "but to keep their eyes wide open."
Every Friday the Strand hotel on Yangon's waterfront hosts an expatriate night, likely the best milieu for gauging the foreign investment climate in Myanmar. As waiters circulate with trays of pizza and other hors d'oeuvres, Britons, Australians, Americans, and a smattering of non-Anglophone Europeans crowd the bar, trading gossip and impressions. There's a team from George Soros's Open Society Foundations, which recently established an office in Yangon. The Open Society is promoting economic reform while pressing the government, quietly, for progress on human rights. The regime still has about 400 political prisoners locked up in its jails, and its military is engaged in a brutal war with the Kachin minority in Myanmar's far north.
Team Soros is joined by Robert Conrad, a Duke University economist who has just arrived from Durham, N.C., to advise the Ministry of Finance on reforming its tax code to make it friendlier to foreign businesses. Beside them at the bar is a delegation of Australian businessmen and academics. They've come here under the auspices of Asialink, a University of Melbourne-based organization dedicated to strengthening economic and cultural ties between Australia and Asia. Michael Gill, a publishing czar, rubs shoulders with Sydney Myer, Asialink's chief sponsor and the chairman of the family-run Myer empire, an Australian conglomerate that in addition to its department store chain (some call it the Down Under Wal-Mart) has agribusinesses and vineyards. Myer is press-shy, but Maureen Aung-Thwin, director of the Open Society's Burma Project/Southeast Asia Initiative, says the Australian tycoon recently asked her: "'Is the government sincere about these reforms?' I said, 'One true test, as in Mozambique, is if the government reduces its military budget.'" It's too soon to tell, she says. (Myers's press agent did not respond to interview requests.)
One group of expatriates residing at the Strand is notably missing from the bar scene: the representatives from Digicel, a cell phone company that owns networks in 28 emerging markets, including Haiti and Papua New Guinea, and has been quietly angling for a license in Myanmar. Digicel's founder and chairman, Denis O'Brien, a well-known Irish entrepreneur and friend of Bono, first came to Myanmar in early 2010, back in the days when Aung San Suu Kyi was still shut in and the junta was jailing people for dissent. Since then, up to a dozen Digicel officials have been staying at the luxury hotel and working out of an unmarked office in Yangon's Sakura Tower. They're reportedly providing technical assistance to MPT and even sponsoring a local soccer team—an attempt, says a Yangon-based former consultant to the company, to get into the same room with regime cronies and government officials.
With the government considering breaking up its phone monopoly and granting a handful of licenses, Digicel is trying to steal a march on its rivals. It has been desperate to keep its name out of the press. "How did you find out what we were up to?" asked one startled executive when I called him in his hotel room. He declined to comment, but Antonia Graham, a company spokeswoman, later e-mailed me a pro forma statement acknowledging that the company had been working here since 2010—and refusing my request to talk to company executives. "Digicel is worried that if they announce too early, they'll join a long list of failures," says Oram, the British expat whose Internet company was confiscated by the military regime in 2004. He's now trying again with a proposal to grant cellular licenses to 25 regional operators—at least one of which would include him as a partner.
Providing that the Thein Sein government doesn't dial back its reforms, many experts both in Myanmar and overseas say it will take at least another year for the real money to start flowing in. Myanmar is like "the Tasmanian Devil in the zoo," says Moe Kyaw, the British-educated founder of Myanmar Marketing Research Development (MMRD), Myanmar's oldest market-research firm. "Everybody is coming to see it, people are chucking in food, but nobody wants to go into the cage yet."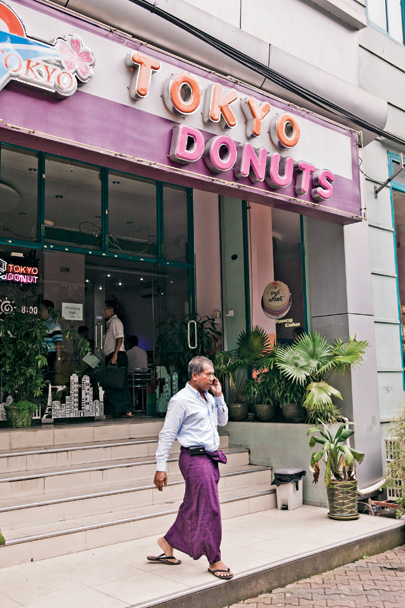 Moe Kyaw predicts the first companies into Myanmar will be those with both name brands and bases in neighboring Thailand, including Procter and Gamble, Pepsi, and Colgate-Palmolive. After that, he says, will likely come investments in mining, property, and financial services. But the cash flow will remain limited, he predicts, until the World Bank and the Asian Development Bank agree to make substantial loans to improve Myanmar's decaying infrastructure. The power grid is in terrible shape, and deals struck with China and Thailand oblige Myanmar to export badly needed oil and natural gas instead of using it for domestic consumption.
Lex Rieffel, an economist and Southeast Asia expert at the Brookings Institution in Washington, says one danger facing Myanmar is that a rush of foreign investment would overwhelm the government's ability both to make good policies and to carry them out. "You need good implementation and enforcement," he says. The introduction of democracy alone, he points out, is hardly a guarantee of effective governance. He compares Myanmar with Indonesia, another Southeast Asian country endowed with rich natural resources. Surrounded by a team of youthful economists educated at the University of California, Berkeley, Indonesia's longtime dictator, Suharto, devised macroeconomic policies that dramatically lifted incomes and cut unemployment during the 1970s. But Suharto's one-party state collapsed in 1997, and the democratic government that replaced it has been blighted by corruption and mismanagement. "Indonesia is now 14 years into its transition, and infrastructure and the pace of development is lagging horribly," says Rieffel. "The legislature is close to dysfunctional, and the judicial system is rotten to the core."
Myanmar's reformist government, he says, lacks the depth of expertise that surrounded Suharto, which he calls "worrisome." Turnell, the Australian economist, compares Myanmar to Russia, where post-Communist-era "shock therapy" gave way to "an economy that's about resource extraction." Myanmar, with a trove of resources ranging from oil and gas to timber to precious stones, he fears, could go down the same direction, "with some of the oligarchs becoming so entrenched that economic policy gets distorted toward their interests, rather than a broader reform that would help everyone."
As analysts and economists try to read the tea leaves, and prospective investors come in ever-greater numbers, many end up seeking the advice of Tony Picon, 47, a husky man who left his home in London's East End 22 years ago and has never looked back. He bought a one-way ticket to Pakistan, eventually sold advertising in Jakarta, and published an entertainment magazine in Hong Kong. Later, he brokered condominiums in Vietnam before landing in Bangkok with Collier's International, a real estate consultant. In early 2011, just after the release of Aung San Suu Kyi from house arrest, he took the one-hour flight to Yangon to test the business climate here. "We saw a glimmer of light," says Picon. "But we were skeptical, because moments of brightness in Myanmar have always been followed by long periods of darkness."
Picon worked discreetly, putting together a research report on the property market. He sold dozens of copies of the $350 document to U.S. and European companies waiting for the green light to set up shop in Myanmar. He now holds court at packed U.S. Chamber of Commerce breakfasts in Bangkok and guides a stream of corporate clients through Yangon's hyperactive property market. Office and residential rental prices have doubled since January 2012, thanks to speculation and a flood of new arrivals chasing a limited number of properties. "It's become a circus," Picon tells me, ordering his sixth Tiger Beer at 50th Street Bar, an expat watering hole in the congested heart of the city. "Ten years down the line," he says, "I will be sitting in a plush office in Yangon, looking out over the city and telling my kid, 'Look son, this is all mine.'"
Back at the old Secretariat building in downtown Yangon, Dick Friedman entertains similar ambitions, comparing notes with Patrick Lyons. "Oh my God, look at the roof deck. Look at the courtyard," Lyons exults, surveying the fixer-upper of their dreams. "I can see a restaurant in that courtyard. I can really visualize it." Friedman notes the "double-loaded corridors"—rooms on either side of the hallways—an essential design feature for hotel developers. "It looks doable, Patrick," he tells his business partner. Lyons, a rangy man in his early fifties, grew up in Buffalo, N.Y., and founded the House of Blues chain in the early 1990s. His private hospitality company, the Lyons Group, employs 2,500 and had $100 million in revenue last year.
Friedman confers with his guide and interpreter, a young woman named Lei Lei Myint. She's the niece of a former political prisoner from Myanmar's Shan State, and serves as managing director of Myanmar Pearl Travel & Tours, one of the country's upscale travel agencies catering to well-heeled U.S. and European tourists. There are strings attached, Lei Lei Myint warns: In July 1947, General Aung San, the Burmese liberation hero (and Aung San Suu Kyi's father) was assassinated by rivals in his office here, along with most of his cabinet. Over the years, Burmese entrepreneurs have made attempts to turn the property into a commercial venture, only to run into popular opposition. Many in Myanmar consider the building hallowed ground.
"Where exactly was Aung San shot?" Friedman asks, his curiosity aroused.
"That side over there," she says, pointing to a second-floor window at the far end of the complex. "Most of the Myanmar people think it should be a museum, but the government is thinking half-museum, half-hotel."
"Has anybody made an offer for this place?" he asks.
"I think three or four companies," she says.
"What about the neighborhood? Would this be a good place to sleep if I were a rich American?"
"It is very safe," Lei Lei Myint replies.
So far the government has been granting foreigners only 30-year leases on commercial properties, with two 15-year options to renew, subject to government approval. The initial 30-year period is not enough to guarantee a return on the initial investment, Friedman says. (He has heard through the grapevine, though, that the government will soon start extending those leases to 60 years, "which would make it doable.") While Myanmar's government is dropping a requirement that foreign investors can start a company here only with a local partner, Friedman believes that trying to embark solo on such an endeavor would be courting disaster, anyway. "You need a local partner, otherwise you get killed," he says. "I mean, guys have been killed getting into Boston."
Before heading for the airport to catch his flight to Bangkok, he instructs his interpreter to gather the architectural plans and find out about potential competitors for the property. "Now," he says, as the car plunges back into the traffic-choked streets, "let's go make some money."
Before it's here, it's on the Bloomberg Terminal.
LEARN MORE