business
Dentsu: An Advertising Mega-Agency Is Born
The Japanese ad agency snags Britain's Aegis to boost global reach
By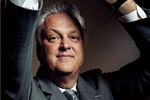 Advertising agency Dentsu's bold $4.9 billion buyout of British media-buying firm Aegis Group is yet another reminder of the acquisitive mood among Japanese companies these days. A superstrong yen and stagnant domestic economy have prompted cash-rich companies to do $125 billion worth of cross-border deals since the start of 2011, according to data compiled by Bloomberg. The merger boomlet is certainly keeping investment bankers busy, though whether this dealmaking is doing much good for corporate bottom lines or shareholders is far from clear.
In recent years, Nomura Holdings' purchase of some Lehman Brothers brokerage and investment banking assets in Asia and Europe and drugmaker Daiichi Sankyo's takeover of India's Ranbaxy Laboratories have resulted in financial setbacks for both companies. Dentsu's stock fell about 7 percent on July 13, the day after the firm announced its deal, and hit a 56-week low four days later because of worries that the firm was paying too much for Aegis and might face difficulties profitably integrating two operations with different cultures. "Japanese companies need to become more careful about generating profit and creating synergies out of buyouts," says Masamitsu Ohki, a fund manager at Tokyo-based Stats Investment Management. Companies in Japan "tend to go for a transaction just because they are looking for a growth driver or expansion overseas. There has to be a realistic plan of earnings that will follow a deal," he says.
One key executive involved in the deal, the biggest in the company's 111-year history, is Tim Andree, senior vice president of Dentsu and president and chief executive officer of Dentsu Network. He oversees the firm's agencies in the U.S., Europe, and Asia outside of Japan. A former professional basketball player who was drafted by the Chicago Bulls in 1983 and later played in Europe and Japan, Andree, 51, is a rarity in Japanese business circles, and not just because he's 6 foot 11. Foreigners seldom serve as executive officers at Japanese companies.
Dentsu CEO Tadashi Ishii and Andree are committed to an expansion strategy to match the global client and geographical reach of rival ad companies such as Dublin-based WPP, New York-based Omnicom Group, and Publicis Groupe in Paris. Aegis, which has a big presence in Europe and emerging markets, specializes in buying ad time for clients such as Walt Disney, Procter & Gamble, and Coca-Cola. In addition, its digital advertising services pulled in about 35 percent of its $1.77 billion in 2011 revenue. In January, Aegis won General Motors' global $3 billion-a-year ad account from rival Publicis. The acquisition values the British ad shop at about 12 times the company's earnings before interest, taxes, depreciation, and amortization. Global advertising acquisitions in the past three years fetched a median multiple of 8.7 times earnings, Bloomberg data show.
With Dentsu's stronghold in Japan, the two firms will have combined revenue of about $5.9 billion and $42 billion in billings. It will be the No. 1 ad agency in Asia and No. 2 in Europe, Andree says. "This is a huge deal, transformative, but we are not done," he says, adding that "bolt-on" acquisitions in digital advertising are a definite possibility. In recent years, Dentsu has acquired smaller U.S. agencies such as Attik, 360i, and McGarryBowen to improve its expertise in search, mobile, and social media advertising and gain access to more non-Japanese clients and overseas markets.
Andree acknowledges that making cross-border mergers work profitably is tough. "This is a people business, and it's not about the wedding—it's about the marriage," he says. To get this union off to a promising start and reassure clients, Aegis CEO Jerry Buhlmann and other top executives announced their intention to stay with the company until at least the end of fiscal year 2013.
Hideki Takoh, a Tokyo-based analyst for Citigroup, says the deal makes sense. Japan, now the world's second-biggest advertisement market after the U.S., generates about 6 trillion yen ($75.8 billion) in industrywide revenue annually but is unlikely to go back to the 7 trillion-yen level seen back in 2006 any time soon, Takoh says. The best growth prospects for ad firms are in digital platforms and in fast-growing emerging markets like China and Brazil. Still, "it won't be easy for the Japanese company to manage Aegis and retain talented employees," says Takoh. "There are differences in corporate culture."
(
Updated to show Dentsu Network West was dissolved and reformed as Dentsu Network.
)
Before it's here, it's on the Bloomberg Terminal.
LEARN MORE