Would German-Style Apprenticeships Work in the U.S.?
Can German-style apprenticeships work in the U.S.?
Michael Dolgow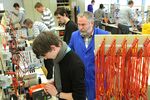 In a world of high youth unemployment, where the supply of skilled labor often fails to match employer demand, Germany believes help can be found in its Dual Vocational Training System (TVET)—a time-tested economic model now incorporated into the Federal Republic's law. This program, many supporters believe, is the reason why Germany has the lowest jobless rate among young people of any industrialized nation in the world—around 7 percent or 8 percent. With so many Americans struggling to find employment after graduating high school and college it might be worth asking: Can the German approach be brought to the U.S.?