Violence Halts Mining on a Philippine Island
On Mindanao, companies deal with rebels, gangs, and death squads
by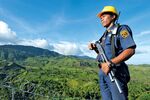 Cris Bual's work as an executive for mining giant Xstrata, on the Philippine island of Mindanao, made him a target for Maoist rebels, armed bandits, and just about anyone with a gun for hire. Traveling to work in the island's badlands from his home in the relative safety of Davao City, the island's metropolis, Bual, a Filipino, kept his schedule and route secret. That wasn't enough to save him.
While two gunmen blocked off the street where Bual and his wife were jogging near their home in Davao early one Friday last September, a third walked up to the 53-year-old and shot him dead. The killer and his accomplices escaped on a black Honda motorbike with no plate, according to police reports. Ten months after the murder, the suspects remain free because police are still waiting for a judge to be assigned to the case and for arrest warrants to be issued, says Albert Ferro, the officer leading the investigation. The communist New People's Army, which has battled the government on the island for decades, denies involvement in the killing.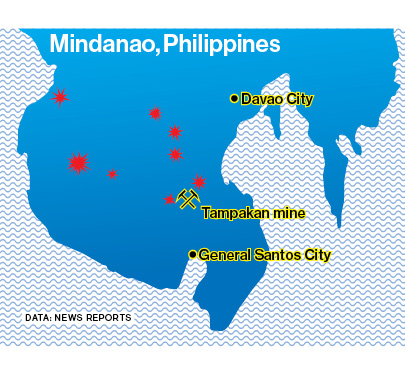 Resource-rich Mindanao is no stranger to murder. As many as 200,000 Filipinos have died and millions more have been displaced in more than four decades of violence on the Ireland-size island, where some 600 U.S. troops have been helping fight al-Qaeda-linked terrorists. Corruption, land disputes, and death squads linked by human-rights groups to local police and the military breed a climate of fear that deters investment and frustrates efforts by global companies, including Xstrata and Sumitomo Metal Mining, to tap mineral deposits worth an estimated $312 billion. Extreme poverty on the island feeds the violence. "There's no evidence of a strategic solution to the security problems in Mindanao," says Steve Vickers, chief executive officer of Hong Kong-based Steve Vickers & Associates, which provides corporate intelligence and advises on security. On June 20 one of Xstrata's security personnel and a policeman were fatally shot near the company's mine site.
Bual negotiated land purchases for Xstrata, which plans to invest $5.9 billion in developing the copper and gold deposits at Tampakan, about 100 kilometers (62 miles) southwest of Davao. The company hopes to have a mine, power station, port, and refining plant up and running by 2016. The Swiss-based company, the world's fourth-largest copper miner, aims to produce 375,000 metric tons of copper-rich ore from the mine each year, according to its local unit, Sagittarius Mines. The lode also holds an estimated 17.6 million ounces of gold.
Sumitomo Metal's Mindanao nickel and cobalt mine was attacked in October by the New People's Army. The company says repairs and beefed-up security will cost 10 billion yen ($126 million). In the 15 months since January 2011, the communist group launched about 600 attacks on mining companies, loggers, and plantations, as well as landlords and other targets, according to a March 29 statement from the group. It often levies "revolutionary taxes" on the mining concessions, say spokesmen for the Philippine military. If the mining companies refuse, violence can result.
Xstrata's Sagittarius unit suspended work on its project following Bual's assassination. Six months earlier, it did the same following the murder of three contractors. "We recognize the challenges to security and we continue to engage with our stakeholders," John Arnaldo, Xstrata's local spokesman, said in a July 13 e-mail. "We remain committed to developing the Tampakan project.
From Sagittarius's offices in the coastal city of General Santos, about 65km south of Tampakan, the two-lane national highway snakes past plantations of corn, coconut, banana, and pineapple. Dense jungle clads the sides of volcanic mountains. Turning off at the hamlet of Crossing Rubber, a dirt track leads to Liberty village, home to the B'laan tribal group, whose 144-hectare (355-acre) property is at the center of the Tampakan deposit. "We can't afford to lose this project," Linsay Sanuhay, 48, a member of the B'laan, said in an interview during a May trip arranged by Xstrata. "People who oppose mining and are blocking this project don't know how difficult our lives were." The B'laan will be paid royalties, and Xstrata plans to hire 2,000 workers from nearby Kiblawan town to build infrastructure for the mine.
The New People's Army poses the biggest threat to the mine, says Lieutenant Colonel Alex Bravo, who's in charge of security in the district. "If we cannot protect our investors, if they get harassed by threat groups, of course we will lose face. I cannot let that happen in my jurisdiction."
Before it's here, it's on the Bloomberg Terminal.
LEARN MORE