To Recruit Techies, Companies Offer Unlimited Vacation
Open-ended vacation policies are catching on in Silicon Valley
By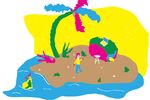 In June, Ben Zotto embarked on a three-week trek up Mount Everest with a couple of close friends, a vacation he's been dreaming of for years. He did it because he could: Zotto's new employer, software startup Evernote, doesn't limit or even track time off. "It's a trust-based system," says Zotto, the creator of a popular handwriting app that was acquired by Evernote earlier this year. "It treats people as if they can run their own schedule."
Evernote, based in Redwood City, Calif., is one of a growing number of companies to offer workers unlimited paid vacation in the hopes of lowering employee stress and cutting down on disruptive turnover. "Some companies are realizing they have to look for other benefits for their employees because the limited, paid vacation doesn't look like a benefit anymore. It feels like more control," says Jody Thompson, co-founder of workforce consultant CultureRx.
Pioneers including electronics retailer Best Buy and financial services firm The Motley Fool have learned that giving staffers free rein over their schedules helps improve their productivity. This notion is at the center of a management philosophy known as Results-Only Work Environment, in which workers are evaluated on the basis of their output instead of how many hours they clock at the office. Just 3 percent of U.S. companies have formally adopted ROWE, according to a new survey by the Society for Human Resource Management.

Still, unlimited vacation has been catching on in Silicon Valley, where employers dangle the policy as they compete for top engineers. Netflix and Zynga, along with smaller startups Xobni, SigFig, and Hotel Tonight, have started letting workers take off as much time as they like. "This will help us in our recruiting and retention of great talent," says Dave Gilbert, CEO of Internet calling service SimpleSignal, which announced its unlimited vacation policy last month.
Often, employees greet the newfound freedom with suspicion. At Evernote, which did away with vacation limits in 2011, "the first thing we noticed when we did it was that some people started taking less vacation," says chief executive Phil Libin. With no prescribed amount of time off, the company's heads-down engineers assumed less leave would make them look better. So as an added incentive, Evernote began writing $1,000 checks for anyone taking a weeklong trip—provided they produced evidence of an airline ticket and reported back to colleagues on what they did. "Our employees are better after they have traveled," Libin says. "They are more productive; they are more useful to the company."
Companies with set vacation policies often struggle to define time off, as workers phone into meetings from the beach or spend half-days with their kids. "Vacation is not as binary as it used to be, with people being able to work remotely from anywhere," says Sam Shank, chief executive of hotel booking app Hotel Tonight. If someone runs errands for several hours during a workday, "does that count as one day, does that count as a half-day? We don't want to squabble about that."
At Xobni, a developer of e-mail search tools, about 15 of the company's 35 employees have been moved to an unlimited vacation policy. Those reporting directly to Xobni CEO Jeff Bonforte were the first to be switched over. The boss is already enjoying one benefit: "It's my job to administer the vacation schedule of my own employees," Bonforte says. "And I'm too lazy to do it."
Before it's here, it's on the Bloomberg Terminal.
LEARN MORE