To Raise Cash, Romney Heads Overseas
He's holding virtual fundraisers with bankers in Asia
Lisa Lerer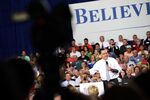 Though Mitt Romney has raised more money than Barack Obama in recent months, the president is still beating him in the little-noticed race to tap wealthy expats, topping Romney's overseas donations by a nearly 2-to-1 margin, according to the Center for Responsive Politics. Now the Romney campaign is taking the unusual step of dispatching the candidate to make personal appearances at fundraisers with Americans abroad.
During a weeklong overseas trip that begins July 25, Romney will use his network of global business contacts to hit up wealthy donors between stops at the Olympics and meetings with foreign leaders. On July 26 executives from Goldman Sachs, JPMorgan Chase, Credit Suisse, and Barclays will host a $2,500-a-person reception for him in London. That will be followed by a $25,000-a-plate dinner co-hosted by Dwight Poler, a managing director at Bain Capital Europe. Several days later, Romney will sit down with Israeli Prime Minister Benjamin Netanyahu, an old friend and colleague from Boston Consulting Group in the 1970s, then mingle with American donors at a Jerusalem hotel. Access to that gathering requires couples to write a $50,000 check or raise $100,000. Americans who reside stateside are invited to attend, with hopes they'll bring along friends who live in Israel.
Arizona Senator John McCain and former New York City Mayor Rudy Giuliani also hosted Americans in London to help fund their 2008 White House races. But typically presidential candidates send surrogates abroad to make the ask. That's what Obama's campaign did for events in Paris and Shanghai this month; in August, actor George Clooney will headline a fundraiser for him in Geneva. Obama himself has never attended a foreign fundraiser, according to his campaign.
Obama and Romney have raised just under $1 million, combined, from abroad—a tiny percentage of the $385 million donated for their races so far. The Romney camp is betting that face time with the candidate will encourage more expats to give. "There are millions of Americans who live abroad," says Ari Fleischer, a former press secretary to George W. Bush. "My question is, why wouldn't somebody do this?"
Romney did a London fundraising event last year, and in May he hosted fundraisers via videoconference with Americans working at banks and law firms in Hong Kong and Singapore. "It was not that hard to convince people to give," says William Strong, a Morgan Stanley executive and longtime Republican fundraiser who helped arrange the Hong Kong event. "It was materially easier than many other fundraisers I've done."
Romney's team originally organized his Jerusalem fundraiser on Tisha B'Av, a Jewish holiday that commemorates the destruction of two ancient temples. Eating and drinking are forbidden. The campaign has since moved the event to the evening, after sundown. Fred Zeidman, a Houston-based bundler for Romney who's making the trip to Israel for the fundraiser, says it'll help him encourage American supporters to increase their donations. Romney is "three weeks before the convention, and he's taking the time to go to Israel," Zeidman says. "It really speaks to his commitment."
Romney isn't expected to leave the U.S. again before Election Day, though that doesn't mean he won't be Skype-ing for more overseas dollars. His Hong Kong video call was sandwiched between high-dollar events during a fundraising trip through New York and Greenwich, Conn. "It was a very efficient way for Governor Romney to raise money," says Morgan Stanley's Strong. "He didn't have to fly or get off his campaign schedule."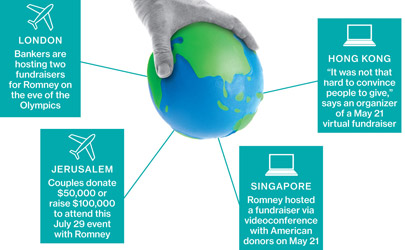 BOTTOM LINE -
The bottom line: Mitt Romney's campaign is betting expats will pay up to $25,000 a person for a chance to meet with him in Europe and the Middle East.
Before it's here, it's on the Bloomberg Terminal.
LEARN MORE