business
The New Smartphone Powerhouse: Huawei
The Chinese hardware maker is poised to be No. 3 in smartphones
By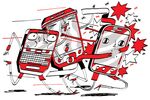 Sales of smartphones are booming, though very few phone makers have been rejoicing. Nokia and Research In Motion have seen their once-formidable businesses collapse into a mess of red ink and layoffs. HTC's sales have tumbled. Once-proud Motorola Mobility has been acquired by Google. Sony and LG Electronics are confirmed also-rans.
Feasting on this wreckage are, of course, Apple and Samsung Electronics, which between them have 54 percent of the global market. The other big winner: Huawei Technologies. A company many Americans haven't even heard of may well have passed Nokia last quarter to become the third-largest smartphone maker, according to Horace Dediu, founder of equity research firm Asymco. That's up from No. 7 at the end of last year. "They're the guys that don't get a lot of respect because they're not big in the U.S.," says Dediu. "But they're looking at big numbers."
After it was founded in 1987 by civil engineer Ren Zhengfei, Huawei quickly became China's high-tech success story by selling telecom gear to phone companies, routinely beating rivals such as Alcatel-Lucent, Ericsson, and Cisco Systems with good-enough products and great prices. Only in the mid-2000s did it start making cell phones. The Shenzhen-based company's inexpensive, often unbranded models gained traction in China, the Middle East, and Africa.
Huawei kept this low-cost approach as it got serious about smartphones in 2009. The company didn't try to build its own software operating system like Apple, Microsoft, Nokia, or RIM. It used Android. And unlike Samsung, HTC, or Motorola, it didn't try to differentiate Google's mobile software with its own tweaks. "Huawei just slapped Android on some hardware and shipped it," says ABI Research analyst Michael Morgan.
This year, the company expects to triple its smartphone sales to 60 million units, in part by taking a bigger chunk of the U.S. market. Until now, it's sold handsets costing less than $200 to carriers such as MetroPCS and Cricket that offer pay-as-you-go plans, mostly to lower-income consumers. Last November it landed a deal with a top-tier U.S. carrier when AT&T started selling Huawei's Impulse phone for $29. On July 11, T-Mobile announced that Huawei would be building two models in the carrier's MyTouch line of handsets. "We essentially made the market for affordable smartphones," says William Plummer, Huawei's U.S. vice president for external affairs. "We're in a good position because we've established ourselves as a trusted partner to carriers."
Not completely trusted, however. On Capitol Hill, the House Permanent Select Committee on Intelligence has been investigating whether efforts by Huawei and ZTE, another fast-growing Chinese telecom equipment and phone maker, to sell to U.S. carriers present a security risk, because the companies may have ties to the Chinese government. The Australian government has banned Huawei from bidding on a national broadband project. Congress has asked the State Department to investigate whether Huawei illegally exported embargoed technologies to Iran. For years, industry insiders have believed that Huawei has access to low-interest loans from the government. Huawei spokesman Francis Hopkins says the company is cooperating with the congressional investigation, gets no favorable loans from the Chinese government, and denies wrongdoing in Iran. It definitely has benefited from huge domestic broadband buildouts, says Jeff Heynen, an analyst with consulting firm Infonetics.
Succeeding in smartphones is not optional for Huawei if it wants to remain a fast-growing company. Its $23 billion-a-year telecom equipment business grew only 3.5 percent in 2011, before tumbling due to the slowdown in China's economy this year, says Heynen. The company reorganized last year to create a separate Huawei Devices unit to drive what executives say is the company's best growth opportunity. The division also makes laptop modems and other less-sexy gizmos.
Huawei's growth rate may make it a plausible challenger to Samsung in smartphone sales, says Asymco's Dediu. He argues that the Korean giant has prospered largely because of vertical integration; it makes many of the chips and screens that go into its devices. Yet he doubts Samsung has built up enough brand loyalty to withstand a much cheaper alternative. "Let's not forget that Samsung itself was No. 4 or 5 just a few years ago," says Dediu. "Samsung ought to be looking over its shoulder."
As smartphones evolve from novelty technology into just another gadget, Huawei will be well positioned to benefit. "Their devices don't have to have jet packs to do 90 percent of what most people need," says Morgan of ABI Research. "The market is coming to them."
Before it's here, it's on the Bloomberg Terminal.
LEARN MORE