Mika Street Puts Uptown Pilates on a Growth Curve
A former health-care consultant with a passion for Pilates took her new job to the mat
Alexandra Wolfe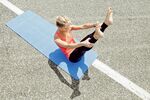 When she graduated from Union College in 2001, Israel-born and Florida-raised Mika Street took a job at global consulting firm Accenture, where she helped Pfizer merge with drugmaker Pharmacia in 2003. "I felt trapped in the mundane," she says. Street started taking Pilates classes to unwind. After a year and a half on the job—and a three-month leave of absence in Costa Rica—she realized she wanted to pursue Pilates full-time.
Street became a certified instructor in 2003 and scrambled to fill a hole in the Manhattan marketplace. "There weren't any places uptown that [had] that spa feel, even at the bare minimum of being clean," she says. "Pilates is an expensive and time-consuming process, and the studios didn't match the clientele and what they were accustomed to in terms of aesthetics." For nine months, Street scoured the Upper West Side, calling numbers on signs in empty storefront windows. She finally stumbled across an old poker club that had been shut down. In 2004, when she moved in, the windows were boarded up and poker chips were still scattered about inside. The flagship Uptown Pilates was born.
With $250,000 from angel investors, Street hired a contractor who had worked with the trendy design firm AvroKO. The first few months were slow, but within two years demand grew so much that Street opened a sister location on the Upper East Side. The following year, Uptown Pilates opened in Sag Harbor, N.Y., in the Hamptons. "Every day keeps you on your toes. And for my personality, I love that," she says. "At Accenture, you're punching the clock. It was always the same. You're watching the clock tick."
 
STREET'S BEST ADVICE
 
1. Trust your (highly toned) gut
There will be a great deal of doubt and reevaluation as a new business incubates. However, there will be an epiphany moment when, despite misgivings, you just know it is right. That is the time to go for it!
 
2. Don't overthink it
I started Uptown Pilates when I was able to focus on the future opportunity without being saddled with the burden of doubt. Going into it so doe-eyed enabled an early success.
Before it's here, it's on the Bloomberg Terminal.
LEARN MORE