Chinese Stocks Flee U.S. Exchanges
A state-owned bank helps companies go private
Bloomberg News
More than 60 Chinese companies joined U.S. exchanges from 2008 through 2011, hoping to cash in on the Western appetite for Asian growth stocks. Now some of those companies are pulling up stakes. China Development Bank, the state-owned lender charged with strengthening the country's competitiveness, is providing more than $1 billion in financing to help companies leave the U.S. stock market.
Many smaller Chinese companies gained listings via so-called reverse mergers—buying a company that was already traded on a U.S. exchange. Investor enthusiasm collapsed after Hong Kong-based short-selling firm Muddy Waters in June 2011 accused Sino-Forest, a timber company that traded on the Toronto exchange, of exaggerating its assets. Sino-Forest filed for bankruptcy in March after denying the allegations. Those allegations raised concerns about accounting and corporate-governance standards at Chinese companies. The 82 companies in the Bloomberg Chinese Reverse mergers index lost 52 percent of their market value from June 2011 through July 16.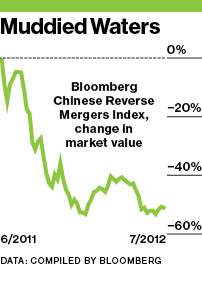 Partly as a result, only one Chinese company has listed in the U.S. this year, and several have left. "There's this sort of stigma on Chinese-listed companies," said Phil Groves, president of Hong Kong-based DAC Financial Management China. "If they're not really big, they are essentially marooned on the U.S. listing system, where the promised land of lots of further share issuances and debt financings aren't happening."
China Development Bank has offered funding so Fushi Copperweld, a Beijing-based wire maker listed on the Nasdaq Stock Market, can buy back its shares from the public, the company said last month. China TransInfo Technology said on June 8 it would drop its U.S. listing using CDB financing. Harbin Electric, a maker of electric motors in northeast China that also was listed on the Nasdaq, went private in November in a buyout financed by CDB. The deal followed the CDB-funded privatization of China Security & Surveillance Technology in September. "China Development Bank has played quite a large part in going-private transactions," reflecting its mission to help Chinese companies, says John Shum, a Hong Kong-based lawyer at White & Case. Feng Qihua, a spokeswoman at CDB, didn't respond to requests for comment.
Some of the companies are delisting after being attacked by analysts. Fushi Copperweld's shares fell to a low in April of $5.81 a share as Muddy Waters accused the company of overstating production and possibly falsifying financial statements. The wire maker denied all the claims, which it called "vague and nonspecific" in a statement on April 11. The company announced on June 28 that it agreed to be bought for $9.50 a share by Hong Kong-based private equity firm Abax Global Capital and Fushi Copperweld Chairman and co-Chief Executive Officer Li Fu.
Harbin Electric's stock slid in August after Citron Research said it "fabricated customers" and overstated revenue. The Citron report was a "patchwork of fabricated evidence, falsehoods, selective use of information, and clearly biased and dishonest reporting," Harbin Electric CEO Yang Tianfu said in a statement responding to the allegations. When Harbin was taken private, shareholders received 20 percent more than they would have if they had sold their shares at the closing price on the day before the offer.
After going private, some companies may relist in Hong Kong, where they would hope for higher price-earnings multiples for their shares, according to Johnson Chng, global partner and managing director of greater China at A.T. Kearney. "The cost of compliance being listed in the U.S. isn't low," Chng says. "The wave to delist in one market to go to another higher-multiple market, that trend will probably pick up."
"There are a few hundred Chinese companies listed in the U.S., and you've got to believe if it's normal distribution of quality, there have got to be good ones as well as bad ones," says Donald Yang, a managing partner at Abax. While investors may be tempted by Chinese stocks, "the tricky part is knowing which of these companies are really undervalued and which may have some level of fraud going on," says David Grimm, a partner at Paul Hastings in Hong Kong. "The Chinese companies listed in the U.S. have all been tarred with the same brush."
Before it's here, it's on the Bloomberg Terminal.
LEARN MORE