China May Be Ready to Embrace Its Real Estate Boom
Cities big and small are loosening rules to encourage investment
by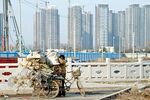 The media dubbed it the "King of All Sales." A plot of residential land in Beijing's Haidian district sold at auction on July 10 for a record 2.63 billion yuan ($413 million), or 33,831 yuan per square meter. That makes it the most expensive tract ever sold in the capital, higher than the previous record set in 2009, when Chinese property was in the middle of a price bubble that started deflating last year.
Judging from the auction, it seems that China's real estate sector has turned a corner after a nine-month slump—and that Beijing is finally ready to ease up on the strict controls it imposed on property sales when prices were overheating.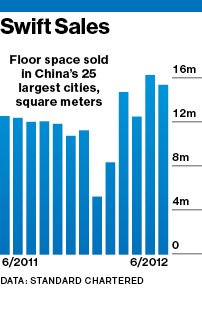 Yet just three days before the Haidian auction, premier Wen Jiabao was sounding the alarm about real estate bubbles. "We must unswervingly continue to implement all manner of controls in the property market to allow prices to return to reasonable levels," he said on July 7, while meeting residents and local officials in charge of affordable housing in the city of Changzhou. "We cannot allow prices to rebound, or all our efforts will come to naught." From the trough in 2008 to the peak in early 2011 prices in big markets rose about 40 percent and have since come down around 20 percent, according to GK Dragonomics.
The two episodes illustrate how real estate is pulling policymakers in different directions. Second-quarter gross domestic product grew at 7.6 percent, its slowest rate in three years. The government knows that reining in the property market—by stiffening down-payment rules, limiting how many homes a single buyer could purchase, and raising transaction taxes on luxury property sales—played a part in that poor performance. "We should acknowledge that the property curbs were an important factor that drove the slowdown in China's economy this year," said Sheng Laiyun, a spokesman for the National Bureau of Statistics, in a press conference in Beijing on July 13. "But we shouldn't relax the curbs, because they will promote a sustainable, healthy Chinese economy."
Real estate remains the primary driver of China's economy, even beating out the export sector. When combined with associated industries including steel, cement, and household appliances, real estate accounts for about 30 percent of China's $7.5 trillion GDP, estimates Tao Wang, head of China economic research at UBS Securities in Hong Kong. If the government forces the property market to slow too much, the economy will suffer even more than it has.
Hence the national government's official reaction to the real estate conundrum—lots of loud rhetoric to contain excesses in the industry while it quietly allows real estate activity in localities to pick up steam. In May the eastern city of Yangzhou introduced subsidies for new home buyers. Other cities including Beijing and Shanghai are offering discounts on the benchmark mortgage rate and are raising the price thresholds at which higher taxes are levied on home purchases. All told, about 30 cities have issued "fine-tuning" policies over the past 12 months, according to Hong Kong-based Centaline Property Agency. Two interest rate cuts in one month have made credit more available for developers, and Beijing has vowed more support for first-time buyers.
These moves helped boost residential sales 41 percent in June from the previous month to 531.3 billion yuan, setting a record for the year. On July 18 the statistics bureau announced that new home prices in June rose in 25 of the 70 major cities it monitors, up from six cities the month before. "We are seeing nationwide improvement" in the property market, says Rosealea Yao, principal analyst at GK Dragonomics in Beijing.
Local officials need the help. Property sales account for at least 30 percent of local government revenues. Thanks to Beijing's crackdown on high real estate prices, local authorities have seen that precious source of income start to dry up. In the first six months of the year, revenue from land sales fell about 30 percent, says Minggao Shen, head of China research at Citigroup in Hong Kong. "Local governments are facing significant budget constraints. They hope some easing in the property sector will help them," says Shen.
Even if Beijing continues easing, say by further loosening restrictions on buying second homes, the property sector may not be the economic engine policymakers are hoping for. After its last real estate boom, China still has plenty of vacant apartments and office space. Investment in homes, office buildings, and malls has been cooling; it grew 16.6 percent to 3.1 trillion yuan in the first six months of 2012, about half the rate of a year earlier.
New property construction fell 7.1 percent in the same period. Despite the pickup in property prices and sales, "on the construction side, we are seeing a slowdown, and I think it is going to get worse. We have 6 to 12 months of inventory to get through before developers will be keen to start building again," says Stephen Green, head of research for China at Standard Chartered Bank in Hong Kong. "You can't just flick the switch this time on housing investment."
Before it's here, it's on the Bloomberg Terminal.
LEARN MORE