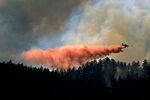 The first air tanker to crash this year fighting the wildfires in the West was a Lockheed P2V-7, owned and operated by Neptune Aviation Services, a private government contractor based in Missoula, Mont. The planes were designed as bombers during World War II and look it, with a shiny aluminum fuselage and wings, a hatch that opens over the cockpit accessed by ladder, and a glass observation window in the nose. The last were made in 1962. Witnesses to the June 3 crash in Utah saw the tanker hit a tree and cartwheel into the rising side of the valley. Both aboard died.
It's been a dramatic year for fires, and a tragic year for aerial firefighters. Three planes have crashed since June, with six dead, raising questions about whether the government should be using newer, more advanced craft—and whether they should be fighting fires from the air at all.
The U.S. Forest Service spends about $2 billion a year preparing for and suppressing wildfires, and of that about $60 million goes to air tanker flights, says Tom Harbour, the Forest Service's director of fire and aviation management. The government has standing contracts with Neptune and Minden Air, based in Minden, Nev., for nine planes to fight fires for the Forest Service and can borrow C-130 cargo planes from the Department of Defense. The tankers are "a significant portion of the budget," Harbour says, "but we also have around 10,000 firefighters, and that's a more significant part of the budget." Yet the daring flyovers receive a disproportionate amount of attention, perhaps because bombers trailing plumes of bright red retardant attract news cameras.
Piloting aging warplanes over wildfires is just as hazardous as it sounds. Neptune P2Vs were also lost on duty in 1998, 2008, and 2009, with the crews of all three flights killed, according to the National Transportation Safety Board. (Neptune did not respond to requests for comment.) Soon after the first crash this year, Congress passed and President Obama signed a law to speed up approval of seven new planes to update the Forest Service fleet. That may not be the answer. On July 1, a C-130 operated by the Air National Guard in conjunction with the Forest Service crashed in South Dakota. It was one of eight newer, government-owned planes activated to fight fires this year and exactly the kind the Forest Service has said is best suited for the job. "What the Forest Service knows, but doesn't want to talk about, is that dropping fire retardant from the air doesn't accomplish firefighting goals," says Andy Stahl, executive director of Forest Service Employees for Environmental Ethics. "It looks great on television, but it's dangerous and it doesn't really work."
Chuck Wamack, acting director of the National Interagency Coordination Center in Boise, Idaho, which oversees the firefighting efforts of eight government agencies, would take issue with Stahl's sweeping statement. No one claims air tankers can snuff out blazing forests, he says. "They put out fires before they get huge. Of course, then you don't read about them."
The air tanker fleet moves around the country following the fires, and they've had plenty of work this year. There have been more than 32,000 fires as of July 17, covering more than 3.6 million acres. And although there have been fewer individual fires reported than the 10-year average, more acreage has burned.
The White Rock fire on the Utah-Nevada border, where the first crash took place, was started by lightning and spread to more than 5,000 acres. That makes it small for this year. Around 1 p.m. on June 3, according to the NTSB's preliminary report, the P2V-7 tanker, which typically carries about 3,000 gallons of retardant, was following a small, single-engine lead plane into a valley 20 miles north of Modena, Utah. The lead plane guided the tanker to the drop zone, flying about 150 feet above the ground. The lead plane went right, but for some reason the air tanker went left, into a burning hillside. Rescuers' shoes were "melting," a detective told a reporter for the Missoulian. Not long after, another P2V, owned by Minden and also more than 50 years old, crash-landed at Minden-Tahoe Airport. One of its wheels had failed to descend, according to Minden. No one was hurt.
When the commercial fleet is stretched, as it is now, the Forest Service turns to the newer C-130s, which are operated by the Air National Guard. The 97-foot-long cargo planes have four props and the ability to carry 47,000 pounds. They are loaded with a pressurized tank filled with about 3,000 gallons of fire retardant. It's known as a Modular Airborne Fire Fighting System (MAFFS). A door is taken off the plane and replaced with a special door with a nozzle that sprays the retardant, dyed red for visibility.
The C-130 that crashed was fighting the White Draw fire in southern South Dakota. It tore an enormous swath through the trees. There are normally six crew on a MAFFS-equipped C-130. Four were killed. Two others, assigned to the retardant delivery system in the tail, survived.
The Forest Service's Harbour calls the fight from the air a "tool" in a "tool box" that his firefighters need to deal with fires on 200 million acres of national forest, though he admits they aren't the most important tool. "You can put out a fire with no airplanes," he says, "but you can't put out a fire with only airplanes."
On a recent morning, Neptune Aviation Services P2Vs and Air National Guard C-130s were taking off one after another from the air base adjoining the National Interagency Fire Center in Boise. The temperature was 104F, it hadn't rained in days, and all of Boise smelled like smoke. Assistant Military Liaison Officer Nancy Moore addressed a dozen National Guard airmen in their olive jumpsuits. "There are fires here, and here, and here," said Moore, pointing in different directions. "Basically, there are fires everywhere."
The planes were making round trips that took about 20 minutes. The C-130s made several drops over a fire some 50 miles to the east. Seen from the base of the foothills, the planes would disappear behind ridges and reappear on the other side. Compared with the mountains and the great tilted pillars of smoke the planes seemed small, but they kept coming.
Before it's here, it's on the Bloomberg Terminal.
LEARN MORE