Stephen Covey, 1932-2012
by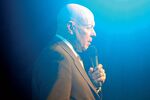 The prophet Moses delivered the Ten Commandments. The psychiatrist Elisabeth Kübler-Ross came up with the Five Stages of Grief. Stephen Covey gave us The 7 Habits of Highly Effective People.
A luminary in the field of American self-help by the numbers, Covey passed away on Monday, July 16, in a hospital in Idaho from complications following a bicycle accident. He was 79.
Covey published The 7 Habits of Highly Effective People in 1989. The book has sold more than 20 million copies. A former professor at Brigham Young University, Covey left academia to found a management consulting business, the Covey Leadership Center (which merged with Franklin Quest in 1997 to form FranklinCovey). He wrote several other books, including The 7 Habits of Highly Effective Families, The 8th Habit: From Effectiveness to Greatness, and The 3rd Alternative: Solving Life's Most Difficult Problems.
In the hours following news of Covey's death, a panoply of motivational senseis—Tony Robbins, Daniel Pink, Ricky Williams—flooded social networks with words of remembrance and samples of Covey's inspirational quotes. "There are three constants in life … change, choice, and principles," Covey wrote.
Covey is survived not just by his wife, nine children, 52 grandchildren, and six great-grandchildren but also, to judge by the reaction to his passing, by countless devotees of his numerically specific editorial approach—a style that in recent years has flourished in business writing on the Web.
On Twitter, John Maxwell, the author of 5 Levels of Leadership, mourned the passing of his friend and colleague. Paul Lawrence Vann, the co-author of 101 Great Ways to Enhance Your Career, praised Covey. Jeffrey Hayzlett, a proponent of what he calls "the 118," aka "the Elevator Pitch 2.0″ (basically, a condensed sales pitch that lasts 118 seconds), noted how much Covey will be missed. James Vickery, the star of a Web video entitled 9 Unmistakable Truths About Cloud Computing, called Covey an "inspiration to all of us."
"Though we were hardly bosom buddies, I would occasionally get an absurdly generous note from Stephen recognizing this or that that I had done," wrote management guru Tom Peters in the Washington Post. "I often joked with him that, with the passage of time, I was ripping him off more and more." Peters's most recent book is entitled The Little Big Things: 163 Ways to Pursue Excellence.
"Stephen Covey was a major influence in my life and in the lives of other top speakers, writers, and professionals in the human development movement, especially in business," says Brian Tracy, the author of numerous books, including The 100 Absolutely Unbreakable Laws of Business Success and The 21 Success Secrets of Self-Made Millionaires.
Before it's here, it's on the Bloomberg Terminal.
LEARN MORE