Favorite Professors: North Carolina's C.J. Skender
By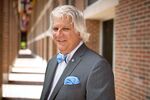 C.J. Skender
Kenan-Flagler Business School, University of North Carolina
Undergrad Courses Taught: Business 101: A mix of managerial and financial accounting; Business 407: Financial Statement Analysis
Accounting professor C.J. Skender has become a celebrity of sorts at the University of North Carolina's Kenan-Flagler Business School, partially due to his wardrobe ("43 percent bow ties and 57 percent neck ties," he says), but mostly for his unique teaching style. Skender keeps notebooks filled with song and movie quotes, and he begins each class with what he calls "fourplay"—four songs to set the tone for the day's class. One day they might include such artists as Ray LaMontagne and Elton John, followed the next day with tracks from Nelly and the theme from Mr. Rogers Neighborhood. Precisely halfway through each class, Skender will remove his jacket and recite a movie quote. The first person to guess the film it's from wins a prize (usually candy).
Skender holds an undergraduate degree from Lehigh University and an MBA from Duke University. Since coming to UNC in 1997, he has taught more than 20 accounting courses and is ready to teach 20 more. "I just like teaching," he says.
Students Say:
—"Professor Skender is an extremely engaging instructor. Not only is he bright, but he has a way of making the material fun to learn. He also reaches out to students and makes himself accessible—even with 400-plus students in each accounting class."
—"He makes a potentially boring subject fun, and he makes the accounting knowledge stick well after the class ends. I can still remember the concepts he taught four years ago. I can't say the same for any other class."
Skender's inspiration:
"At some point in my life I've wanted to be a priest, a disk-jockey, a stand-up comedian, a coach, and a cab driver—I try to tie that all into how I teach my class."
Editor's Note: This profile is part of Bloomberg Businessweek's series on favorite undergraduate business professors. Subjects were chosen based on feedback collected in Bloomberg Businessweek's annual survey of senior business students. The featured professors were the ones most often mentioned by students as being their favorite. Student quotes come directly from the student survey.