B-School Twitter Roundup
Alison Damast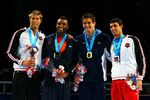 This week's Twitter roundup of happenings in the business school world includes a recent invitation for a Wharton graduate to play with an NBA basketball team this summer, a leading female economist joining the faculty at Stanford, and a business school that is turning to students for help in creating a new ad campaign.
Robert Mittelstaedt, dean of Arizona State University's Carey School of Business since 2004, announces he will retire next year (@WPCareySchool, 7/16).
Rollins College's Crummer Graduate School of Business adds three new mini-MBA programs to its current 18-week certificate offerings, including ones on sustainable innovation, the art of negotiation, and change management (@RollinsMBA, 7/9).
Zack Rosen, a basketball player and recent graduate of the Wharton School's undergraduate program, was invited to play for the Philadelphia 76ers in the NBA Summer League (@Wharton, 7/9).
Yifan Zhang, a student at Harvard Business School, is the co-founder of Gym-Pact.com, an app and platform that motivates people to exercise by giving them cash incentives (@HBSNews, 7/10).
The University of Rochester's Simon Graduate School of Business has received nearly $7 million in gifts for the school's scholarship programs, student-run venture capital fund, and a new endowed fund for innovation and entrepreneurship (@SimonSchool, 7/12).
Susan Athey, a renowned economist and the first female recipient of the John Bates Clark Medal, will be leaving Harvard University to join the Stanford Graduate School of Business as a professor of economics this fall (@StanfordBiz, 7/13).
Ricky Berens, a 2010 graduate of the McCombs School of Business at the University of Texas, Austin who was part of the U.S. Olympic swimming team that won the gold in 2008, will be competing again in this summer's Olympics in his first-ever individual race (@UTexasMcCombs, 7/13).
Brendan Knoblauch, a second-year MBA student at Case Western Reserve University's Weatherhead School of Management, blogs about his summer internship at a hospital in Tanzania (@caseweatherhead, 7/14).
Brigham Young University-Idaho and Utah State University's Huntsman School of Business have teamed up to offer a joint MBA program in January (@BYU_News, 7/15).
John Delaney, dean of the University of Pittsburgh's Katz Graduate School of Business, writes about how the school is placing a renewed emphasis on ethics and sustainability as a result of its participation in the Principles for Responsible Management Education initiative (@KatzPittBiz, 7/16).
Drexel University's LeBow College of Business asks students to submit a photo and three words they live by for a new ad campaign (@LeBow, 7/16).
Join the discussion on the Bloomberg Businessweek Business School Forum, visit us on Facebook, and follow @BWbschools on Twitter.
Before it's here, it's on the Bloomberg Terminal.
LEARN MORE