Arram Sabeti's ZeroCater Feeds Other Startups
By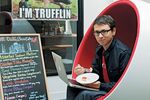 Five years ago, Arram Sabeti was a 21-year-old in Orange County and growing bored with the community college classes he was taking in computer science and philosophy. He worked part-time at a machine shop making medical equipment, but his eyes were starting to drift northward, attracted by the growing clout of entrepreneurs like those coming out of Paul Graham's Y Combinator incubator program. "I absorbed everything he wrote," says Sabeti of Graham's popular essays. "I was willing to do anything to get my foot in the door."
So he dropped out, moved to the Bay Area, and in 2008 took a job at Justin.tv, a San Francisco startup that lets people broadcast live video. One of his tasks was to place daily lunch orders. Pretty quickly, "I realized that the biggest pain I have in my life right now is making sure the lunches for Justin.tv show up, that people like the food, and that people's dietary restrictions are met," says Sabeti, now 26. "I started doing it for the companies of a few friends of mine and the response was so positive that I realized I had a business."
In 2009, Sabeti founded ZeroCater—the startup that feeds startups. ZeroCater serves up barbecued ribs, tacos, Vietnamese sandwiches, and Indian curries to 220 companies ranging from giants like Sony to corporate toddlers such as Hipmunk. Office managers tell ZeroCater what days and how many people to order for, and about any dietary restrictions. ZeroCater doesn't cook the food, but rotates among more than 130 vendors to maintain variety. ZeroCater's software handles the billing and scheduling and records customer feedback so if one startup hates lamb vindaloo, it can avoid getting the dish again.
Vendors like the simplicity, too. "They take care of a lot of the logistics that we really don't have time for," says Brandon Yee, who co-founded the City Smoke House eatery with his brother Brian in 2010. "It makes it so we can focus on food," says Brian. The Yees say their business has tripled since teaming up with ZeroCater this year, and it now pulls in about $12,000 a week. ZeroCater takes a cut of sales, which varies depending on volume, and also charges orderers a 7 percent convenience fee. In 2011, ZeroCater got accepted to the Y Combinator incubator program—the same one Sabeti admired from Orange County—and secured $1.5 million from a group of angel investors. The company now has 17 employees, focused primarily on scouting new vendors and managing accounts.
Meanwhile, Sabeti is focusing on expansion. While ZeroCater has established a name for itself in the tech hub of San Francisco and Silicon Valley, the business model can easily be replicated. Cater2.me has emerged as a local competitor, serving Bay Area startups including Posterous and Klout, and Sabeti worries rivals will spring up in other cities if he doesn't get there first. He remains cagey about ZeroCater's growth plans, but his ambitions are clear enough. "In four years, we plan to be feeding more people than any organization on Earth, short of the national Army."
Before it's here, it's on the Bloomberg Terminal.
LEARN MORE