Graphic of the Day: Jerusalem's Sound Map
Mapping the city's church bells, sirens, and calls to prayer.
Amanda Erickson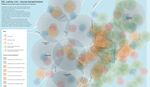 What can you tell about a city by the sounds it makes? If it's Jerusalem, quite a bit. This sound map highlights calls to prayer, along with police sirens and ambulance horns. Taken together, they create a display of the city's overlapping and chaotic communities.
As the creators write:
Every house of worship has its own sounds, calling the community to prayer and commemorating religious occasions. Situated at the epicenter of the Israeli-Palestinian conflict, Jerusalem is a place of extreme tension. Sirens are often hear blazing from police cars and ambulances. The diverse communities live in proximity to each other and the sounds they produce are constantly intertwined.
See a larger version of the map here.