business
Favorite Professors: Emory's Allison Burdette
Kate Abbott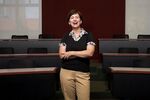 Allison Burdette
Goizueta Business School, Emory University
Undergrad Courses Taught: Business 410: Legal Environment, better known as "B-Law," as well as an honors seminar and occasionally international law.
For every concept Allison Burdette teaches, there's a story to accompany it. Embracing the "show, don't tell" style, the associate professor in business law arrives to each of her classes at Emory's Goizueta Business School early in order to draw on the whiteboard. "I'm not happy about the change," she says. "I'm a chalkboard person." Chalkboards may be outdated, but Burdette's analogies are not: She draws pawnshops by hand, buys promissory notes on EBay, and tells stories of her great-great-grandfather in order to make subjects more relatable. B-Law is a required course with an average class size of 60, so Burdette tries to keep her analogies up to date with current events. She recently compared the importance of securities transactions to the Facebook relationship status—its significance depends on "if you're attractive collateral."
Burdette graduated from the University of Tennessee in 1986 and received her J.D. from Harvard in 1989. She practiced law for two years in Washington, D.C., before joining the teaching staff at Georgia State University. She started at Emory in 1998. "I played teacher when I was little," she says. "I just like it better than practicing law."
Students say:
• "She's possibly the best teacher I've ever had. The material inherently isn't that exciting but she manages to keep your attention throughout class and really makes it come to life. She's also very concerned about how well you do and will go out of her way to mentor you and give you tips on her class."
• "Her knowledge of the material is outstanding. She is very enthusiastic about teaching and keeps class interesting. She is very concerned with what her students are getting out of the course and makes herself extremely available to advise and assist. Her class was the hardest one I have taken at Goizueta and yet it was the most rewarding as well as my favorite."
Burdette on B-Law:
"I think it's the most important information they could ever learn. That's what gets me fired up."
Editor's Note: This profile is part of Bloomberg Businessweek's series on favorite undergraduate business professors. Subjects were chosen based on feedback collected in Bloomberg Businessweek's annual survey of senior business students. The featured professors were the ones most often mentioned by students as being their favorite. Student quotes come directly from the student survey.
Before it's here, it's on the Bloomberg Terminal.
LEARN MORE