China's Deflationary Threat
The country is dangerously dependent on the property market
by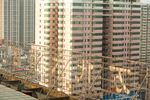 Is China running the risk of falling into deflation? Chinese stocks were rattled on July 9 by the government release of consumer and producer prices in June. The consumer price index rose 2.2 percent from a year earlier, and producer prices actually fell 2.1 percent vs. a median forecast for a 2 percent drop. Consumer prices have been falling for three months, producer prices for four months.
Deflation does not seem like an imminent risk, says Nick Lardy, chief China specialist at the Peterson Institute of International Economics. Producer prices, he points out, have a tendency to jump around.
What concerns Lardy is the impact of China's housing market on deflation. "The property business is 15 percent of GDP," he points out. "But the upstream and downstream linkages to housing are enormous. So goes property, so goes 40 percent of the economy." Everything from steel to white goods made in China depends on the health of the country's housing market.
The property market hasn't cratered, but warning signs are appearing. In 2009, 45 percent of Chinese surveyed thought property prices were headed up. Now only 15 percent believe that. More investment has poured into Chinese property than went into the Spanish residential market, which has turned into one of the biggest property bubbles in Europe, with devastating results to Spain's banks. In urban China, according to one study, 1 in 5 households owns a second property as an investment, a sign of speculative fever.
Lardy does not think this can go on forever, but China's housing market could bubble along for another two years. After that would come the economic slowdown once the property market goes into reverse. "It would be a slow-motion affair," says Lardy. That, he says, could result in annual GDP growth as low as 5 percent—a perilously small rate for China.
Before it's here, it's on the Bloomberg Terminal.
LEARN MORE