U.S. Airport Capacity: Failure to Launch
Harold L. Sirkin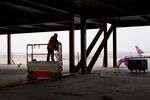 Like other frequent business travelers, I'm at the mercy of the airlines. I'm luckier than many because I live in Chicago, where three dozen or so carriers serve O'Hare International Airport. Still, as the tripadvisor.com website notes, "thousands, if not millions, are held up at O'Hare [each year] and reach their destination point far later than planned."
What's the problem, besides Chicago's notoriously brutal winter weather?
The answer is capacity, of both the airport and the air traffic control system. The problems are nationwide and systemic, not limited to O'Hare. We're not making the necessary investments to keep up, let alone move forward.
According to the Airports Council International-North America, the U.S. will need to invest more than $80 billion on new runways, terminals, and other facilities over the next several years to meet the projected growth in air passenger traffic through the early 2020s. Due to the long lead times needed for planning, permitting, and construction, it can take five to eight years to build a new terminal and more than 10 years for a runway, council officials note. Longer if the NIMBY crowd (Not in My Back Yard) creates additional roadblocks.
The Federal Aviation Administration, in its 2012 forecast, projects U.S. airports will have to accommodate 1 billion passengers by 2024, up from 803.5 million last year. Yet in the past 40 years, just two new major airports have opened in the U.S.: Dallas-Fort Worth and Denver International. While several other airports have added or extended runways (including O'Hare) and other improvements are underway, we're barely keeping up.
China, meanwhile, will add 56 new airports in the next five years to the 175 currently in operation. Some 91 other airports will be expanded and 16 are being relocated. With nine runways, Beijing's new Daxing International airport, "roughly the size of Bermuda," according to London's Daily Telegraph, will be the world's busiest when it's completed in 2015, handling an expected 370,000 passengers a day.
Other countries are busy as well. Panama recently completed the expansion of Tocumen International Airport in Panama City, doubling the airport's capacity from 5 million to 10 million passengers per year. Singapore is expanding Changi Airport. The new Terminal 4, scheduled to open in 2017, will have a capacity of 16 million passengers per year, more than double the current terminal, which is being closed. And in the Middle East, the Gulf states are positioning the region as a global travel hub, with eight new runways planned.
Capacity is everything. If we don't expand airport capacity to meet (and exceed) projected needs, we will be crippling ourselves.
Before it's here, it's on the Bloomberg Terminal.
LEARN MORE