June Jobs: Five Things You Need to Know
By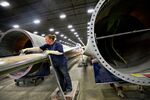 Another summer, another jobs bummer. Payrolls rose by only 80,000 in June, the U.S. Labor Department reported Friday morning. The national unemployment rate held at 8.2 percent. It was the second straight disappointing month for employment growth (economists surveyed by Bloomberg had been expecting a gain of 100,000). More worrying is that it's the second year in a row that a spring spurt has jumped the rails.
Many of the key June numbers were basically unchanged from May: The unemployment rate; the total number of unemployed people, 12.7 million; the long-term unemployed (more than 27 weeks), 5.4 million (41.9 percent of all jobless). But that's the problem. Last month's report, it was widely agreed, was a disaster: Only 69,000 jobs were added (since revised to 77,000), the lowest gain in a year. The implications for President Barack Obama are obviously not good; voters may or may not be watching the numbers closely on a holiday week, but with only four more jobs reports before the election, the chances to convince them the economy is on the upswing are dwindling.
It probably also increases the odds that the Federal Reserve will move to stimulate the economy further. Pimco's Bill Gross and others already have speculated that further stimulus could be forthcoming in August. (Update: Mark Thoma, economics professor at the University of Oregon, says the Fed will stay in "wait and see mode" unless data point to further weakening ahead of the next Federal Open Market Committee meeting on July 31-Aug. 1.)
Here are five key takeaways from today's report:
The all-in jobs misery number. This category, known as U-6 among economists, includes the unemployed and the underemployed, such as those working part-time jobs even though they'd like full-time work, and those who have given up looking for work. The U-6 number has held steady at just under 15 percent for the past five months; it rose slightly, to 14.9 percent, in June. That's not good; consumers need to feel confident in their full-time employment before they loosen the purse strings. The U-6 number is down from a year earlier, when it was 16.2 percent.
Government jobs. The story recently has been decent growth by businesses (remember Obama's ill-advised comment that the private sector was "doing fine"?) and contraction in government employment. That trend continues. Total government jobs shrank by less than 1 percent in June from May, to 21.9 million. The biggest hit was taken by teachers; local education jobs fell by a seasonally adjusted 14,200. The private sector hardly picked up the slack, though; it added only 84,000 jobs.
Construction. The housing market has been throwing off signs of improvement, which gave some folks hope that the construction-jobs engine was sputtering back to life. It is in some places, but not nationally. Homebuilders employed 5,900 fewer workers in June, or 556,000 total. A year ago, the number was 561,200.
Length of unemployment. The average duration of unemployment had been falling through the winter, then ticked back up in May to 39.7 weeks. In June, it rose again, to 39.9 weeks. That compares with about 17 weeks before the recession.
Size of the labor force. If more people are unemployed, that's bad. But if the number of people in the overall labor force—including those with and without jobs—increases as well, it indicates people who had given up looking are being drawn back into the job search. The labor force grew by 642,000 people from April to May. It rose again in June, but by only 156,000.
Before it's here, it's on the Bloomberg Terminal.
LEARN MORE