business
The Tortoise and the Hare: Fund Manager Edition
Fidelity manager Danoff's slow and steady approach is winning
By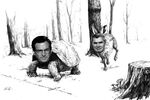 Ken Heebner and William Danoff are fund managers with radically different investing styles. As manager of Fidelity Contrafund, Danoff meets with executives from as many as 1,000 companies a year, jots down tickers in a tattered old notebook to identify what he calls "best of breed" companies, and spreads his investments across a range of industries from tech to restaurants. Heebner considers himself a trend spotter as well as a stock picker, concentrating his holdings in industries he thinks are poised to boom.
In recent years, Danoff's slow and steady approach has been winning the race. Contrafund has returned an annual average of 8 percent over the past 10 years through June 26, the best showing among the nation's 10 largest mutual funds. And it did so with less volatility than all but one fund in the group. Heebner's CGM Focus Fund, which topped all diversified U.S. stock mutual funds in the decade through 2007, lost an annual average of 6.3 percent in the five years through June 26, trailing 96 percent of the same group, according to data compiled by Bloomberg.
"I'm like a doctor whose patients are young, healthy, and eating well," says Danoff. "That should allow me to do a little bit better." Among his favorites right now are Apple and Chipotle Mexican Grill. Since he took over the fund in 1990, Danoff, 51, has beaten the Standard & Poor's 500-stock index as well as rivals by using a research-intensive approach, looking for clues as to which companies are taking market share away from competitors and which are falling behind. "Seeing all those companies lets him piece together a mosaic of the market better than anyone else," says Christopher Davis, a Morningstar analyst.
Under Danoff, Contrafund invests in fast-growing, strong companies that aren't fully understood by investors. Danoff has said his preference for quality stocks helps insulate the portfolio from volatile markets, providing a smoother ride for investors. The numbers bear him out. Danoff has kept pace with the S&P 500 in rising stock markets and outperformed in periods when stocks were falling. The $80 billion Contrafund, Fidelity's largest, captured 97 percent of the gains of the broader markets over the past decade in what Morningstar defines as "up markets," while limiting the fund to 80 percent of the losses in "down markets." Under Danoff, Contrafund has returned 13 percent a year since 1990, compared with a 9.4 percent return for the S&P 500.
Heebner, 71, has relied on bolder bets. In 2000 and 2001, he profited by betting against tech stocks as the Nasdaq-100 Index crashed. He began buying homebuilders such as Lennar ahead of the multiyear runup in home prices. By the start of 2005, seven months before homebuilding stocks peaked, he sold them and moved into energy and commodity companies in time to catch the boom there. "I want to be more like Ken Heebner—he's my hero," Danoff said in a September 2008 interview with Kiplinger's Personal Finance magazine.
With CGM Focus, Heebner acknowledges being too upbeat about the prospects for holdings such as Citigroup and Ford Motor that depended on a stronger economy. The fund's assets have plunged to $1.9 billion from the June 2008 peak of $10.3 billion through a combination of investment losses and shareholder withdrawals. Even so, he hasn't lost faith in his instincts. "Most people think this is the worst time in the world to be optimistic, but my portfolio is positioned for strength in the U.S.," says Heebner. "I am functioning in a contrarian mode."
Heebner works largely on his own, a labor-intensive process that may be hard to keep up, according to Morningstar analyst Kevin McDevitt. Heebner says he still loves what he does and has no intention of retiring. He studies reports on 25 industries, looking for trends on which he can capitalize. "I am completely outside the mainstream," he says. "I see the mainstream in the distance."
Before it's here, it's on the Bloomberg Terminal.
LEARN MORE