Porsche Has an Identity Crisis Amid Its SUV Success
With SUVs yielding half of profits, it tries to retain its sports car cred
by and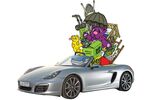 Last month, Porsche Chief Executive Officer Matthias Müller attended the Gaisberg classic-car race in the alpine countryside near Salzburg to schmooze with collectors of legendary sports cars like the Mercedes-Benz 300 SL gull-wing, the Alfa Romeo Spider, and the Ferrari Dino. His unspoken message: The Porsche brand still belongs in that elite company, even if its lineup is increasingly dominated by sport-utility vehicles popular with affluent suburban moms.
After veering away from tradition with models like the Cayenne SUV, which now accounts for about half its profits, Porsche is expanding its stable of purebred sports cars in a bid to shore up its reputation. The 918 Spyder, an $845,000 limited-run hybrid supercar, which will be Porsche's most expensive model ever when deliveries start next year, may be followed by a new $250,000 model to take on superrich toys such as the Ferrari 458 Italia or McLaren MP4-12C. Müller has also tabled plans for a roadster cheaper than its $49,500 entry-level Boxster. "We always have been and still are a sports car company," Müller says. "When there's a model that's not directly a sports car, it should be balanced by a pure sports car model in order to maintain our heritage."
Retaining Porsche's vaunted image is crucial because that's what allows it to command some of the fattest profit margins in the auto industry. As the company has broadened its product line, however, the brand's allure has taken a knock among purists. In 2002, Porsche introduced the Cayenne, which shares its underpinnings with the Volkswagen Touareg and Audi Q7. It followed up in 2009 with the Panamera, a four-door cruiser. The shift to more practical models will accelerate in 2014, when Porsche rolls out the Macan, a compact SUV which will use the same platform as the Audi Q5.
"Porsche was the purest of brands," says Rick Ratliff, a retired media consultant from Ann Arbor, Mich., who until recently drove a Boxster roadster and ran a blog called Porscheophile. After the Cayenne and the Panamera, Porsche "sort of lost its luster. The new SUV seems like yet another attempt to take a wonderful brand and cloud it."
The non-sports car expansion stoked fears among Porsche fans that the maker of the venerable 911 (with top speeds of up to 196 miles per hour) could give up its focus on high-performance driving to churn out cash for Volkswagen, which is in the process of acquiring the 50.1 percent of Porsche it doesn't already own. "When VW really gets its hands on the manufacturing, the economics will take over," says Adrian Streather, the author of several Porsche 911 buyer's guides, who's driven the iconic model for two decades. "There are two Porsche clients nowadays: one that buys the brand and another who buys the car."
Wooing non-sports car drivers has paid off for Porsche, which posted a profit margin of 17.5 percent in the first quarter, vs. VW's 6.8 percent. About 50 percent of Porsche's profit came from the Cayenne, while the 911 generated about one-third of earnings, according to estimates from Jürgen Pieper, an analyst with Bankhaus Metzler.
With the upcoming Macan, Porsche's SUV sales will nearly double to 109,900 vehicles in 2014 from 57,400 last year, IHS Automotive forecasts. Deliveries of the sports cars—including the 911, the Boxster roadster, and the hard-top Cayman version—will probably rise 33 percent to 67,600 cars, IHS estimates.
Porsche wants to counter the SUV shift by using the 918 to establish the brand at the cutting edge of driving technology. The vehicle, which sports a lightweight carbon-fiber body, combines a 570-horsepower V-8 engine with electric motors that can propel the car emission-free for more than 25 kilometers (15 miles). The car accelerates to 100 kilometers per hour in less than 3 seconds—on par with the Lamborghini Aventador's 2.9 seconds. Porsche is also courting favor with sports car enthusiasts by building so-called experience centers in Los Angeles, Atlanta, and Shanghai that include racetracks, off-road driving courses, vehicles to rent, and driving instructors.
"Porsche needs to make sure the brand is not being overstretched and the sporty image prevails," says Stefan Bratzel, director of the Center of Automotive Management at the University of Applied Sciences in Bergisch Gladbach, Germany. "Porsche's character, basically personified by the 911, needs to fit with the other models."
Before it's here, it's on the Bloomberg Terminal.
LEARN MORE