Mumbai's Boom Turns Renters Into Millionaires
Tenants paying $20 a month or less get big payouts to move
by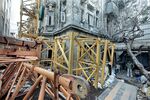 Mea Kadwani, 78, has lived in the same apartment in the Mukund Mansion in Mumbai since he was a toddler. Thanks to rent control laws, he paid less than $20 a month for decades, and $23 a month recently, for a 2,600-square-foot space in the upscale Nepean Sea Road neighborhood, where rents typically top $2,000 a month. Now he's moving on: After three years of negotiations, he and his wife pocketed $2.5 million from Orbit, a real estate developer planning to turn the building into a garage for residents of its 29-story Villa Orb tower under construction next door.
The developer offered Kadwani an apartment in the new building. Instead, Kadwani took the money and moved to a first-floor flat nearby. "I refused an apartment in the redeveloped building, as the idea of staying in these tall towers didn't appeal to me," he says.
Thousands of rent-controlled tenants in India's fast-growing financial hub are becoming millionaires as developers tear down crumbling colonial mansions to build luxury towers for the rich, according to Orbit and other companies. Home prices in Mumbai have climbed to a record 10,833 rupees ($200) per square foot, doubling in three years, according to Liases Foras Real Estate Rating & Research, based in the city.
South Mumbai, including a stretch of prime land hugging the Arabian Sea, has about 500 dilapidated stone structures dating back to the early 1900s with a potential value of about $40 billion if redeveloped, according to Pujit Aggarwal, managing director at Orbit, which specializes in buying old buildings and replacing them with modern towers. "For generations, most tenants were living a hand-to-mouth existence, barely making two ends meet," says Aggarwal, whose firm is one of about 75 vying to oust Mumbai's rent-controlled residents. "Now, with redevelopment, these tenants have become multimillionaires overnight as capital values of the properties they occupied soared."
It's still a good deal for landlords. At Villa Orb, five-bedroom units are selling for about $12 million, Aggarwal says. He expects to make four times the value of his investment in the project, after paying 1 billion rupees to the landlords to acquire the sites, 750 million rupees to the tenants, and construction costs. Not all rent-controlled tenants end up rich. Mitul Bhatia, a 33-year-old recruitment consultant, says he and his parents were forced to vacate their 972-square-foot, three-bedroom apartment in South Mumbai after the landlord turned off the water and electricity.
The Bombay rent control act of 1947 was introduced to provide relief to the city's migrants after the partition of colonial India. Rents at about 19,000 buildings were set at 1940 levels to prevent owners from charging excessive rates during a time of distress. In Mumbai, the measures have been amended and the act rechristened the Maharashtra Rent Control Bill, which allows for 5 percent annual rent increases.
Like other colonial-era buildings, Mukund Mansion, built in 1923, is crumbling. Owners often can't afford to maintain their buildings on the rents they receive. Barred from evicting tenants by the rent control statutes, their only way to cash in on rising property values is to sell the building to a developer who can afford to buy them out. Kadwani, who suffered a minor injury when part of the building's roof caved in, sympathizes. "The landlord was in a pitiable condition," he says. "We didn't expect him to do much for the building given the rents we were paying him."
Of the nine families in Mukund Mansion, the Kadwanis held out the longest and got one of the highest payoffs, says Aggarwal. Before Orbit bought the building, Kadwani had wanted to move. "We tried to sell our tenancy rights several times, but the landlord refused to transfer the property to the new tenant," he says. "In hindsight, it was a blessing that he didn't agree, or we would have sold out for a fraction of what we got in the end."
Before it's here, it's on the Bloomberg Terminal.
LEARN MORE