Kay Koplovitz on Dealmaking for USA Network
The USA Network founder on her two unsuccessful bids to spin off a new cable channel, and how she eventually won the day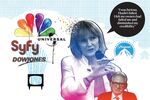 I started USA Network as an all-sports cable network in 1977. We had the first contracts with Major League Baseball, the NBA, the NHL; we had the events at Madison Square Garden. When we sold to Paramount, Time Inc., and Universal in 1981, we started adding entertainment content. They didn't want to do sports, but I didn't want to lose that audience. I fought really hard to separate USA into two networks. I lost that battle.
I really felt we needed more networks. By the late 1980s I thought about buying Financial News Network, since trading was becoming 24/7. We just needed a content partner. We spent well over a year negotiating with Dow Jones. By this point, Time had sold its stake in us to buy CNN, so we had just two owners. I was sitting in [Paramount CEO] Martin Davis's conference room, about to sign the papers with Peter Kann of Dow Jones, when I got a call. It was Sid Sheinberg over at Universal Pictures. I assumed he was calling to congratulate me. He said, "I'm out. I've decided not to go forward with the deal." I was stunned. When I saw how angry Martin looked, I knew it was over. I told the Dow Jones guys, "Bad news. Universal is pulling out." They went white, picked up their papers, and left.
I was furious. I hadn't failed. I felt my owners had failed me and diminished my credibility. NBC came in to eventually win [the deal]. I had two choices at that point: Leave the company or stay and fight. I booked a flight to Patagonia and hiked for 10 days. I needed to clear my mind. I decided to stay. There would be other deals.
Soon after, I pushed to buy the name rights of the Sci Fi Channel [now Syfy]. The two founders hadn't done much—just registered the name and bought some old series—but I wanted to take them out of the marketplace. We met at my lawyer's office to sign the papers. I changed one of the provisions, knowing they wouldn't like it. As soon as I stepped out of the room to let them talk it over, I got a call from Stanley Jaffe, president of Paramount. They owned Star Trek, but he didn't think there was enough programming for a sci-fi channel. I couldn't believe this was happening again. I said, "It's too late, Stanley, they've already signed." I had no idea if they'd signed, but I did know we needed more networks. I didn't leave that office until the deal was done. — As told to Diane Brady 
Before it's here, it's on the Bloomberg Terminal.
LEARN MORE