David Kalt, Guitar Hero
The computer scientist CEO of a billion-dollar tech company finds his calling selling guitars
Duff McDonald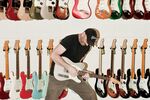 When David Kalt graduated from the University of Michigan in 1989, he followed his dream of working in the music business by taking a job at a Chi-cago recording studio. He burned out after only two years. "The glamour of working with rock stars and rock star wannabes gets old real quick when you're working 100 hours a week,"
he says. Kalt then earned a master's in computer science from DePaul University and founded a software company, Third Party Solutions. By 1998 it had become the dominant marketing system for travel agencies. In 1999 he co-founded OptionsXpress Holdings, an options-trading platform that Charles Schwab eventually bought in 2011 for a little more than $1 billion.
That same year, Kalt decided it was time to finally get back into music. So for $7.5 million he purchased the Chicago Music Exchange, the legendary guitar store, where he has shifted the sales strategy away from vintage, rare guitars. "Think of it like a car dealership," he says. "Some retro Thunderbirds on the lot create excitement, but you make most of your money selling new, more affordable models." This year the store expects $9 million in sales.
The Chicago Music Exchange attracts plenty of celebrity visitors, but Kalt says he values the regular Joe Strummer. "If all you're doing is vintage, you're really waiting for Johnny Depp to come in and buy a $50,000 guitar," he says. "I want people to come in and take a look at the 1959 Les Paul Goldtop—we recently sold one for $85,000—and yet still feel good about buying a $3,500 replica. Not that Johnny Depp isn't welcome. He's a customer, too."
 
KALT'S BEST ADVICE
 
1. Encourage the little feat
It's the little things that add up to a great customer experience. In retail, it's service, selection, and speed delivered in a fun and friendly manner.
 
2. Don't hog the spotlight
Mentor your team with the big picture and don't micromanage. When staff members know where the company is headed, they will help steer the ship in the right direction.
Before it's here, it's on the Bloomberg Terminal.
LEARN MORE