Bid & Ask: The Deals of the Week
Noteworthy expenditures of the week
by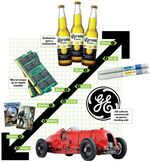 1. Anheuser-Busch InBev will pay $20.1 billion for the 50 percent of Grupo Modelo it doesn't already own. It plans to make Corona Extra a global flagship brand, a status currently reserved for Budweiser.
2. After failing to get approval for a new diabetes treatment in January, Bristol-Myers Squibb will pay $5.3 billion for Amylin Pharmaceuticals, the maker of two drugs currently on the market for the disease.
3. German industrial gas supplier Linde agreed to pay $3.8 billion for Lincare Holdings, which provides oxygen and respiratory therapy services delivered to homes in the U.S.
4. General Electric is selling GE Capital's Business Property Lending unit to EverBank Financial for $2.51 billion.
5. Micron Technology will buy bankrupt Japanese chipmaker Elpida Memory, an Apple supplier, in a transaction valued at $2.5 billion.
6. Dell is spending $2.24 billion for Quest Software, which makes programs that help companies administer databases and servers, back up information, and recover lost data.
7. To grow in the U.S., Brazil's biggest card payment processor, Cielo, is buying Merchant e-Solutions, another payment processor, for $670 million.
8. The world's largest distributor of technology gear, Ingram Micro, agreed to acquire BrightPoint for about $650 million, to expand its reach as a provider of mobile products and services.
9. Sony plans to buy the U.S. gaming platform Gaikai for $380 million as the maker of PlayStation game consoles tries to expand its cloud-based entertainment services.
10. A 1929 Bentley single-seat racer that once reached 137 miles per hour was sold for $7.8 million, making it the most expensive Bentley ever sold at public auction.
Before it's here, it's on the Bloomberg Terminal.
LEARN MORE