Spain's Soccer Team, a Champion for the Facebook Age
By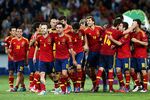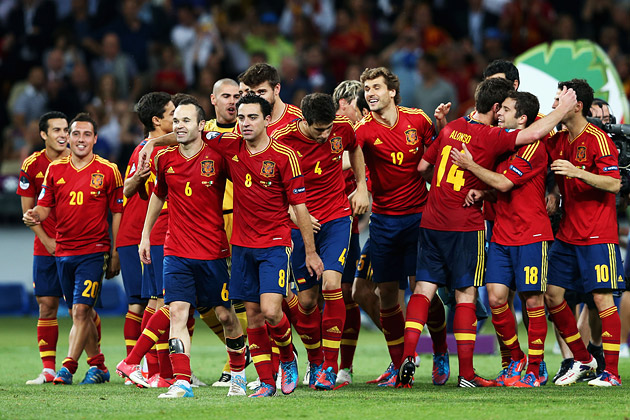 In dispatching Italy 4-0 in the final of the European Championship, Spain's national soccer team has now completed an unprecedented triple: winning the 2008 and 2012 Euro Cups and, sandwiched between them, the 2010 World Cup. All of this while playing a distinctive brand of soccer known as "tiki-taka"—a mesmerizing skein of quick passes that break down opponents' defenses with a lock picker's patience and guile. La Furia Roja ("The Red Fury"), as Spanish fans call their team, has launched itself into the debate over which is the greatest national team ever.
Comparisons between teams playing in different eras is futile in any sport, of course, but a major difference between soccer and the American sports trifecta of baseball, basketball, and football is that soccer is so much less amenable to quantification. Baseball has batting averages, steals, slugging percentage, errors, earned-run average, and more abstruse measures like WHIP; soccer, in large part because it is a fluid, continuous game, has far fewer things to count and compare. This makes the evaluation of what's happening on the pitch far more subjective, both for fans and coaches.
However, ever since the Moneyball stats-geek revolution hit baseball, quants have been trying to find ways to spread the gospel to other sports, and soccer is no different. On Monday, Javier Lopez Pena of University College London and Hugo Touchette of Queen Mary, University of London posted a paper that uses network theory to evaluate soccer strategies. The two mathematicians treat the players on a team the same way Facebook thinks of its users, epidemiologists model people during an epidemic, or Malcolm Gladwell writes about hipsters launching shoe fads: as nodes in a network.
Taking a page from Google, for example, the two mathematicians use a PageRank algorithm to evaluate players' "popularity." Whereas Google uses the algorithm to determine how often Web pages link to each other, Lopez and Touchette use it as a measure of how often a player has the ball passed to him by teammates. The analysis looked at the 2010 World Cup—presumably the two mathematicians haven't had time to crunch the numbers for the just-finished Euro tournament—but in Spain's case, the players on the 2010 and 2012 teams were mostly the same, and the playing style was all but identical.
A separate factor they looked at is "betweenness": how central any one player is to the passing network of a team—and how much it would break down without him. The paper also looks at teamwide characteristics. One was "clustering": how many different ways the ball can make its way from one player to another. Another was the size of the "maximal clique": how many players passed the ball directly to each other.
Essentially, Lopez and Touchette are trying to mathematically measure teamwork, an elusive quality that's missed in most sports statistics since they focus on individual players. What the researchers found is that the World Cup champion Spain team boasted not only the largest number of passes per game, but the highest scores for clustering and the biggest clique. It sounds like the description of a high school prom, but what the math says is that Spain won by sharing the ball well and sharing frequently, and by being broadly and evenly connected to each other.
The mathematicians looked at Spain using the tools of network analysis, and in doing so, make them into the emblematic team for our social-networked age, one in which Mark Zuckerberg has posited in his eponymous "law" that the amount of information everyone shares online will double every year.
There are limits to sharing, of course, even for La Roja. Spain's skilled, selfless players shared the ball with each other freely, but not with the Italians. They didn't share the trophy with them, either.
Before it's here, it's on the Bloomberg Terminal.
LEARN MORE